THINK A HEAD
You have thinkers and you have doers. The Belgian creative artist Frits Jeuris (1975) clearly belongs to both categories. It can by no means be said that there is no thinking in Jeuris' 'head'. On the contrary, he thinks while you talk to him. He sees concepts flying by behind his eyes and with a few strokes on a blank sheet he draws simple sketches that immediately make clear what he has in mind. At that moment, the conceptual thinker with a critical eye not only has an idea, but also immediately knows how it can possibly be realized. His knowledge of technology and materials is often based on the idea. His experience in making, or rather creating, something ensures that he can switch quickly. Form follows function. No incomprehensible philosophies, but straight forward, without detours.
If I remember correctly, I met Frits Jeuris for the first time a year before the birth of my son. We struck up a conversation after a concert at the bar and immediately plunged into an interesting philosophical conversation. In 2016, during a visit to his studio, I took the photo that appears on the cover of my very first Dada Magazine. A few years later I asked him to make a wolf (my son's name is Wolf) from scrap wood that I had gathered on the Winterslag mine slag heap — a spoil tip is a pile built of accumulated spoil or waste material removed during mining — near Genk. After some conversations and exchanging ideas, he decided to make a large wolf head with it. This unique statue has since moved from Genk to the wolf community of Oudsbergen. In the meantime I have had many fascinating conversations with Frits and I can say that we have become friends. It is therefore with great pleasure that I would like to pay tribute to his inexhaustible sense of creativity.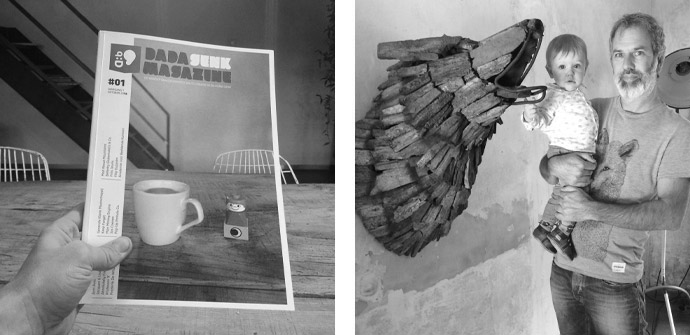 The Belgian artist Frits Jeuris spent his childhood in Bilzen. He studied Mechanical Design Techniques at the Diepenbeek Provincial School, located on the banks of the Demer, between the forest and meadows. In addition to mechanics, electricity and materials science, Jeuris also learned investigative thinking and goal-oriented action. From the age of fourteen he took all these technological skills with him to Stuttgart where he went on holiday work in a Drehwerk Atelier (turning shop) in his cousin's company.

With this extra experience in turning techniques and metalworking, the young twenty-something, together with his brother, founded a company that bought and sold cars and trucks. He continued to develop to become a 'pragmatic creative'. During the following years he expanded his knowledge of car mechanics and you can quite literally call him 'autodidact'. Business was going well, but after 13 years, Jeuris got up one day and decided to say goodbye to the "rat race" and completely change course. He felt that he had strayed from the essence and consciousness that he envisioned.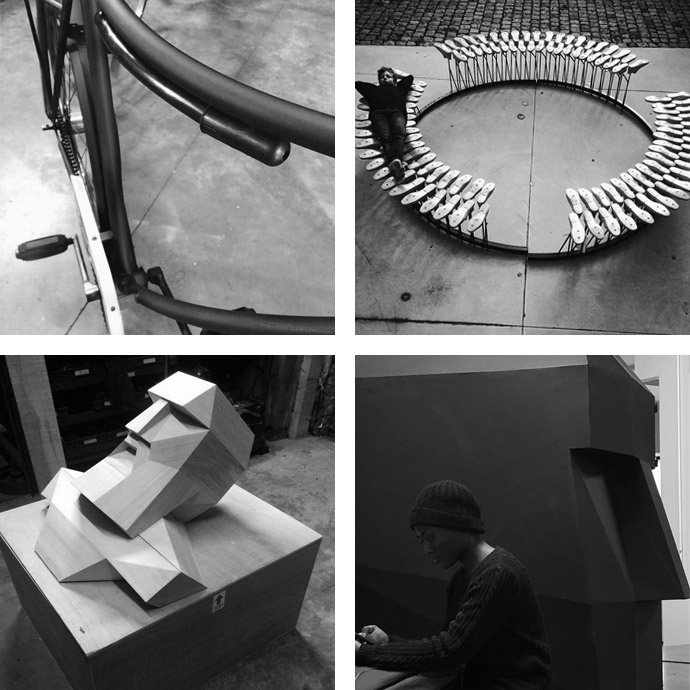 "We are simply looking for material that we can give a second life can give." — Frits Jeuris

MATERIALS WITH A PAST FOR A NEW FUTURE

Frits Jeuris decided to follow his own instincts and just do the things he wanted to do. The creative with a pragmatic hands-on mentality thus began to create his own story, making use of the materials and encounters that came his way. As an all-round creative, specialized in reusing materials by giving them a new identity and function and visualizing them, he links creativity to social themes or stories. He succeeds time and again in creating functional objects and environments that feel right. Successfully. In the meantime, he does this together with his partner de route and life companion Tanja Jordens.

It is difficult to put a label on his activities. Frits Jeuris gets to work with objects that no one cares about anymore. Among other things, he made a large industrial dining table from a metal entrance door of a former brewery and gigantic chandeliers from old metal lampshades or shoe lasts. He prefers not to call himself a furniture maker or designer — because it does not fit into his philosophy to create an elitist product — but a straight-forward, ready-made creative who tries again and again to make something out of nothing. He finds it a challenge to give old materials a new life. Seeming simplicity and almost naive logic are part of his trademark.

OBJECT TROUVÉ

In 2015, the modest Limburger founded Jonque58, a company in a renovated farm in Wellen with the aim of "zero footprint furniture". During the De Herbestemmers section in the television program Baksteen in de Maag, Frits Jeuris and his wife created design objects with recycled materials. Old pieces were given a new life. They showed possibilities instead of limitations in every episode. For example, they repurposed an old conveyor belt for potatoes or planks of a dovecote. The first was repurposed as a design armchair, Potato Chair, the second into a three-piece set of wooden benches with the inscription "come come come", the call of the pigeon fancier. Later the Potato Chair brought into production as Ready-Chair based on the handmade unique loungers.

From scrap planks, Jeuris created a wooden head that bears some resemblance to an animal head that hangs on the wall as a kind of hunting trophy. Those who look closely will see the resemblance with to notice King Leopold II of Belgium, who in colonial times had Congo sacked and many people killed by his staff. The connotation with "The hunter got captured by the game" is by no means far off.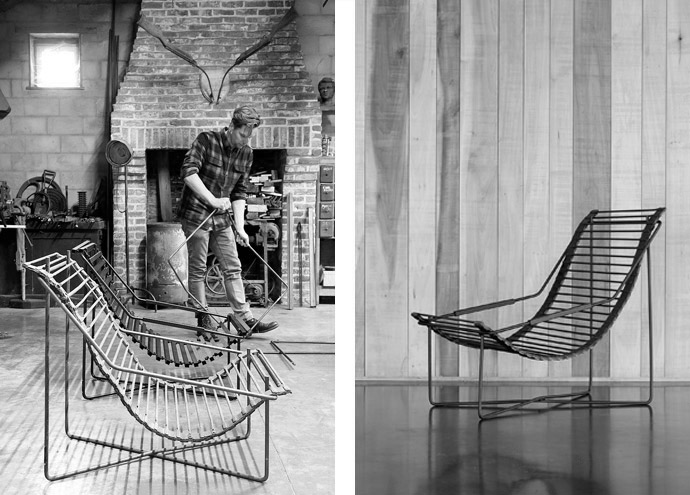 Left: Orignal handmade Potato Chair next to its derivative, as close to the product deliverable as possible (Photo: Karen Van Winkel) | Right: Ready-Chair, based on the handmade piece unique production prototype Potato Chair (Photo: Etre Moderne)
In 2018, Frits Jeuris designed the installation Tournée Générale, a series of nine discarded men's and women's bicycles in the shape of a horse mill. The bikes were all bent and the rear wheel of one bike formed the front wheel of the next bike until it came full circle. This project was realized in the context of Ring Ring, a project of the artist collective Het Labo. Jeuris made the concrete circular gutter in which the bicycles can ride in collaboration with architect Bart Lens.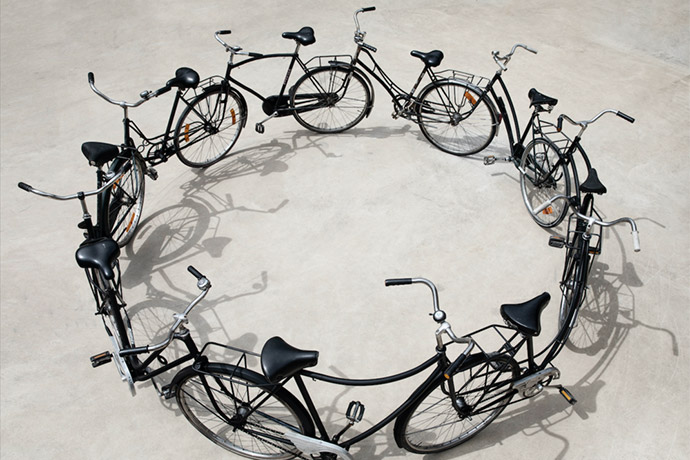 Tournée Générale, without the concrete circular gutter, on which you can really cycle rounds with your buddies.

TRANSIENCE

Impermanence is inherent in life. Everything is transient. Everything exists to perish. Beginning and end are the limits of our existence. That is thought provoking. The transience of things is an excellent example for the thinker who reflects on his existence, because change is the only constant. Transience certainly does not have a negative connotation in Frits Jeuris' oeuvre, rather it is one of the main characteristics.

From childhood, Frits Jeuris was inventing and making sculptures and installations with everything he found, inspired by the 'head'. As a little boy he made a small statue of a head that remained on the fireplace with his parents. Meanwhile, this has become his trademark. Everything starts in the head. In 2015, this artistic talent built an iconic wooden head measuring 4.6 and 3 meters wide. Jeuris used discarded planks and surplus wood from a pottery workshop and christened the colossal head Think a head. In the first place it is an indictment against the consumer society: the discarded boards together form a new head, which symbolizes a new beginning. Not only is the outside impressive, Jeuris has also worked meticulously on the inside. The wooden construction has two floors, with a meeting room on the top floor that can serve as a think tank. You can literally put your heads together there to brainstorm or just experience what doing nothing feels like.

Think a head has already been exhibited at Pukkelpop in the past. The artwork, which took two months to work on full-time, and which weighs 1.5 tons, moved to the Verbeke Foundation in Kemzeke, East Flanders at the beginning of 2021. It has been given a prominent place on the impressive private art site. Think a head is therefore permanently on display in an inspiring place on the edge of the large pond, a reflection point where nature, art and ecology intersect. And where impermanence can prevail.

Also in 2021, Think a head got another unique sequel. It became the new eye-catcher for Hasselt University on the campus in Diepenbeek. On top of the new X-LAB pavilion, under the watchful eye of Prof.dr. Jean Manca, a 5 meters high, 5 meters long and 3 meters wide head made of corten steel was placed. The artwork weighs a total of 2.6 tons. Frits Jeuris has provided seats inside the head. At X-LAB, crossover and interdisciplinarity are central, and they think about creative solutions for the challenges of the future.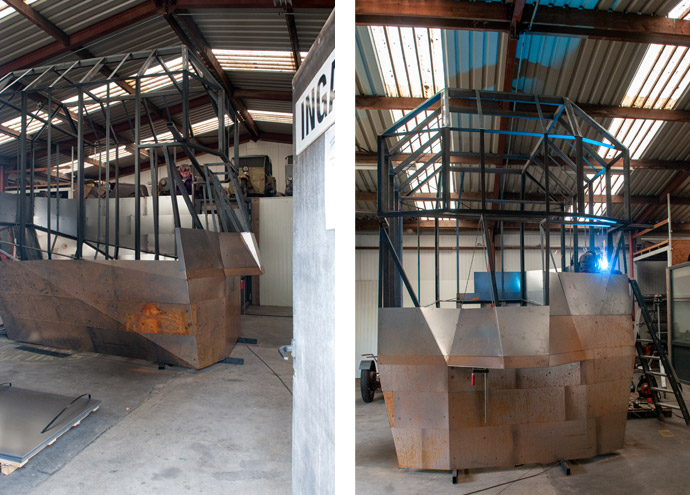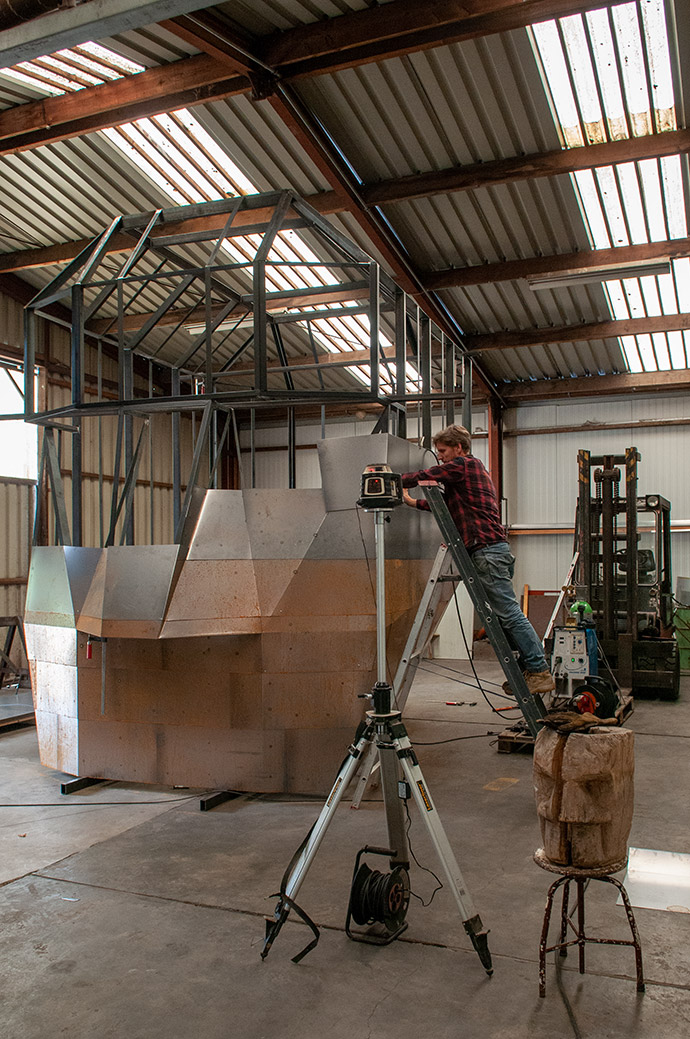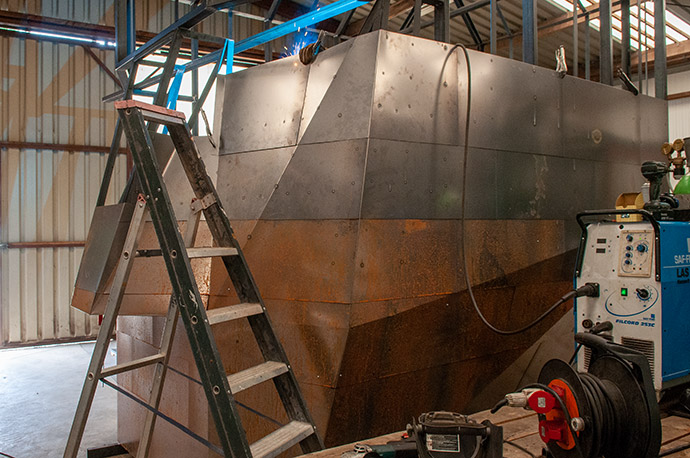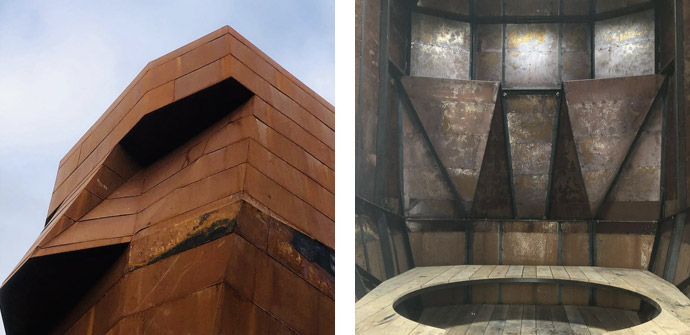 The making of Think a Head in corten steel by Frits Jeuris (Photos: Joël Neelen) | The final result outside and inside (Photos: Frits Jeuris)
In 2019 Frits Jeuris created a floating chapel near the highest point of Helshoven, on the Gallows, with a breathtaking view over the Haspengouw landscape. He called this unique creation Helsh(ea)ven, on the one hand alliterating to the nearby village of Helshoven, on the other hand to the fact that the chapel floats between heaven and hell. The number of photos that can be found in the meantime, if you type 'Helsheaven' via Google, is now almost endless.

The installation between the orchards was made from wood from 90 fifty-year-old standard cherry trees from the nearby area. At the end of 2016, these fell prey to the Little Cherry Virus, a virus disease that causes small fruit size in cherries. Jeuris gave the rough, split logs a second life. It's about life and death and everything in between. The point that the collage artist also wants to make with this installation is once again the transience. The cherry wood will rot and disappear over time. The platform will be left empty and then accommodate a new project.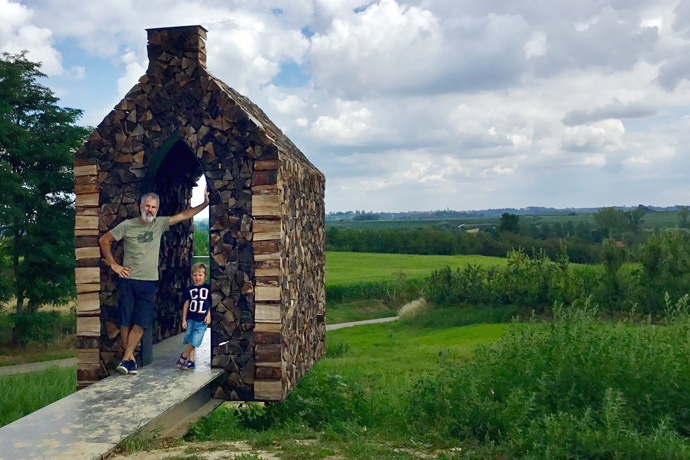 Helsh(ea)ven, the floating chapel stands next to the gallows, which is reminiscent of a gruesome past. In 1493 the first crooks were hanged. For just one moment they also floated between heaven and hell.
Yesterday another beautiful work of art and 'landmark' by Frits Jeuris was inaugurated. Anyone who goes for a walk in Hoeselt's nature from today will not be able to miss the new watchtower by Frits Jeuris. The three-dimensional work, called #inconcreto, is about the contrast between abstract and concrete.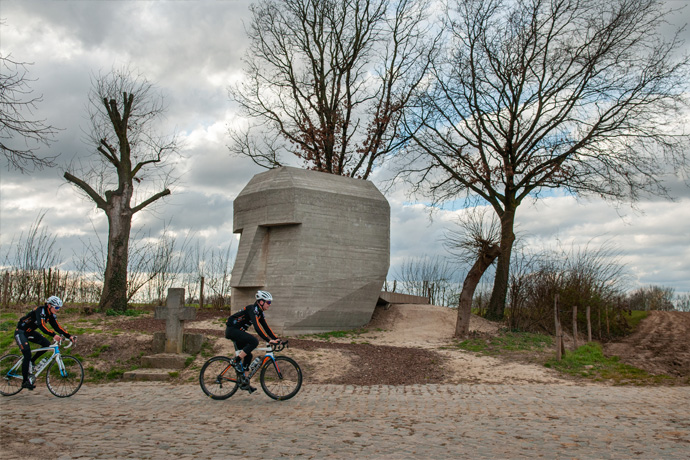 #inconcreto. Abstract thinking is the ability to understand concepts that are real, such as freedom or vulnerability, but which are not directly tied to concrete physical objects and experiences. Abstract thinking is the ability to absorb information from our senses and make connections to the wider world. Concrete meaning: a building material made from a mixture of broken stone or gravel, sand, cement, and water, which can be spread or poured into moulds and forms a mass resembling stone on hardening. (Durability not recycling!)
After 25 years of vacancy and neglect, Brouwerij de Es, an old beer brewery, has been restored to its glory. Frits Jeuris bought the building together with his best schoolmate Jimmy Put and decided to renovate it together. They cleaned up the brewery in Schalkhoven from under the dust and mess. The brewery, founded around the 1920s, brewed table beer and from the 1950s the Peters family brewed the legendary Jipie lemonade in addition to brown beer! When the large brewery was not sold in 1992, the brewing family divided the complex, in the typical Flemish idea, into different parts. As a result, the parts were all sold as separate compartments. Only the heart of the brewery: the part where the actual brewing took place, just couldn't get a new owner. Jeuris and Put immediately saw the possibilities and started the conversion with conviction. In addition to the new living and working spaces for both families, this location has another potential destination, namely as an event location for vernissages, meetings and workshops.

Frits Jeuris is an authentic collage artist who thinks ahead for the future of our planet, which requires a different way of thinking about the use of materials (he thinks ahead). The self-made designer has meanwhile grown into a renowned designer and brings unique designs to the market through various collaborations. Thanks to middlemen, Jeuris' creations have already reached Los Angeles, Tokyo and Korea.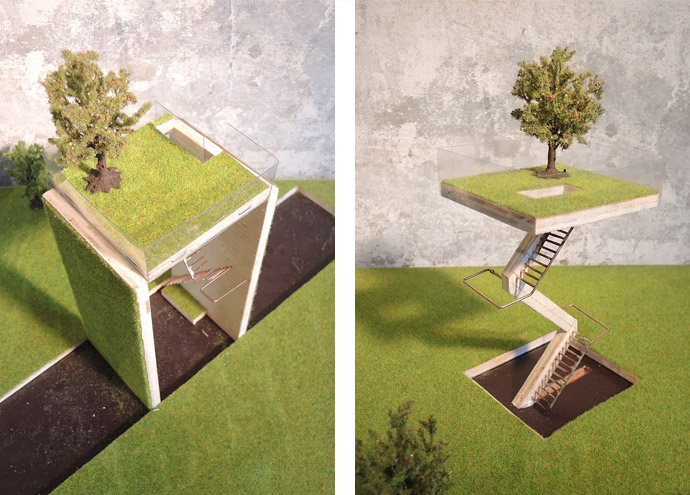 Various models of watchtowers waiting for a bright civil servant who is willing to go for an ambitious landmark in Haspengouw, or far beyond ...
All images courtesy of the artist.
---
Story related interview:
---
Related stories on Woodland: