LIFELIKE WOOD SCULPTURES
Bruno Walpoth (1959, Italy) can practically turn wood into flesh. The Italian artist has a knack for creating haunting, incredibly lifelike sculptures carved out of wood. His works somehow manage to capture the expressiveness in a person's eyes and the body's fleshy curves. Having grown up with a lineage of grandfathers and an uncle who were distinguished woodcarvers, Walpoth has eagerly chosen to follow their practice, incorporating his own contemporary ideas to the craft. Inspired by all forms of art that lie beyond wood carving and sculptures, Walpoth approaches solid slabs of wood with a creative outlook, transforming them into intricately detailed figures in the likeness of men and women.
This summer my eye caught a large wooden wolf standing in Leonard's Gallery in Antwerp. The wolf appeared to have been carved with the help of a chainsaw by sculptor Jürgen Lingl-Rebetez. At home I searched for some more work on the internet and I suddenly came face to face with a statuary of Bruno Walpoth. Although I loved the wooden wolf, Walpoth's intriguing human figures are breathtakingly realistic. Frankly, I was blown away!

Walpoth began his training in the studio of his grandfather and uncle, both of whom carved ecclesiastical figures. His more formal art training began in 1973, at the age of 14, he began a five-year apprenticeship with a local wood carving master, Vincenzo G. Mussner, who mainly focused on religious assignments. In 1978, when Walpoth realized that he had no interest in the subject, he moved to Germany to attend the Akademie der Bildenden Künste München where he studied Bildhauerei with Professor Hans Ladner until 1984. There, for the first three years, he tried to break away with the training he had received, and experimented with all kinds of materials. Upon graduation he returned to his hometown and taught at a local art school for 22 years before he resigned and became finally committed to his own art production.

To recreate a human body out of a single piece of wood, Walpoth usually needs two months to figure out how to work with the grain and produce a surface that is almost breathing like the human skin. He never uses any assistant. The artist does all the work by himself, from choosing a lime or walnut tree, to logging, barking and carrying the trunk back to the studio.
"For me it is important that the viewer's gaze does not stop at the surface of my sculptures but goes beyond the outward realism to capture the inner life of the work." — Bruno Walpoth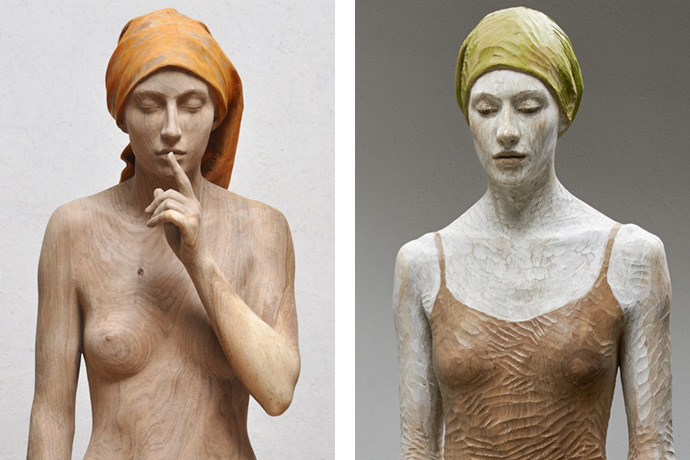 Hailing from a family of wood sculptors, Bruno Walpoth simultaneously honors a centuries-old tradition and modernizes it for the 21st century with the techniques and forms of contemporary sculpture. Walpoth carves life-sized human figures from blocks of wood, and finishes the sculptures with acrylic paint. He repeatedly covers and sands down the surfaces to mask evidence of the wood grain and achieve a translucent, skin-like appearance. Walpoth occasionally coats his sculptures with lead and has produced bronze works and drawn portraits, but he continuously finds himself drawn to wood due to its natural sensuality. Drawing inspiration from late Gothic and early Renaissance Italian wood sculpture, Walpoth emphasizes human sensibility over form.
"While working on a piece, there are times I become so involved that I would prefer not to stop. Respect for the model, however, forces me to take breaks." — Bruno Walpoth
Parts of his sculptures are often painted in typically muted colors; he uses this coloring to create their clothing, hair, or sometimes their skin. Rather than telling a story through his sculpture, Walpoth aims instead to capture an isolated and introspective single moment. His characters often appear to be deep in thought, absent-minded, lost in a world of their own. They stand rigid quite pensive with their eyes often eluding those of the viewer. The sculptures evoke a feeling of loneliness and longing, perhaps even creating some concern. Their physical presence allows closeness, but it is hardly possible to come into direct contact with them; they do not allow interaction. The strength of such silence and seclusion embodied in his sculpture is quite powerful.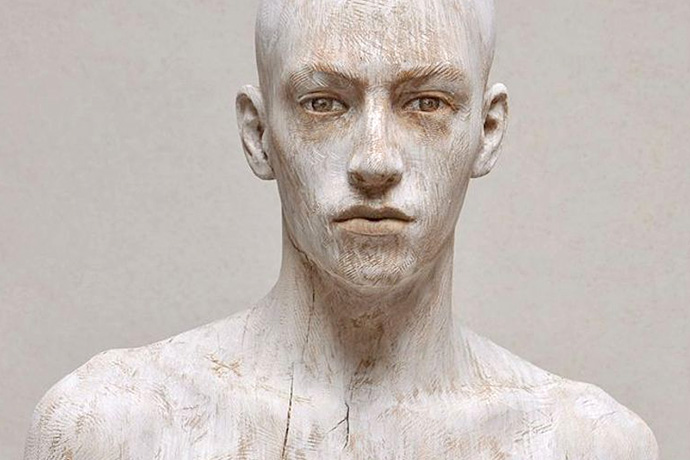 His extraordinary human sculptures are created through encounters and discussions with models. On a scale of 1: 1, Walpoth works out bodies, lines and shapes from the block of wood. Working harmoniously with the grain, the textural imperfections of the sculptures almost pay homage to the spirit of the trees from which they came — perhaps suggesting that humans are at one with nature. He consciously integrates the structural unevenness of the wood and thus connects people and nature in a common form. This does not result in a hyper-realistic image of the human being: the facial features and body shapes of the figures correspond to those of the models, but Walpoth's sculptural imitation takes characteristic peculiarities back. The textural imperfections of the sculptures give a figurative spirit to the trees from which it came. Walpoth consciously paints his figures with a semi-transparent lacquer so that you can clearly see the grain and lines of the wood.
Nudes are not exactly new to the art world. There is, nevertheless, something unnerving about the vulnerability of Walpoth's all-too-humanlike wood figures. The feeling that we have walked in on a private reverie. Walpoth has always been fascinated by the observation of the 'real'. Wood fits more than any other material for its ability to convey his emotions. The final step in the realization of a work is the one that fascinates him the most and with which he most deeply connect. Walpoth emphasized that what he did was not a realistic portrayal but contemporary art, where the psyche a work has conveyed is much more significant than its physical form.
"Walpoth's work, which has grown out of the tradition of local artisan and religious art and become successful contemporary art, has a very strong implication for sculptors in China. We also have a very long history of wood carving art, but the techniques and tradition of such has been forgotten and segregated from the modern sculpture landscape." — Ying Jinfei, vice director of the Zhejiang Art Museum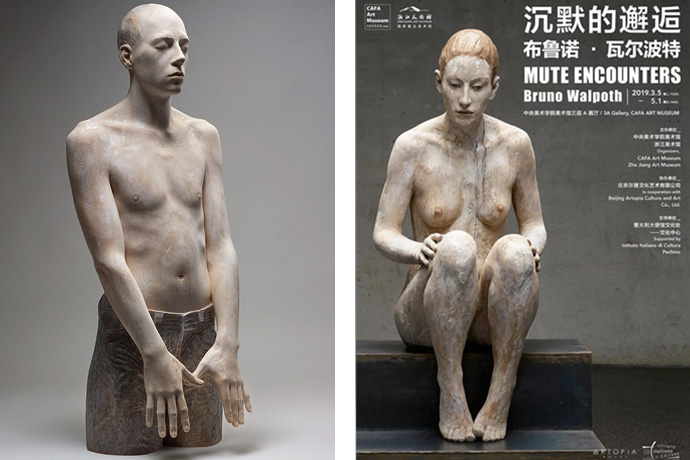 You can also watch a short video under the name of Bruno Walpoth – Why not? on Youtube.

All images courtesy of the artist.
---
As I mentioned in my introduction, see similar work at www.lingl-sculpture.com and his walking wolf.