MASTER OF THE MOMENT
The Arc de Triomphe — the star attraction in the Place de l'Étoile in Paris — was shrouded in fabric last month, as a tribute to the late artists Christo and Jeanne-Claude. The Bulgarian-American architect, sculptor, installation artist, painter and draftsman is known as 'the packer'. Like most art finds its home in museums, Christo (1935-2020) saw the whole world as his playground. He wrapped valleys and cliffs, buildings and monuments. The bigger, the more beautiful and the more impossible, the more interesting. Christo can be compared to an architect, with the difference that he only made his installations visible to a large audience for a short period of time. For years Christo worked on projects that only lasted a few weeks. A passion that has cost millions of dollars, he paid for over and over with his own funds. This made him the largest individual art sponsor in the United States. He refused any financial state intervention. His photos, collages and design drawings brought together the necessary capital.
Unfortunately I haven't made it to Paris in the past few weeks, but I've been a great admirer from childhood of the way the Bulgaria born conceptual artist Vladimirov Javacheff, or Christo for short, made his possible future projects visually tangible for a long time. The posthumous act that the Arc de Triomphe in Paris is finally wrapped, conceived nearly 60 years ago, is an ideal opportunity to honor him. Christo himself was "flabbergasted" that he had finally been given permission to wrap one of most recognisable buildings in Paris. He left minutely detailed drawings and instructions covering every visual and artistic aspect of how he wanted the wrapped arch to look. The massive monument was covered in 25,000 square meters of recyclable polypropylene fabric that is a silver-blue color, along with 3,000 meters of red rope. The installation remained in place for 16 days, from Sept. 18 to Oct. 3. The project was not as simple as simply closing a large set of drapes. Before the massive curtains could be installed, a small army of climbers, abseilers and other workers installed scaffolding and brackets around the top of the Arc de Triomphe and parts of its pillars, to protect sculptures and decorative carvings. The brackets also help the material hang uniformly.
"This is Christo and Jeanne-Claude's vision. It's very important that we pay attention to every detail that Christo wanted. It was completely designed by Christo to the very last detail and we have to keep to that. If people come and say it's just like the drawings, that means we've done a good job." — The artist's nephew Vladimir Yavachev, who was overseeing the wrap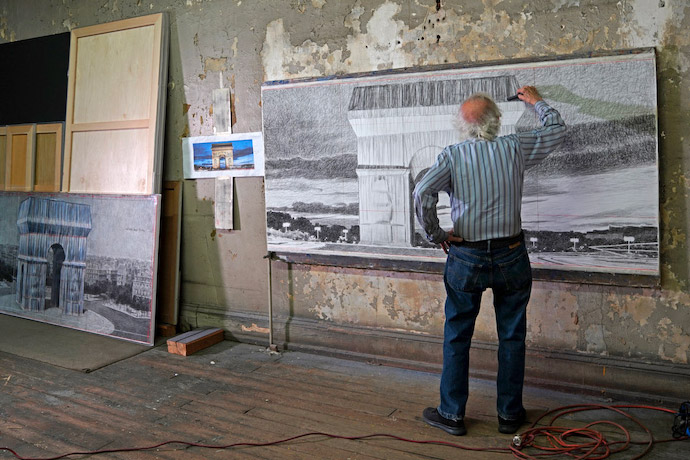 Christo in his studio working on a preparatory drawing for L'Arc de Triomphe, Wrapped, New York City, September 21, 2019. Photo: Wolfgang Volz © 2019 Christo and Jeanne-Claude Foundation
In an interview shortly before his death, Christo said he had 18 months to draw up details of the Arc de Triomphe project, compared with 25 years for the Reichstag and 26 years for The Gates in Central Park. He said he had been invited to do "something" outside the Pompidou Centre to coincide with his exhibition, but had told the museum: "I will never do anything here. If I do something, it will be to wrap the Arc de Triomphe, but nothing else."

"The packaging of the Arc de Triomphe is quite special," he said. "It all came together quite suddenly. The proposal goes back to 1962, of course, but the authorisation was granted suddenly. In the 1960s I made several plans that we sold to finance other projects. At the end of the 1980s I even made a very elaborate collage edition with fabric; we thought at that time that the Arc de Triomphe project would never see the light of day. Honestly, it's strange how suddenly everything came together."

He added: "I never though it would ever happen … But I want you to know that many of these projects can be built without me. Everything is already written."
In 1991, I wrote a treatise on Christo for the art history course which I printed on brown recycled wrapping paper. I wrapped the thesis in brown paper and tied the whole with cord. It still sits on my bookshelf among larger books by the famous late artist. My working title for this inspiring story was first 'Poet, provocateur and liberator' and then it became 'Pack and go', but he was rather and above all a 'Master of the moment' despite the usually very long preparations that preceded a possible realization. I was lucky enough to get a closer look at the Wrapped Reichstag in Berlin (1995) as well as the Big Air Package in Gasometer Oberhausen (2013). Parallel to the sculpture Big Air Package was an exhibition on the bottom floor of the Gasometer. It presented a collection of the most important projects that Christo and Jeanne-Claude have realized over the past five decades in the most varied places in the world. Large-format photos, films and designs recalled fascinating, but always limited, art events. Wolfgang Volz's large-format photographs made the projects appear in their beauty and visionary power and made visible what connects the works of Christo and Jeanne-Claude.

In 2017, we visited the first major retrospective exhibition since the 1980s, aptly named 'Christo & Jeanne-Claude. Urban Projects' in Brussels. "Christo" was never just one man … they are a committed duo, both in life and in the city, and their pseudonym is only the name that defines the so recognizable work of this artist couple. Their urban works and what precedes them — preliminary discussions on the technical aspects — as well as 80 projects that never saw the light of day were unveiled at the ING Art Center in Brussels, through large scale models, drawings and collages, volume tests and sketching materials.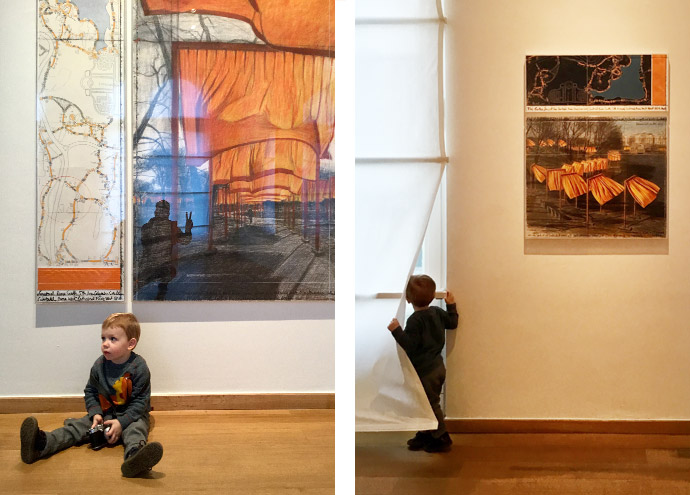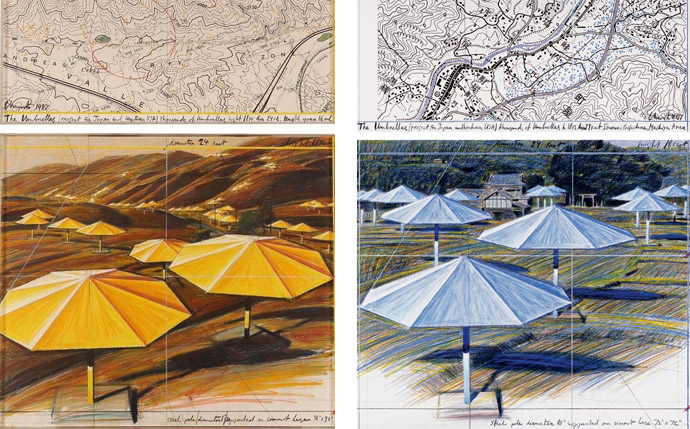 Top: The Gates at ING Art Center in Brussels | Below: The Umbrellas (Yellow) in California (VS), 1987 | The Umbrellas (Blue) in Japan, 1991
My personal favorite projects realized by Christo are The Gates — 7,503 gates with free-hanging saffron colored fabric panels seemed like a golden river appearing and disappearing through the bare branches of the trees — in New York's Central Park completed in 2005 and The Umbrellas, a temporary work of art realized in two countries at the same time in 1991, reflecting the similarities and differences in the ways of life and the use of the land in two inland valleys in Japan and the USA.

Now we are looking forward to the eventual realization of the Mastaba, a design from 1977, a large-scale sculpture by Christo and Jeanne-Claude in the desert of Abu Dhabi, formed with 440,000 multicolored oil barrels. The Mastaba would only be viewable from the outside and may be the artists' only permanent large-scale work.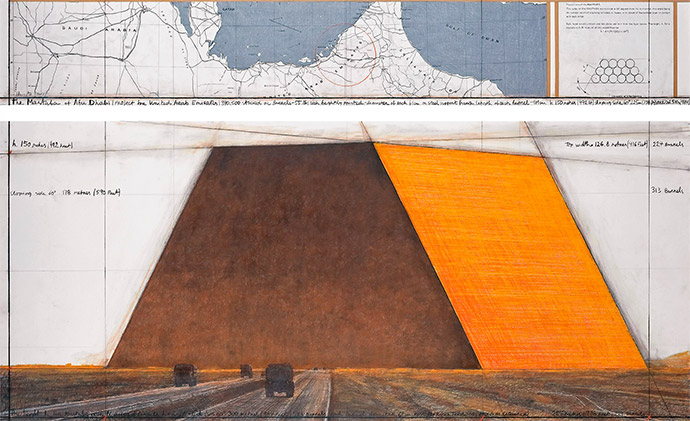 The Mastaba of Abu Dhabi (Project for United Arab Emirates), 2007. Photo: André Grossmann © 2007 Christo and Jeanne-Claude Foundation
"Land Art works like this: you have to interact with a physical site, with the people who live there, with the local laws, and spend endless hours discussing something that doesn't exist and has never been tried before. The projects live in the minds of those who want to make them, but also of those who want to stop them … And it is precisely from this dynamic that the energy arises." — Christo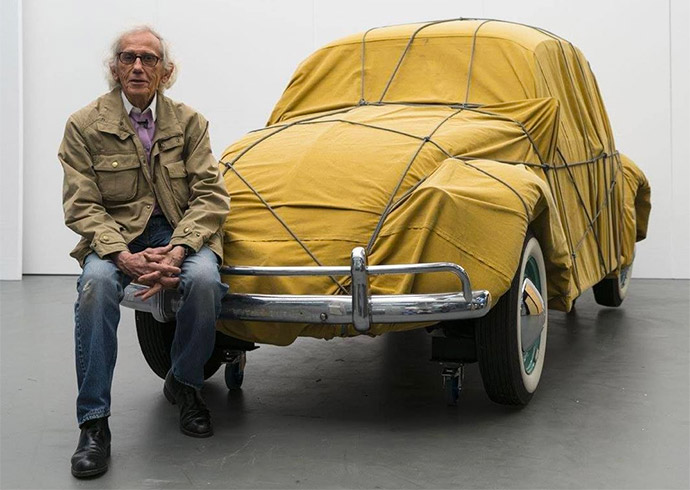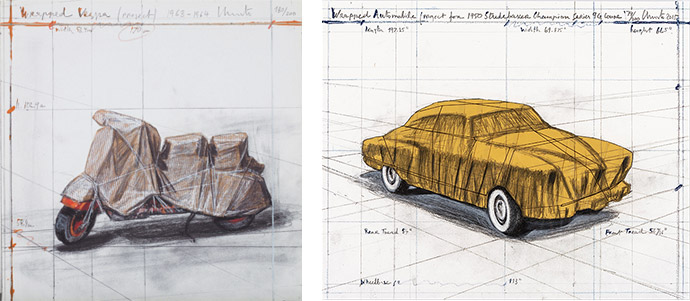 Above: 'Behind the curtain. Wrapping and revealing since the Renaissance. From Titian to Christ', view of the exhibition with Wrapped Beetle (1963). Below: Wrapped Vespa (Project), 1963-64, 2009 | Wrapped Automobile (Project for 1950 Studebaker Champion Series 9G Coupe), 2015
From 1952 to 1956 the Bulgarian-born artist Christo studied at the art academy in Sofia. He then studied for a year in Prague. In 1957 he fled to Austria. Here he studied at the Akademie der Bildenden Künste Wien. After a short time from Vienna he went to Geneva and Paris. In Paris he lived a poor and isolated life as a portrait painter. In 1958 he first started packing small objects — Wrapped Objects — there but because he experienced too much opposition in Paris, he soon moved to New York with his partner and collaborator Jeanne-Claude Denat de Guillebon. From February 1964, Christo and Jeanne-Claude lived in the United States. Christo became an American citizen in 1973, Jeanne-Claude followed in 1984, but also kept her French passport. On November 18, 2009, Jeanne-Claude died in a New York hospital from complications of a brain aneurysm. Christo passed away on May 31, 2020 at the age of 84.
"Coming from an Eastern European country, I am allergic to situations where the state or other power structures interfere with art." — Christo
Christo amazed, annoyed and excited the world for more than half a century by packaging buildings and bridges, erecting a 45 km curtain wall across rural California, surrounding a series of islands with hundreds of thousands of square meters of pink-red plastic and so on. They are, in fact, all immovable terrain works, designed for specific places. In addition to the packaging of three-dimensional constructions, the shape of the object, the color, the environment and its relationship to that environment also form an important part of the whole. On the other hand, and possibly even more important, is the way in which the object and the space around it are manipulated. We are confronted day in and day out with a certain space and grasp the movement in time and space completely numbly. Christo entered that space and created friendly disturbances that are at the heart of his projects. He made boundaries, demarcations, partitions, divisions with the intent of undoing, overturning, or disrupting our movement into that space. His interventions created a reordering of our reflection on moving in space. It provokes and activates our senses. He tried to motivate our senses in space to perceive again.
"I never thought it would ever happen… But I want you to know that many of these projects can be built without me. Everything is already written." — Christo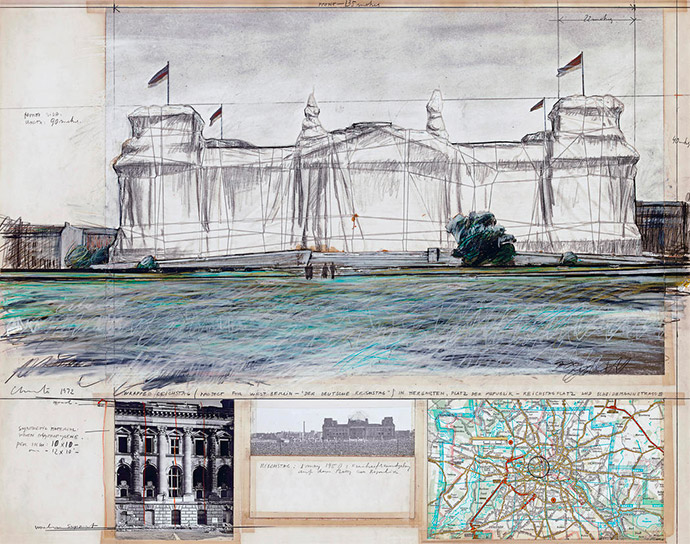 Christo, Wrapped Reichstag (Project for West Berlin) Collage 1972. Pencil, charcoal, pastel, wax crayon, fabric, staples, photographs, map and tape. 22 x 28″ (56 x 71 cm). Private collection. Photo: Archive &copy 1972 Christo

PRIME IDEA

Christo used many of his drawings and painterly collages as 'preparatory work'. They therefore consist of old drawings, photos and sketches in which he added nuances with pencil, charcoal and pastel and which serve as an example for the idealistic idea, the 'prime idea'. In a later phase they were used as technical working drawings, after which an architectural work, a statue or a model was made. His ingenious sketches provide a spontaneous and visual impression, on the one hand they reflect the feeling of a sculptor and on the other hand the technical-constructiveness of an architect's plan. Both are connected by the spaciousness. His drawings offer the opportunity to show the essence of things. As in the tradition of architectural drawings, his drawings also give a representation of what a building will look like and how it stands and works in its environment.

Christo's drawings and collages of unrealized projects are now the only illustrative documents that give an insight into what the result could have looked like. In other words, they have a documenting function.
"One very important thing is that people can come and walk around the Arc de Triomphe and touch the material. It's a work of art that is alive, moving with the wind. Christo and Jeanne-Claude believed their work was ultimately about freedom. Nobody could own this work of art, not even them. Everyone could have their own meaning and every meaning was important and right." — The artist's nephew Vladimir Yavachev, who was overseeing the wrap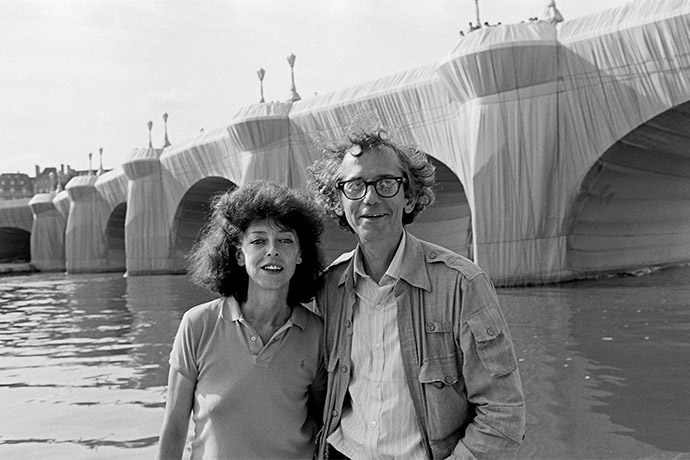 Christo and Jeanne-Claude at The Pont Neuf Wrapped in Paris, 1985. Photo: Wolfgang Volz © 1985 Christo and Jeanne-Claude Foundation

PRIME TIME

The basis of his projects is 'freedom', an enormously poetic gesture of freedom. This also explains why Christo did not accept subsidies. He wanted to maintain control of the project as a whole.

His entire oeuvre has two faces. On the one hand there is the software, on the other hand the hardware. The software part includes Christo's sketches and collages, and thinking about how to make a project achievable. The hardware period started when Christo proceeded to the physical execution of a project in the field. The two periods together form one total work. One does not exist without the other. Christo's projects for the future have long roots in the past. They required years of preparatory work on an artistic and creative, technical, political, cultural, social and legal level. Conflict situations often arose that had to be resolved by Christo and his team. From sometimes bitter opposition from everything and everyone, a project gradually evolved into a positively charged field of tension, and even into almost hysterical enthusiasm and collective commitment. For weeks or months, a project created expectation, which — when the project is completed — is followed by the fulfillment of the expectation. It's an active response and it made people fantasize about what the end result would look like.

Christo called the limited period in which his artwork had the greatest and most obvious impact on the community in which it originated, 'prime time'. After this period, the work of art is continuously deformed and damaged over time. Since the last century, according to Christo, we have developed a merchant attitude towards the work of art. The latter has indeed become "commodity" that is chosen and bought, kept and traded, often with the intention of making a profit. Christo's prime time is completely over and we have lost the essence behind appearances.

Christo's ephemeral projects cannot be bought, kept, possessed, not controlled. He upset people. Christo's poetic creativity provokes; he boldly committed monumental violations of the established, safe values and drew our attention to them.

By changing an aspect of our environment, he changed our relationship to the object or building. That caused us to reconsider our perception. The central idea that Christo's art symbolizes is the transformation through the wrapping process or through a blockage. Like Marcel Duchamp, he created a 'new thought' with an object in which the ordinary meaning and use was changed. His entire oeuvre is like a great theater in which people, with their passions and conflicts, have become actors in the service of the set. An expensive decor that only exists for a short time and then suddenly disappears into nothingness without leaving a material trace. Although the place of action will never be the same as before. Christo's artworks are the pinnacle of liberating irrationality, a cry of freedom.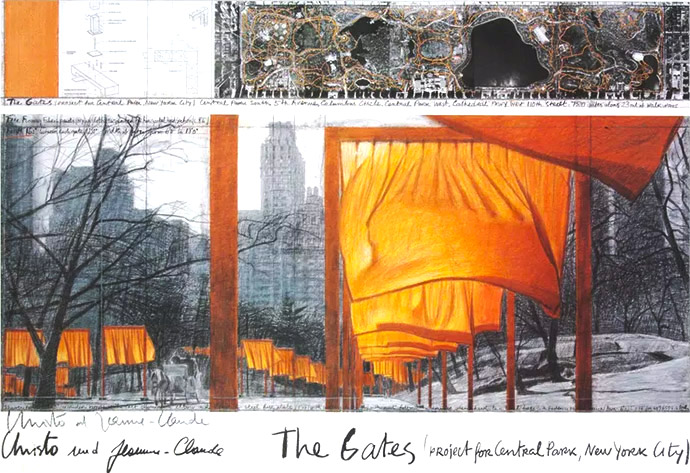 The Gates (Project for Central Park, New York City), 2003
All images courtesy of the Christo and Jeanne-Claude Foundation. Photos © Wolfgang Volz.
---
More story related movies/interviews:
---
Related stories on Woodland:
---
Sources: