MAGICAL MURMURATIONS
The internationally renowned Danish photographer Søren Solkær (1969), previously known as Søren Solkær Starbird, is one of the world's most commissioned photographers of leading musicians and rock bands. Solkær's photography is characterized by finding a tension point between intimacy and edginess. A high degree of staging and lighting are key characteristics of his photography style. His portraits of great personalities from the worlds of film, literature, visual arts and sports, among others, form a significant part of his production. He has also created several significant personal portrait projects and published six books. His impressive list of assignments includes various iconic images of Björk, The White Stripes, The Arctic Monkeys, Amy Winehouse, R.E.M., David Lynch and Patti Smith just to name a few of the many stars he has photographed. He travelled extensively for photographic assignments for record labels, ad agencies and magazines. Søren Solkær turned his lens from singers to starlings and found his way back to his childhood landscape in Southern Jutland's marshland to photograph Black Sun. For four years, Solkær has traveled around Southern Jutland and Europe to perpetuate this mesmerizing phenomenon.
While Søren Solkær is a household name for culturally minded Danes, foreigners are more likely to have seen his photographic images without even knowing it. I first came across his murmurations online when I was writing an introduction to a story about the Belgian contemporary dance scene. At the time I was not even aware that he had gained international recognition with his portrait photography. Later, I found myself flipping through his earlier published work Closer, a collection of portraits spanning the world of music, film and art. He can perhaps be compared to the Dutch photographer and filmmaker Anton Corbijn, but with a completely different style. Solkær 's portfolio even includes a photo he took of Corbijn in 1999. I also read in an interview his biggest influencer, not aesthetically, but as a way of being a photographer, is Anton Corbijn. "No matter what job he has, he's always kept strong stylistic consistency. He's really good at framing, and has great tension in his compositions. It's always quite graphic in the way he shoots." There is certainly truth in that!

But back to the murmurations of the birds. The population of starlings is declining, putting them on the critical list of birds most at risk. As a child, I remember that when a flock of starlings landed in the garden, people didn't run high with that. Nowadays you see less and less that hundreds of thousands of starlings join together, merging and separating, swooping and diving as one. That's why I was amazed when I saw the choreographic character of Søren Solkær's series Black Sun. Allow me to make a portrait sketch of this photographer before going deeper into this fantastic phenomenon.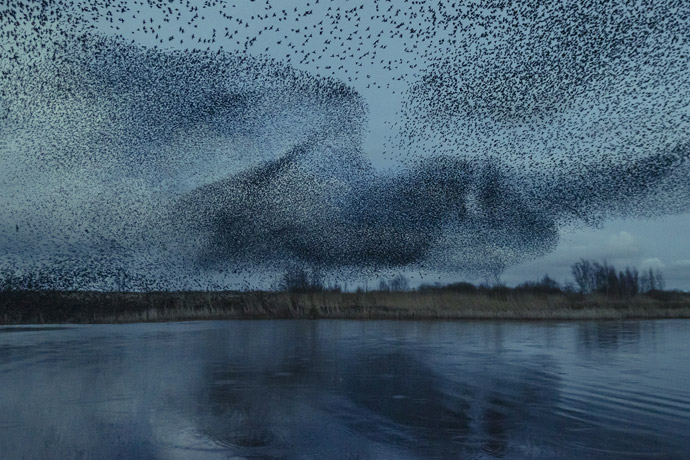 Black Sun #58. At times the flock seems to possess the cohesive power of super fluids, changing shape in an endless flux | Photo by Søren Solkær.
"I stay pretty quiet. Portraits brought me into photography in the first place. It was a way of overcoming my own shyness." — Søren Solkær
Copenhagen-based Søren Solkær started photographing back in 1989, when he started travelling for the first time by airplane. As he grew up in the country, and he had saved up 18,000 Danish kroner for my trip to Asia. Being only 19, it was the start of a more adventurous part in his life. When he arrived in Singapore, Solkær spended a quarter of his budget on a good SLR camera because he had the feeling he wanted to do something with it. He'd only saved up for four or five months but he ended up staying away for a year and a half. He met a photographer in the youth hostel in Singapore, an Australian who was a documentary photographer. He spoke to him for a while and he thought his job was the most incredible thing. From that moment on, the Dane wanted to get in touch with people and the camera became the key to doing that; the way to walk up to another human being and interact with them. A camera is a great excuse for many things. When Solkær returned to Denmark, he went to university to study Nordic literature. At university, he had access to a dark room so he learnt a lot more. Then at 24, he went travelling back to Asia, Tibet and Nepal for almost a full year to photograph. After that, he found a photography school in Prague (Czech Republic).

When he lived in Prague, it was right after the revolution. The city was crazy, full of young people from everywhere. I can remember the atmosphere because the only time I visited Prague was in 1990. At that age, Solkær just worked twenty-four seven. He spent all his time out at night in the city and in his dark room. He was literally living in the dark. After Søren Solkær received a Bachelor of Arts in Photography at FAMU in Prague and has throughout his career photographed portraits of prominent people from the global public. He mainly draws his inspiration from the world of film and painting, and his work is in the field of tension between intimacy and visual nerve. Czech photography is very staged and has a strong theatre tradition. That's been incorporated into photography as well. When the communists came, it was illegal to photograph on the streets, and a lot of the photographers had to photograph in a room with whatever lights they had. They would bring people in and create their own world. The staged quality of the Czech photography is really what he took with him through his career. His portraits are often regarded as cinematic in tone with a distinctive color palette. The inspirations for his style as a photographer is ranging from filmmakers David Lynch and Wong Kar-Wai through to the works of photographer Philip-Lorca diCorcia and painter Caspar David Friedrich. The resulting images show the artist's interacting with their completed work in a dynamic, open way, while also, at times, concealing their identities. Solkær's biggest inspiration, more aesthetically, probably is Philip-Lorca diCorcia. He just really likes how diCorcia uses artificial light for creating certain moods, photographed out in the real world, and then adds light so it becomes a little bit surreal. It adds a cinematic quality to it.
"Starting out analogue posed certain restrictions on taking photographs. We didn't just shoot away. We put more intensity and energy into each picture. I think that's an important lesson that you learn from analogue. I like the idea of one picture where you put all your energy into it, because it gets better." — Søren Solkær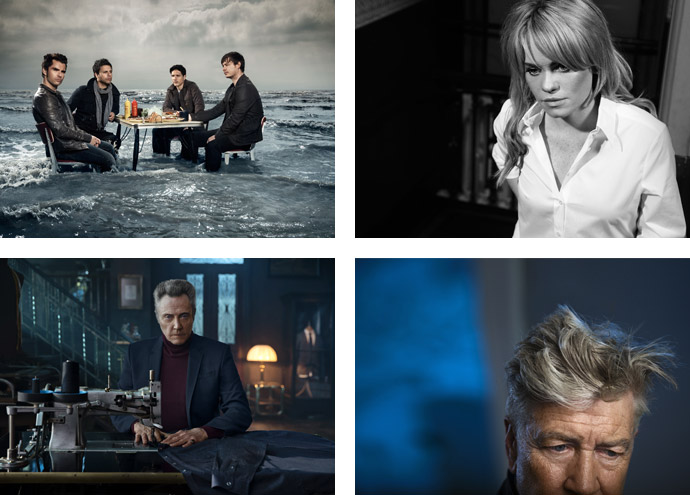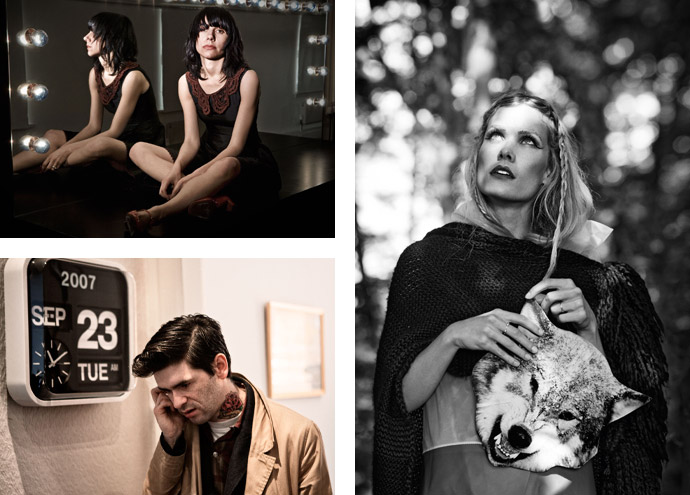 Top: Stereophonics, Duffy, Christopher Walken "Made of Cool", Jack & Jones and David Lynch | Bottom: P.J. Harvey, Nanna Øland Fabricius and Franz Ferdinand | Photos by Søren Solkær.

FROM STARBIRD ... | Rock stars, actors and street artists

In the series Photographers Posed (1993-2002), Søren Solkær has portrayed a number of master photographers by imitating their own unique style, using their own models, their camera, lighting and studio and using the same film types, paper and printing technique. It was Solkær's encounter with Czech culture and the way in which its structures manifest themselves in art that gave him the idea for the project. The concept was to portray photographic artists and thereby convey their distinctive artistic universe and visual style. At each session, two portraits were made — a solo portrait and a portrait of the photographer along with his or her model. Remember the photo of Anton Corbijn I mentioned earlier. The finished images appear stylistically, as if they were the portrayed photographers' own works. Personally, I think he has managed to adopt a Corbijn-esque style to portray the photographer himself.

Illuminations from 2012 is a series of portraits of young people who have lost one of their parents or siblings. The project was carried out in support of the association Children, Youth & Grief as part of the initiative 'Give hope'. With the portrait series, Solkær has created a work of art that encourages the viewer to think about his own relationship to life and death, while at the same time shedding light on the many facets of a mourning process.

Having immortalized a generation of the world's most celebrated musicians in his extraordinary photographic compositions, in 2015 Søren Solkær turned his attention to the global street art movement. In Surface, Solkær portrayed more than 135 significant street art artists, from the pioneers in graffiti to the best young street artists of the time as well as contemporary practitioners. He spent two years travelling the world, photographing the artists in their urban workplace. The artists are photographed staging them and their works, supported by Solkær's characteristic use of cinematic lighting and props. The portraits capture the connection between the artist, the work of art and the space of the city.

He also photographed a series of yogis in mediation with their eyes open named Souls, so to make it easier to remain in a state of enlightenment even when not actively meditating. His approach to taking portraits is like an extension of his own personality. He's been told very often that he's very quiet when he takes photos. He doesn't shout out lots of directions. It's more of an exchange. Solkær basically tries to be present with the person and is there on an energy level rather than a directorial level. For the yogis it was very comfortable that they could be silent together.
"At times the flock seems to possess the cohesive power of super fluids, changing shape in an endless flux: From geometric to organic, from solid to fluid, from matter to ethereal, from reality to dream — an exchange in which real-time ceases to exist and mythical time pervades. This is the moment I have attempted to capture — a fragment of eternity." — Søren Solkær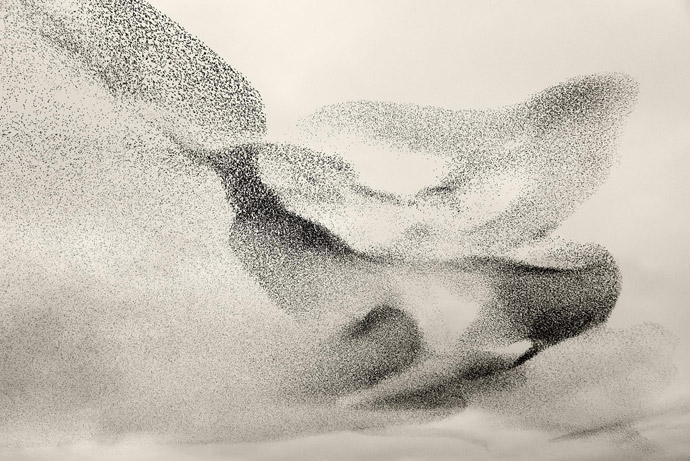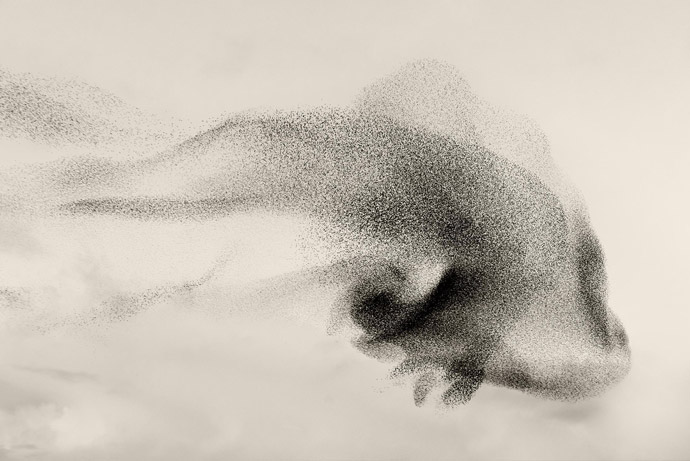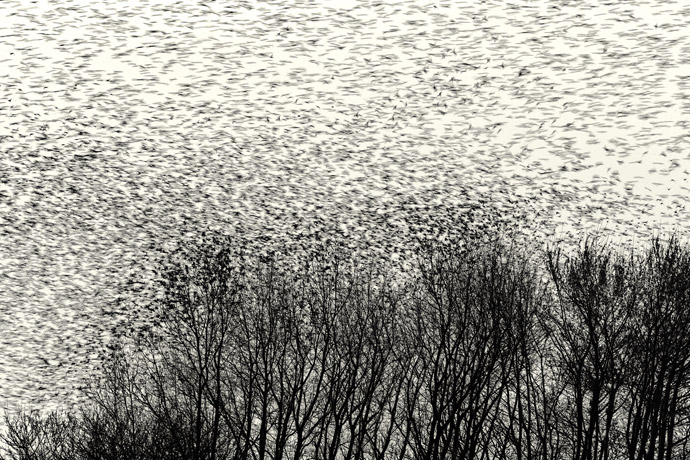 Black Sun #7 | Photo by Søren Solkær.

... TO STARLINGS | Amorphous flocks swell above the Danish marshlands

After twenty years photographing everything from street artists to musical icons, Søren Solkær has turned his eyes to the sky. He has been documenting large murmerations of birds for many years. In 2020, the Dane was ready with his largest art photography project to date: Black Sun. Inspired by calligraphy and Japanese woodcuts, he has created a series of graphic images of the landscape and the large flocks of starlings. The project focuses on the quiet landscapes where nearly one million starlings congregate during the vernal and autumnal seasons, performing their black sun ballet about life or death. The fluctuating flight patterns swell above the horizon as the birds move from tree to tree or sometimes, in response to an imminent threat. "Now and then, by the added drama of attacking birds of prey, the flock will unfold a breathtaking and veritable ballet of life or death," Solkær explains, further comparing their airborne appearance to inky sketches or calligraphy.

Within Black Sun the Danish photographer captured one of nature's most spectacular phenomena. The countless birds puts on an incredible show of collaboration and performance skills twice a year when they migrate from one destination to the next. Growing up in Southern Denmark, where this breathtaking scenery unfolds, Solkær always had a fascination for the starlings that naturally lead to the start of this project. Set at dusk, the photographs frame the migratory birds as they take to the sky in murmurations, amorphous groups that transform the individual creatures into a unified entity.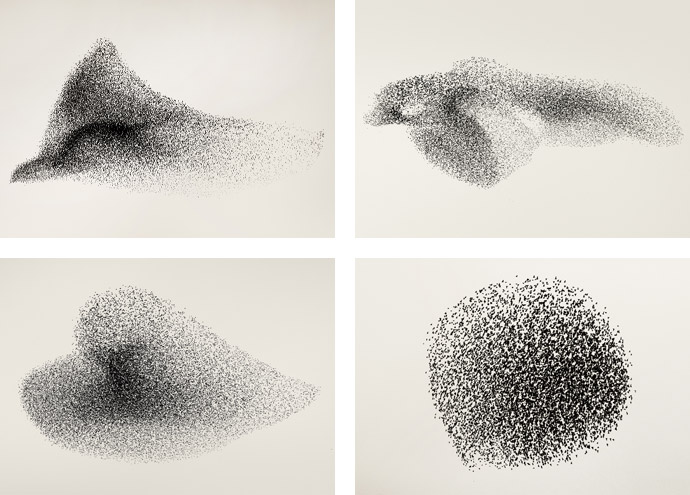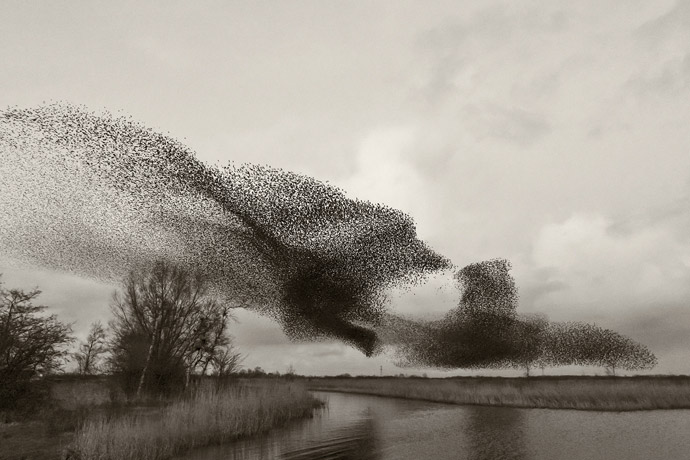 Above: Black Sun #1, Black Sun #19, Black Sun #2 and Black Sun #3 | Below: Black Sun #59 | Photos by Søren Solkær.
"The starlings move as one unified organism that vigorously opposes any outside threat. It's a strong visual expression that's created, like that of an ink drawing or a calligraphic brushstroke. Shapes and black lines of condensation form within the swarm, resembling waves of interference or mathematical abstractions written across the horizon." — Søren Solkær

SORT SOL | The art of flying

Creating Black Sun — Sort Sol in Danish, also the name of the first punk band in Denmark for which he shot some of their album covers — took Solkær to Holland, Italy, Britain and Spain, creating thousands of videos along the way. The art book Black Sun is fabric-bound with screen printing and embossing — printed on 4 different paper qualities at Danish Narayana Press. The first edition of 4.000 books sold out in six weeks. Søren Solkær's largest art photography project to date was published in November 2020.

An exhibition under the same name, Black Sun, has already been shown in Amsterdam and LA, and it's about to travel to Sydney and Tokyo. In March of this year it opened at Heart: Herning Museum of Contemporary Art. This was the first museum presentation of photos and video based on the art book. The exhibition presented more than 50 photographs. In addition, a video collage made especially for the exhibition by the filmmaker Tine Reingaard, and two additional video works: one by Søren Solkær and one by Tine Reingaard with new music by Karsten Fundal. The sound page, which is experienced in 3D, was organized in collaboration with sound designer Mikkel Larsen and Dynaudio. Since not everyone has been able to travel to Denmark to visit the exhibition, including myself, and because the exhibition has ended already, it is possible to pay a virtual visit to the museum.
"Movement is essential in the creation of a Black Sun, the experience becomes dynamic. One must rejoice in the photographer's obsession with his substance. Millions of magical split seconds lie between each of the images that have been allowed to manifest in the light and darkness that is the space of photography. The photographer must have had it with the substance as a certain person in the Bible had it with his god: I will not let you go until you bless me. As the starlings have put their signature in the sky, Søren Solkær has put his unmistakable signature on these leaves." — Excerpt from Ib Michael's preface to the book Black Sun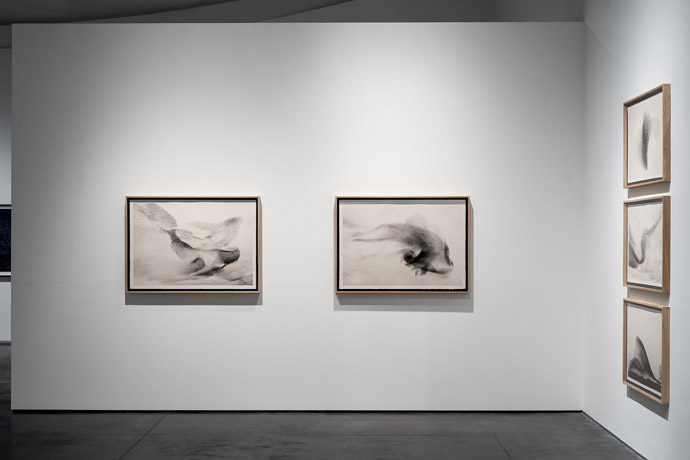 Black Sun exhibition at Heart, Herning (Museum of Contemporary Art) | Photo by Søren Solkær.
And for the whisky lovers among us, Søren Solkær has also worked closely with the Scottish whisky distillery Highland Park for several years. He made more than 250 photographs of the distillery in the Orkney Islands, and Highland Park pays tribute to the Danish master photographer with a very special single malt, which is launched in extremely limited edition. Slàinte! ... a friendly Gaelic toast made before enjoying a whisky in company.
Stay amazed!

All images courtesy of the artist. Photos © Søren Solkær.
---
More story related movies/interviews:
---
Related stories on Woodland:
---
Sources: