GATEWAY TO THE ARCTIC
Audun Rikardsen (1968) is a Norwegian biologist and wildlife photographer. He is professor at the Department of Arctic and Marine Biology at University of Tromsø. Among other things, Rikardsen has researched how satellite marking of wild salmon can map the fish's migrations. Being a scientist, Rikardsen uses photography as a helpful tool to show his scientific results. For example, he photographs whales to capture the fluke — the backside of the tail of the whale — which works as a fingerprint. Then we can compare that photograph with databases in other parts of the world, and in that way identify the migration of whales between those areas. As a photographer, he has especially experimented with split-level photography taking pictures with a combined surface and underwater camera. It's not luck, it's science: the technical feats behind Audun Rikardsen's amazing Arctic photographs. They show animals from a unique perspective.
In 2018 I visited Lowland Photo Festival in Antwerp for the first time, a meeting place for everyone who loves nature and photography. The photographers who step into the limelight are not the least; they have often won prestigious prizes in renowned nature photography competitions such as the BBC Wildlife Photographer of the Year, Nordic Nature Photography, Nature's Best, etc. I went there to listen to the lectures of the Belgian nature photographers Martin Steenhaut and Michel d'Oultremont, the French couple Stéphanie & David Allemand among others. And then there was the handsome biologist and wildlife photographer from Norway, Audun Rikardsen. He came to tell a fascinating story about a polar bear 'selfie'... recovered after a year lost in Arctic waters. The anecdote behind the picture is what really makes it, on top of the situation. I soon became a big fan.
Audun Rikardsen is from a small fishing community in Northern Norway called Steigen, and now lives in a small village at the coast outside Tromsø, also known as the Gateway to the Arctic. He was originally a fisheries biologist, but today he researches the behavior of whales. Interest in these marine mammals was aroused early on because his grandfather worked as a whaler. Today he benefits from his knowledge of the regional wildlife and their habitat. Pairing a curious nature with a burning interest in wildlife, above and below sea level, he creates photographs that receive worldwide recognition for their creativity and technical acumen. But first and foremost, Rikardsen is a scientist. This is the driving force behind his photography — with a photograph, like no other medium, he can share his research with the world.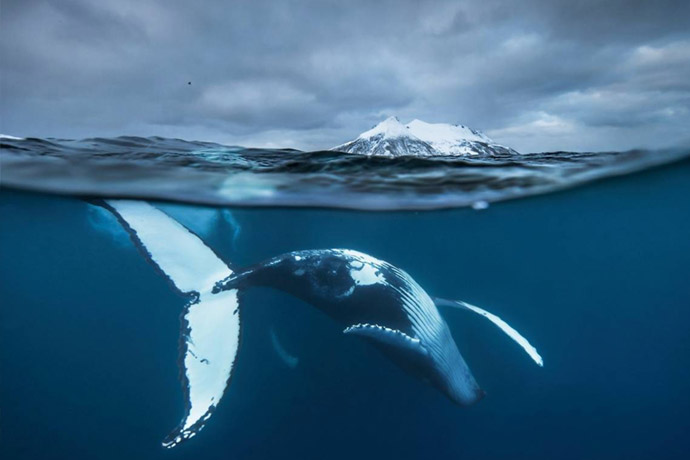 During the polar nights when the sun never rises, it is just 4°C in the tumultuous, frigid Norwegian Sea. The city of Tromsø is further north than many people ever venture — 350km above the Arctic Circle. These are facts that don't deter Audun Rikardsen. In pursuit of photographs of Nordic wildlife as it has never been seen before, he uses his cameras and lenses in punishing conditions: left for days, weeks and months in snow, sleet, hail and wind.

You have to be a little crazy to go diving between whales in the far north of Europe in winter. And inventive. In order to implement his ideas, he developed a special camera system including a special underwater housing and powerful flashes. In order to capture these audacious and uniquely creative compositions, his own waterproof housings optimises the camera's ability to focus both above and below the surface in low light conditions of the polar winter. He often uses a fisheye lens because the less water you get between your lens and the subject, the sharper and clearer it will be. That's because there are fewer particles in the water to shoot through. "The wider the lens, the better", he says.
"As a scientist, you're focused on your goal. You plan and you try to get final results, and I do the same with my photography. As a scientist, you need to have a good idea to get funding. But as a photographer, you also need to have a good idea to show something different. And if you have an idea for a project, you plan it like a scientist. People will say, Audun, you have so much luck. Well I don't. I think that if you are passionate, if you plan your work and you really want to reach a goal, eventually the luck will come. You can plan the luck." — Audun Rikardsen
Ever since North Atlantic schools of herring migrated to Norway to hibernate, thrilling scenes between fishermen and whales have taken place there. Audun Rikardsen captured this interaction in unique pictures. In 2016, his pictures of a killer whale in the frost mist explosively exhaling air at the surface of the water in a rather mystical way — a breath in the polar night — was the overall winner of GDT (Gesellschaft Deutscher Tierfotografen) The European Wildlife Photographer of the Year (EWPY). The photo was taken early January in a fjord near Tromsø while a fishing trawler was hauling up its nets, a group of orcas tried to grab a free meal. The extreme cold and high humidity created a magical mist on the sea. Rikardsen's boat, his camera and even he himself were covered in ice crystals, turning photography into a real challenge. It took hours before he finally managed to capture an orca taking a breath on the surface of the sea.

That same year he also won the prestigious Fritz Pölking Prize (FPP) to honour his exceptional photographic portfolio. He received this international price with his story on the the polar winter feeding feast — a series of whales in the polar night. According to the jury, the Norwegian succeeded in creating a symbiosis of haunting photo reportage and atmospheric animal photography in his series. With his nocturnal photo of the killer whale, Rikardsen prevailed from almost 18,000 entries.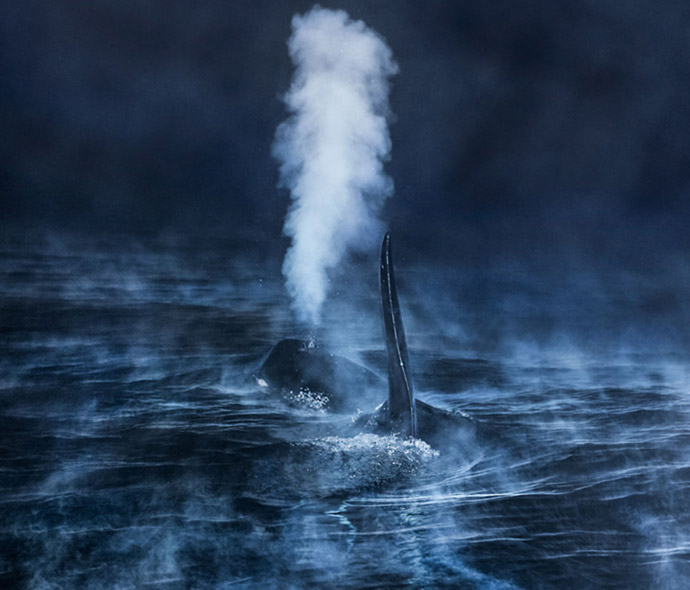 "Audun Rikardsen succeeded in taking a very poetic, mysterious shot that depicts this familiar motif of nature photography in an interesting contradiction: it appears strong and gloomy, but also vulnerable. The picture arouses interest for closer inspection, curiosity to discover more and stimulates thoughts and imagination. The photograph also reflects the actual situation of the killer whale: Although the killer whale as a so-called top predator is not considered endangered globally, individual populations are suffering from severe population losses." — Prof. Dr. Beate Jessel vom Bundesamt für Naturschutz (BfN)
Rikardsen often shows animals from a unique perspective. He prefers showing moments in nature that you rarely see. He's aware of the fact that a lot of people complain that some photography has become unnatural, because you can capture things you wouldn't normally see. But for Rikardsen, that's what he wants to show — that moment with that animal in that situation. He prefers his photography to show an animal's natural habitat and what it's doing at close range, creating the feeling that you are in the situation, sitting there with the animal.

Because Rikardsen is both a full-time scientist and a photographer, his challenge is time. And if he wants to do photography, he needs to combine it with science, and with his local interests. When his daughter goes to bed, he goes up there to arrange a hide-up. High on a ledge, on the coast about two kilometres from his home, he therefore carefully positioned an old tree branch that he hoped would make a perfect golden eagle lookout. To this he bolted a tripod head with a camera, flashes and motion sensor attached, and built himself a hide a short distance away. From time to time, he left road-kill carrion nearby. If he's lucky the camera will take the picture for him. Very gradually — over the next three years — a golden eagle got used to the camera and started to use the branch regularly to survey the coast below. Rikardsen's painstaking work captures the eagle's power as it comes in to land, talons outstretched, poised for a commanding view of its coastal realm.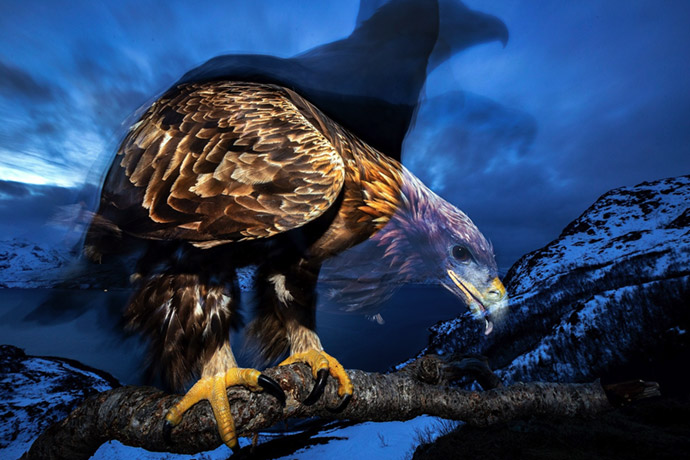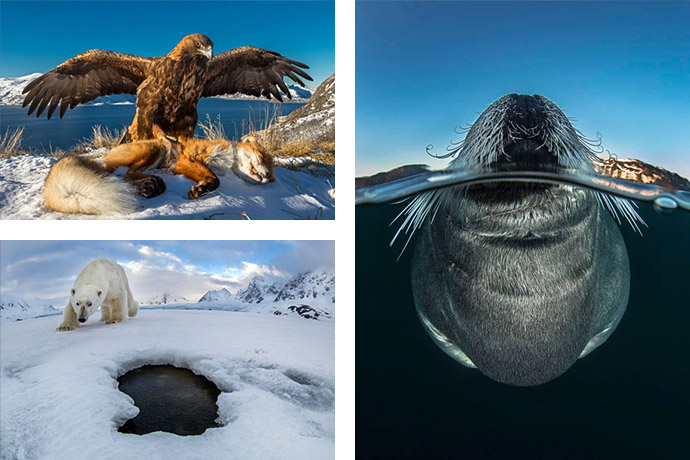 When it comes to photography, the photo itself needs to be a single shot with no adjustment or additions — Audun Rikardsen wants it to be totally natural. He plans photographs as a scientist. He often gets an idea, writes it down, and starts thinking of the methods he can use to reach his goal to get that picture. He never stops. And if he fails, he tries again — he gets even more motivated to reach it. It's that moment when you understand what you have been looking for, for weeks or maybe years. That's the part that drives him both as a scientist and as a photographer.
"The millimetres that divide those two worlds have always fascinated me. Birds dive down to catch fish, and whales come up from below to breathe. The lives of these creatures are connected by these millimetres of surface water." — Audun Rikardsen
Audun Rikardsen also masterfully understands how to deal with light — or rather with darkness — and uses his self-developed flashing light system to mystically stage a humpback whale swimming on the surface of the water in the depths of the Norwegian winter night. In another picture he shows in reportage style the dangerous moment when a killer whale approaches the catch of a fishing boat. The killer whale gets a free meal on leftovers from a fishing vessel. Rikardsen always remains consistent in his work and always shows the animals in the context of their environment or the respective situation. He tells us his story with a lot of closeness and sincerity.

With the help of friends with expertise at the University of Tromsø, engineers usually, Rikardsen built his own dome housing. The reason in the first place was that he had that picture in his head. He even made a drawing that looks almost exactly like the final picture. He had been observing these killer whales being attracted to fishing boats — you can see it all happening from above the surface, and if you dive, you can see it from below the surface. He wanted to take a picture that tells both stories, but there was no equipment on the market that could do that in low-light conditions. That's why he came up with the idea of making something. When he eventually got the chance and captured that picture, it was a huge adrenaline rush.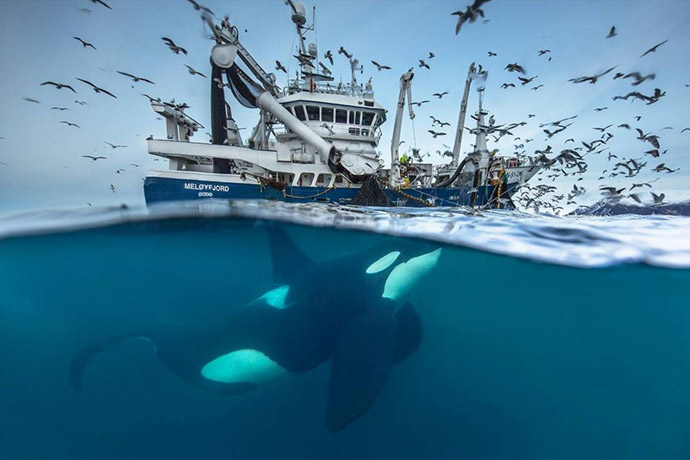 In 2016, Rikardsen was portrayed in an hour-long episode of the NRK series Ut i naturen called Et eventyr gjennom linsa (An adventure through the lens). In 2019, he published the photo book Vinterkval (Winter Whales) in Norwegian and English based on eight years of photo and research projects about whales in northern Norwegian fjords. And yes, it is now also shining in my bookcase among other books by interesting and inspiring creatives. One of Rikardsen's pictures of killer whales and trawls became the motif for one of Norway Post's stamps in April 2020.

Rikardsen thinks it's important to focus on a species or a place. He doesn't travel much, and most of his photographs are taken locally, within a few kilometres from his home. He tries to specialise in his local environment. He believes that's a possibility that a lot of people have, even if they live in the middle of Brussels or in the Sahara. There is always something that is special for your area. If you focus on that, you have the chance of being there at the right moment, taking a picture that is different from most others.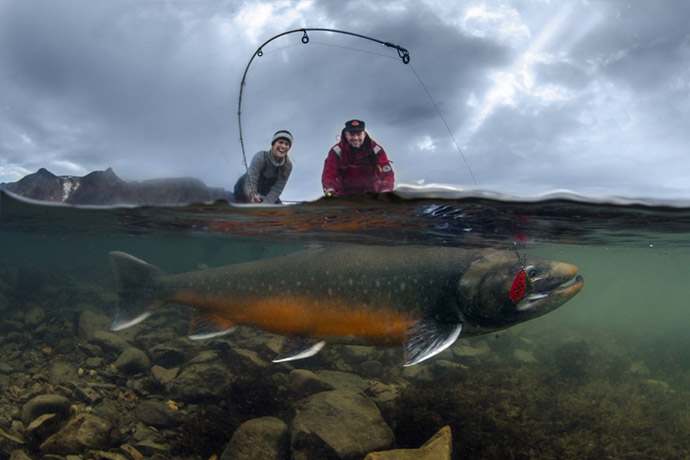 "The type of photography I do is on the limits, in conditions that are quite harsh. The kit is splashed with salt water, it's taken out in freezing conditions and in the rain, and I sometimes drop it. I have to trust that the equipment can withstand it. It has to be robust." — Audun Rikardsen
In this short video, Audun Rikardsen, reveals the technical feats behind 'the shot'.
In this video, Audun Rikardsen, talks about 'split level focus'.
If you're like to read an interview of Emma-Lily Pendleton & Kathrine Anker with Rikardsen in Dutch, lees hier...

Stay amazed!

All images courtesy of the artist. Photos © Audun Rikardsen
---
Related stories in Woodland Magazine: