HUNT FOR THE PERFECT PHOTO
Michel d'Oultremont (1992) exudes all the beauty of nature through his photos. He's a passionate and talented young Belgian nature photographer who already won the Wildlife Photographer of the Year, Rising Star Portfolio Award, in 2014. After he photographed animals mainly in close-up, he now takes much more distance. This way the animal can move freely through his image. He also places less and less emphasis on the animal itself, but more on the environment. A normal animal specified in a special way, with the most beautiful light. His photos radiate a fairy-tale atmosphere. They have an almost impressionistic and painterly quality to them, a delicacy that balances the animal against the environment but never overpowers it. Patience is one of his most important features. He sometimes spends hours or even days in a shelter to be able to capture that one moment. When the animal then arrives, it generates a lot of emotion, an intense moment. And it is that emotion that he records in his imaginative photos. He never ceases to be admired for the nature that surrounded him. To get the perfect shot, d'Oultremont can spend a whole month alone in remote areas like the Carpathian Mountains in northern Romania, Hokkaido island in Japan and Yellowstone Park in the US. An introduction to a photographer who feels equally well at home in the Ardennes as in the far north.
In 2018 I visited Lowland Photo Festival in Antwerp, a meeting place for everyone who loves nature and photography. The photographers who step into the limelight are not the least; they have often won prestigious prizes in renowned nature photography competitions. I went there to listen to the lectures of the Norwegian scientist/photographer Audun Rikardsen, the French couple Stéphanie & David Allemand, the Belgian nature photographers Martin Steenhaut and Michel d'Oultremont, among others.

Michel d'Oultremont talked about how it is the adventure that fascinates him, the adventure alone ... without technology, without false light: only confronted with the force of nature and its fauna, only confronted with this immensity that reminds us of the smallness of man! And yes, d'Oultremont is literally just a small gentleman, but great in the way he approaches photography. As a photographer one is always looking for that one perfect photo. And some photographers go a bit further than others for this. Photographing the animal world is undoubtedly one of the most difficult assignments. One has often noticed animals for a long time, but to bypass their vigilance, there is only one solution: to know their behavior and have a lot of patience. A quality that certainly d'Oultremont has mastered! And so he steps in the footsteps of his great example Vincent Munier.

At the beginning of this year, Sylvain Tesson's book The Art of Patience: Seeking the Snow Leopard in Tibet was published, which was awarded the Prix Renaudot. Invited by a renowned wildlife photographer, Vincent Munier, Tesson took part in an extreme expedition across the inhospitable, icy and high-altitude plains of the Himalayas in search of the very shy and endangered snow leopard. In 2020 Michel d'Oultrement also traveled to Tibet to photograph this mysterious cat. And with success.
"When you wait and the animal arrives. When you see the animal in de viewfinder of your camera, it provokes so much emotion. It's such an intense moment. It's a moment that might last thirty seconds, one minute, sometimes five minutes maximum, in perhaps a whole day of waiting. But once that click is done all the difficulties disappear. You have that micro instant of life that you wanted and I'm privileged because I'm the only one to witness that scene. And the final click is what captures all of that. And that... that's incredible." — Michel d'Oultremont
Born in Glabais, a very small village near Genappe in the country side of Belgium drowned in a beautiful intact nature, Michel D'Oultremont is used to adventure with his backpack and his camera looking for unique moments in the beautiful surroundings. He always had an adventurous mind and felt attracted to birds and their subtleties and movements of other small animals. At the age of 12 he broadened his view when he observed rabbits from a tree hut with binoculars.

Little by little, he was used to do ornithology with a telephoto lens to observe the animals of the marshes. Michel d'Oultremont owes the desire to immortalize all these long-observed moments. He got triggered by a documentary film he saw at the age of 15 at a nature photography festival in the nearby city of Namur (Festival International Nature Namur): Les secrets des photographes animaliers, a film about the secret lives of wildlife photographers. Three months later he bought his first DSLR. Thus the observations of mammals or birds followed one another and a real passion was born: the inclusion of a single moment. He took his first photograph in 2007; an encounter with a crested tit in the fir tree of his garden. It was a click.

After he learned a lot of techniques and tips on many specialized forums, he went to study photography at Inraci in Brussels where he succeeded brilliantly. But for d'Oultremont nothing beats photographing, lying on the ground, continue to learn and improve himself because his models, they are alive and unpredictable!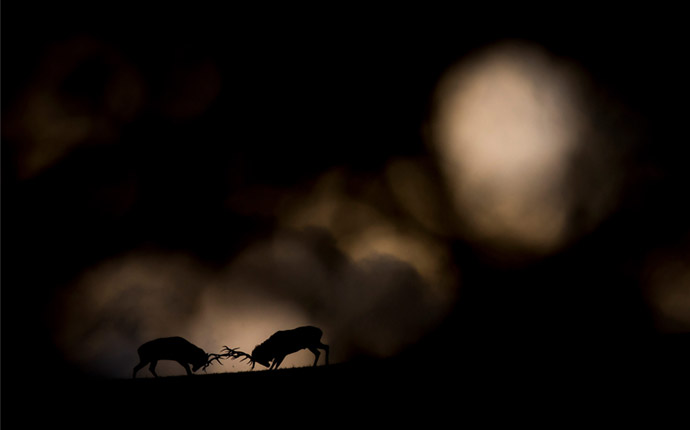 Dream duel: As storm clouds gathered over the forest, the roaring sound of two competing red deer stags echoed through the trees. Well matched, neither challenger would walk away, so the contest escalated to a dramatic clash of antlers. Hiding behind a tree under a camouflage net, d'Oultrement had time to capture just a few frames before the stags separated. Every autumn, young males, begin the annual search for a mate and compete to attract female attention. In preparation, males will often binge on fallen conkers, bulking up for their displays of strength. During the rutting season, deer will stand side by side, assessing their rivals before locking antlers and going into battle.
"Photography represents a way of life to me. It is more than just a passion, I feel like it's in me… what's important to me is to be in the nature and feel 'alone' and that's why I keep on taking pictures almost every single day, in Belgium or wherever it can be." — Michel d'Oultremont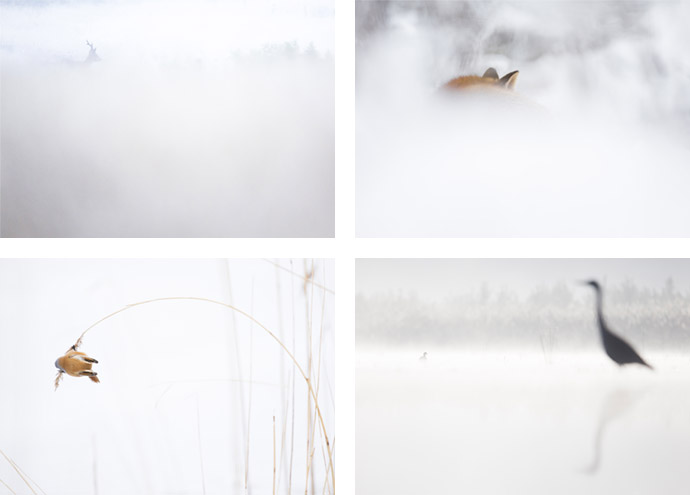 His walks in the Belgian campaign looking for wild birds and mammals to capture with his camera, will then become his dada. Starting with water birds, foxes, roe deer or deer, but slowly it extends to other places and other techniques. The photographic talent of d'Oultremont isn't limited to Belgium, but extends internationally. At the age of 18, he travelled all over the world to push his horizon to always better views, better lights, better pictures ... Since then, he has been wandering around, whether in his native lands or in much more distant lands.

His photos are noticed during several photography competitions and photoconferences in different countries such as France, Spain, Germany, Italy, Russia and Scandinavia. He's a precocious talent. In 2014, at the age of 22, he already won two of the most prestigious wildlife photographer prizes — the Rising Star Portfolio Award of the BBC Wildlife of London and the Fritz Polking Nachwuchspreis from the GDT of Lunen for photographers under 23 — and released his first book A l'Affût.

This honorary title had a bit of the same effect as the Oscar of the best young actor in the film industry. Although it is obviously glorious to receive such awards which allow more doors to open and to show his talent to other audiences; it's not a goal in itself. His desire is to offer an exhibition of his best photos around the world.

An adventurous and lonely temperament to the impossible and dream

Once on site, it takes him an average of 4 to 5 days to adjust to the new environment, and then a few more days to do some scouting. Finally, during the trip, the time he takes photos is only 10 to 15% of the time. He takes thousands photos to eventually end up with about ten, because his selection specifically goes to the photos that capture that specific moment he experienced on the spot and those who are also beautiful from his technical point of view. "First you have a long hike ahead of you. And then you have to wait for hours and take thousands of photos before you are lucky to capture a deer or a bird," explains the photographer. By his photos, Michel D'Oultremont wants to reproduce the emotion he experiences with his own eyes. Emotion is very essential, it is she who guides his photographs. A series is the result of many photos he takes, guided by feelings and emotions, and without anticipating the result.
"The hours I spend in nature observing are an opportunity to get to know and understand the animals. The thing is, I find the place where I just might be able to take a nice picture. I take it step by step. Swarovski Optik, a brand of binoculars, gives me material to observe the zone from afar and see where the animals move. Thanks to that initial exploration, I can gradually get closer, without the animals feeling me from afar. That's the only way to get them." — Michel d'Oultremont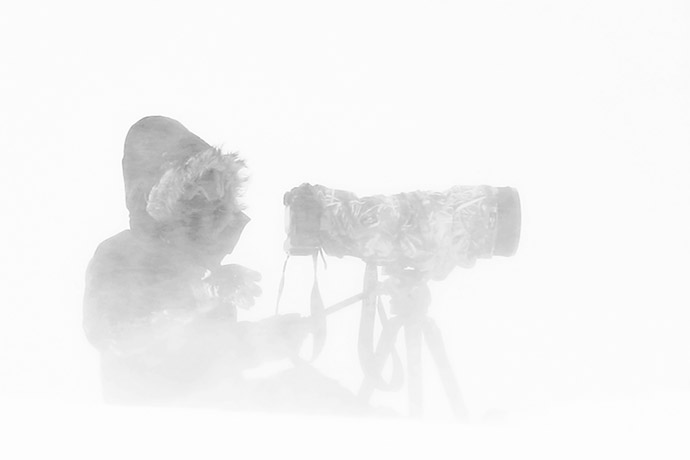 His approach is no longer scientific as it may have been when he started shooting. On the other hand, part of d'Oultrement still remains an ornithologist! Especially because he keeps feeding the ornithological databases and because his hunting equipment and tackling techniques are identical. He takes his camouflage tent to a place he's seen before and waits in silence for nature to forget about him. However, that is where the comparison between the ornithologist and the photographer ends, because he searches for the best artistic composition for each photo. Once he has prepared everything, he has no control over the time or the animals. If the animals don't get through, or the light is bad, he can't help it and almost 9 out of 10 times he comes home empty-handed.

Thanks to enough patience, Michel d'Oultremont knows how to record that unique moment, which makes his photos magical and authentic, even though many parameters remain impossible to display in images: time, breath and visual contact of the animal, the sound of approaching footsteps, ... He wants to make his image fantastic by revealing the animal and nature in a magical environment. This phenomenon is feasible thanks to a game of natural light that best reflects its experience and emotion. The young man revolutionized animal photography by bringing it to life thanks to the special atmosphere and the emotion that emanates from it.

The choice to choose photography is not trivial. He had also been able to make a video in which the animals are more alive, but setting up, the viewing of the moment and especially the more complex recording, speaks to d'Oultrement's imagination. It is the adventure that fascinates him, the adventure alone ... without technique, without false light: only eye to eye with the power of nature and its fauna, only to this immensity reminiscent of humanity! Everyday contact with two different worlds: the silence of solitude due to long periods of secluded photography of nature and wildlife and the frenzy of our technological society during the return to so-called social life is disturbing and even destabilizing for Michel d´Oultremont.

Hiding in a small nook covered by tree branches, he holds still for up to eight hours a day, attempting to go unnoticed by the surrounding wildlife. D'Oultremont is used to this way of life; he embraces the solitude. Paradoxically, nature at times terrifies too but he needs this sensation to always advance towards new challenges and capture what seemed impossible before. During a trip to Croatia, d'Oultrement was once attacked by a bear. As a result, he remembers that despite the fact that man is always of the opinion that he controls everything that does not represent anything in wild nature.
"The less I bond with the animals during expeditions in Europe, the greater the chance that I will take good photos! Wild animals are very suspicious of our continent. They better forget about me completely. It's difficult because despite my lens, which is very precise, I have to be relatively close to the animals to photograph them: 5 or 6 meters for birds, 20 to 25 meters for large mammals." — Michel d'Oultremont
Through his softly exposed photos, Michel D'Oultremont lets us discover a mysterious nature. "Morning mist has something magical. It creates a fantasy atmosphere." But that nature spectacle you don't just get thrown into the lap. Often as a photographer you have to leave in the middle of the night and steps or even days due to weather and wind. Only that way do you find the places that are magical for day and dew, or at the end of the day.

CARPATHIAN | Bisons in the Romanian mountains

Since 2014, several times wild bison has been plotted in Romania. Michel D'Oultremont wanted to put these mighty animals in the picture and traveled to this remote area hoping to find a herd. He stalked his way through the misty Carpathian mountains. Whether hestled in his pop-up hide, or crouched under a dilapidated wooden hut, d'Oultremont waited in composed silence for the reintroduced bison, that were made extinct from the area over 200 years ago. Following a week of contemplative trekking through the mountains, with barely a single shot captured, the bison finally arrived. Once photographed, the final images have an ethereal quality reflecting the beauty of the animal and patience of the photographer. The stunning images were well worth the effort. Reminiscent of legendary Vincent Munier's series depicting the musk oxen of Norway, d'Oultremont's images achieve an artistic balance between subject and environment, in appreciation of his personal philosophy.

London based film director David Hayes and producer Hannah Salvanes Mclean decided to follow him on this adventure. Their documentary The Wait>, produced with film production company Contra Agency, has become a beautiful and honest insight into the process, passion and patience of an incredible young talent. The Wait takes the viewer on a journey from Michel d'Oultrement's hometown in Belgium to the remote mountains of Romania. On the trail of wild bison, he tracks the movement of the animals and then waits for the perfect moment; a process that can take up to a week to capture one shot.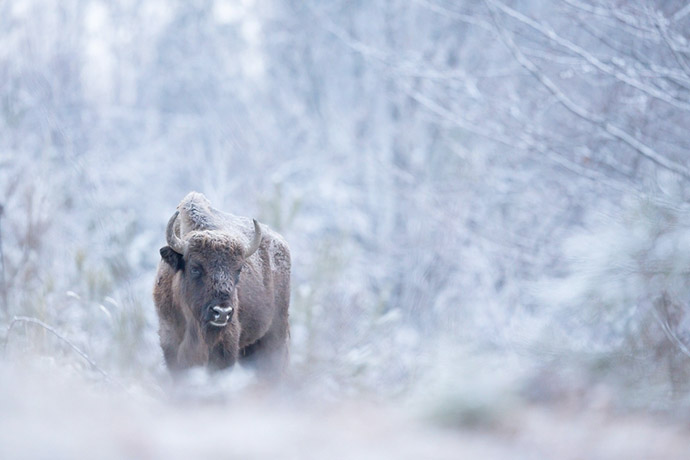 DOVREFJELL | Norwegian Tundra

In each photo, he tries to understand what the animal is doing and surrounds it with a beautiful composition. That's why he likes to work in conditions where he can find a spectacular landscape, light or weather.

To reach good sites, he prefers to be alone, in a desert or in harsh and hostile environment, such as musk oxen, in the highlands of a nature park in Northern Norway. First, it is easier to approach animals because you are alone. This gives better control over the conditions, even though in this case he was accompanied by two befriended photographers: they all had the same limitations and the same objectives. Being in a hostile climate not only offers opportunities to take better, more beautiful photos, but it is also an extra motivation. When he realizes that the photos he has taken are not satisfying, aware that he does not have much time and that the opportunities are limited, he will return with all the more energy to put himself on the lookout and search new views.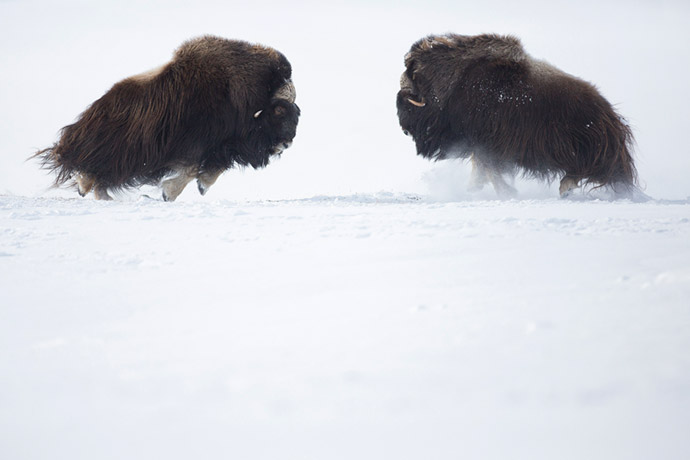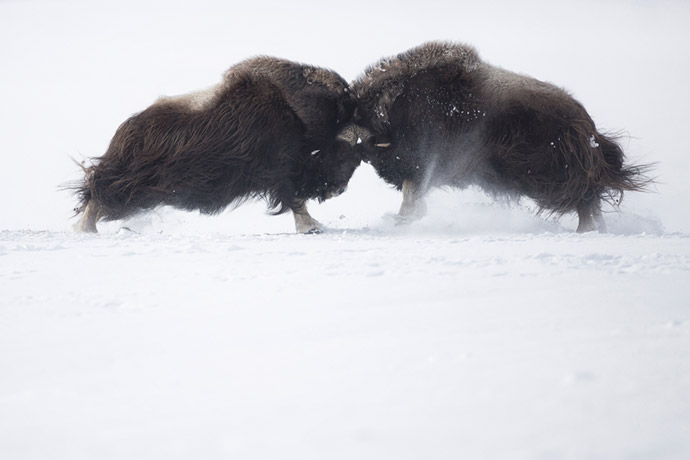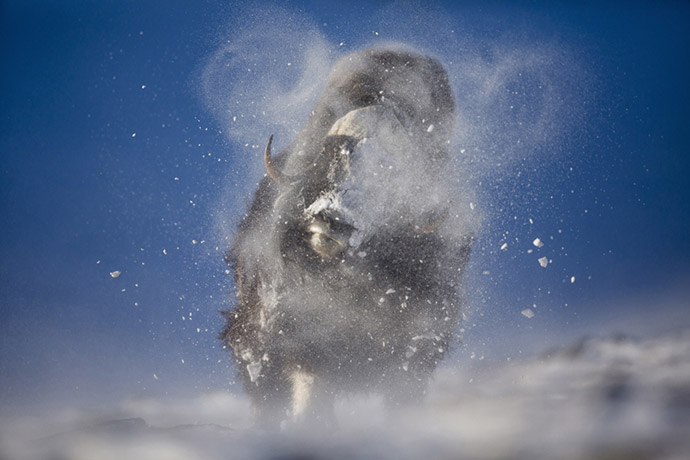 Musk oxen, recently reintroduced to Norway, are less suspicious than other species. When d'Oultrement met them, he was very close to them. They could see him. As long as he could see the first signs of nervousness or irritation, it was okay. In 'Puissance I', the animal is sniffing after a snowstorm, resulting in a whirlwind of ice, and it stood only 20 meters away from d'Oultrement.
"I've run into my fair share of wolves and bears, but I'm not afraid of animals. They're just curious and besides, they're the ones who are scared of us. Once in Croatia, a bear tried to climb into my watchtower, which was three metres off the ground. It managed to get its head and one leg into the hatch. I yelled and smacked its leg to scare it away and it ran off. I spent the next three hours shaking." — Michel d'Oultremont

YELLOWSTONE | Respect and admiration

Michel d'Oultremont had a childhood dream: to explore the famous Yellowstone National Park in the northwest of the United States. Thanks to the Iris-Terre Sauvage grant he won in 2017, this young photographer was able to achieve it. In February 2018, he left alone for one month hike in the wild valleys of the Yellowstone. His goal was clear: to isolate himself fully from the rest of the park and find an icy solitude.

Snow is falling in large flakes in the dead of winter in Yellowstone National Park. He travelled through the remote valleys of this mythical place. The temperature dropped well below freezing. The cold was precisely one of the major challenges of this trip, with minus 44 degrees Celsius in the mornings, everything immediately froze. The cold has been something he truly struggled with. It was very unpleasant. Breathing was painful, the body turned to stone, but d'Oultremont wanted to continue, although he was literally freezing. His toes were frostbitten. Luckily it was not too bad and he still has his ten toes. It was a real lesson, not only a life's lesson but a lesson on how to be better prepared and equipped to such extreme conditions.

On the way to these wild encounters that took place along the white path. In this environment he managed to create images beyond all expectations, despite frozen tools that only worked in slow motion and colors that were transformed by the cold. From a human point of view, this journey taught him a lot and gave him the chance to experience incredible animal encounters. In that month he walked side by side with a large fauna: buffaloes, coyotes, a bison frozen by ice, otters, elands or even wolves. A coyote even came to smell his feet. Alone, on an adventure in a pure white atmosphere, an atmosphere that reveals unique images in his book Yellowstone.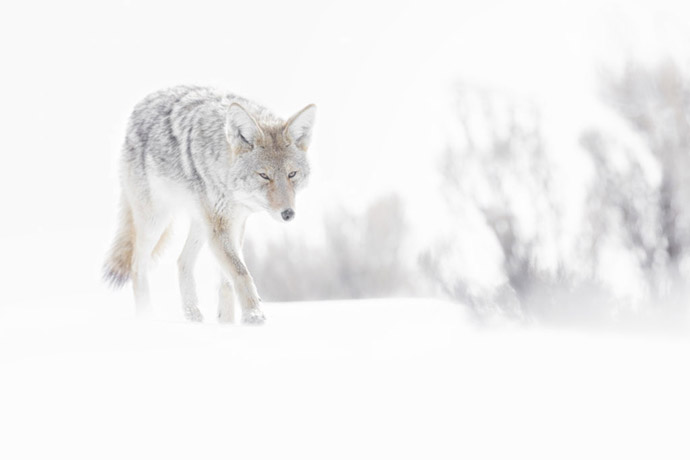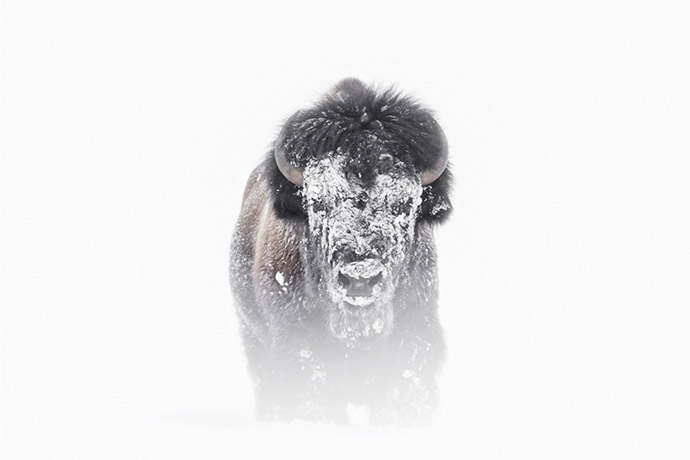 HOKKAIDO | Japanese island

The island of Hokkaido has always attracted d'Oultrement for its beauty in winter and for its incredible animal species that come there in winter. It is a place full of magic and emotion. He had the opportunity to go there in February of 2020. In preparation, he only looked up some basic information on the internet and made a few phone calls to nature-loving friends. He has also explored the area on Google Maps. During the first week, he studied the island a little further on site to get to know and understand the most important areas. Then it was already time to take pictures. Michel d'Oultremont spent a month walking through the area covered with ice and snow and he recorded the encounters he had with the animals that live there in his own artistic way.

Hokkaido is not just a photo book about the nature and animals of the Japanese island of Hokkaido. It rather resembles an art book. As a viewer you imagine yourself together with the photographer in the heart of a harsh winter that ravages the island every year. Michel d'Oultrement takes you to this mythical landscape with its fascinating animal species, where time doesn't seem to matter. In addition, he himself provided the often poetic texts that accompany the photos. This combination of words and images expresses a great love and respect for flora and fauna.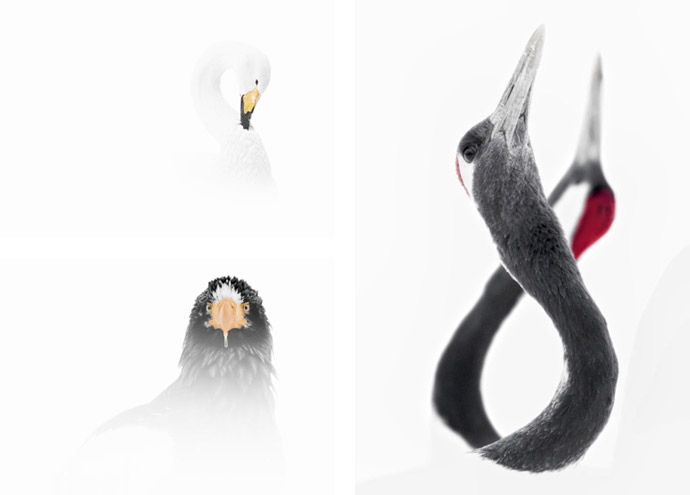 Top: The ice is everywhere. A swan in the big white coat. | Right: Two Japanese cranes parade and dance together to seal their love. | Below left: The Steller's eagle is the largest bird of prey in Hokkaido. He is a giant in the sky. It landed not far from d'Oultrement, with the tip of its mouth completely frozen.
"I like everything that is pure, simple and essential. That's why I often shoot in the snow, conditions like that are ideal for my photos. I like the difficult conditions, the cold, the snow and the storm!" — Michel d'Oultremont

HIMALAYA | In the footsteps of the ghost of the mountains

Why are snow leopards called "ghost of the mountains?" Snow leopards are known as by that name because of their elusive nature. In addition to being very shy, the coloring of their coats make them difficult to see against the snowy environment they live in. They are white and gray in coloration, allowing them to camouflage themselves in the snowy, rocky terrain.

Michel d'Oultremont has photographed these rare snow leopard last year. The photographer, accompanied by three Himalayan trackers, went in search of this mysterious and lonely animal: the snow leopard. He roamed the hostile peaks of the Himalayas hoping to spot an elusive animal. It was very difficult to observe this species because when the animal is not moving it looks more like a pebble stone. And this big ghost cat sleeps most of the day because she likes to hunt in the morning or evening. But d'Oultremont was lucky enough to be helped. He was thus able to take routes where the snow leopard passes to hunt. Knowing these places, it is enough to observe for a long time with binoculars and a telescope, and at some point they found the snow leopard.

This feline generally lives between 2,500m and 5,400m above sea level, in extreme climatic conditions. Its thick coat makes it resistant to the cold and its long tail allows it to balance on the sides of steep cliffs. The first time d'Oultremont saw the animal, it came close to a cleft. There he saw a female and her three cubs. Unprecedented happiness. "Three young for a panther is quite rare. They passed a snowdrift — a bank of deep snow heaped up by the wind — and they entered a cave. It was a unique and truly magical moment."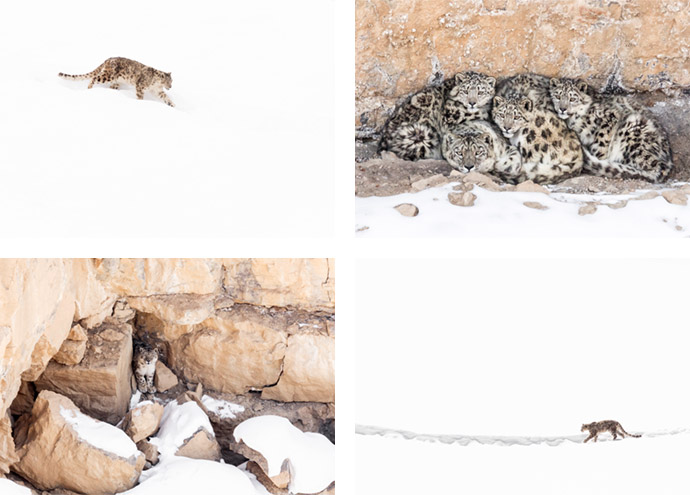 Thus, the photographer had the privilege of photographing some of the last 4,000 wild snow leopards. Over the past 20 years, the population of this vulnerable species has declined by 20%. But today the curve is reversing and the population is increasing thanks to conservation programs implemented in the 12 countries where the animal is present.
With several awards under his belt already and a career on the rise, d'Oultremont is promising to be one of wildlife photography's brightest stars.

Stay amazed!

All images courtesy of the artist. All his pictures are taken with wild and free animals. In addition, no software editing is performed after the shooting. Photos © Michel d'Oultremont.
---
More story related movies/interviews:
---
Related stories on Woodland: