AS CLOSE TO NATURE AS POSSIBLE
It's safe to say that Belgian photographer Frederik Buyckx (1984) has been quite successful since 2017. He was shortlisted in the ZEISS Photography Award with his series Horse Head, and was also announced as Professional Photographer of the Year at the Sony World Photography Awards. In his work Buyckx explores remote areas where nature can be overwhelmingly beautiful and unpredictably harsh. In doing so, he systematically sounds out the ultimate boundaries of the elements. Encounters with unique people are often the occasion for a photo series. In his impressive award-winning series Horse Head, he documents in an inimitable way — and on horseback himself — the isolated lifestyle of semi-nomadic shepherds in Kyrgyzstan. He sought to reconnect with nature in an ongoing project that's shaping his career. A breakthrough to a wider audience.
When Els and I visited the 2018 edition of BAD (Belgium Art Design) in the Floraliënhal in Ghent, we walked past large photo prints presented by Nationale 8 Gallery. We entered the booth and started talking with the owner of the gallery, Roger Erzeel, who put Buyckx's photo project in context. He invited us to his gallery in Brussels where Els ordered a photo of Buyckx (No, I'm not gonna tell which one). A year later, during an edition of De Donkere Kamer in Genk, we met Frederik Buyckx in person. A messy quiff of ashy brown hair tops a face with an easy smile, and his manner suggests a relaxed equanimity with the world. After an interesting conversation about his adventures in Kyrgyzstan, graphic design, Xavier and living on a boat named Sancta Maria, I bought his beautifully designed photo book and now I'm delighted to reveal this intensely absorbing Belgian photographer to you.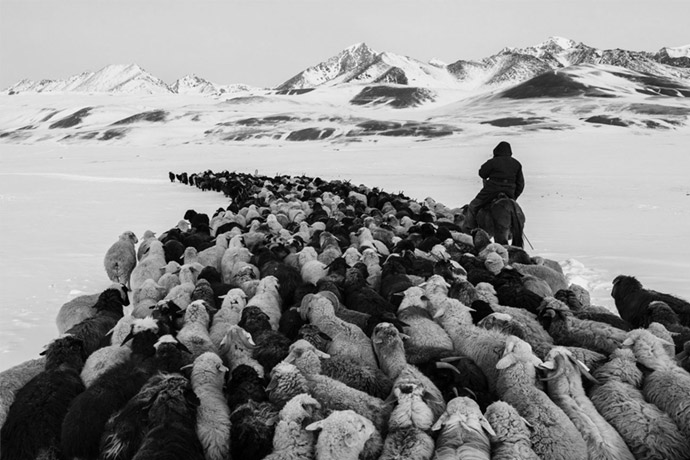 At the age of seventeen Frederik Buyckx started backpacking with a map. He tried to keep the costs down in order to work as few holiday jobs as possible and travel the entire summer. He searched for the smallest mountain roads, because that's where he had to be. Today he still does. As he got the urge to capture his experiences, he became interested in photography and decided to pursue a degree in it.

Buyckx has received a Master's Degree in Advertising Design at St-Lucas Antwerp and took an evening class in photography at the Royal Academy of Fine Arts in Ghent, Belgium. After a four year masters degree, he ended up being offered his dream job, interning for a top Belgian ad agency in New York. "It was a great experience — I was sitting, drawing, coming up with concepts and ideas, but I was behind a desk. I didn't know where I wanted to go exactly, but I knew I wanted to travel." At the end of the internship, he bought his first DSLR, booked a flight to Central America, and left the world of advertising behind. "I hadn't wanted to become a photographer, but I found something that allowed me to combine travelling with a lifestyle. I discovered that I really liked it. Photography gave me a reason to travel, and it gave my travels more sense." Something I also recognize in myself.

He currently works mainly as a freelance photographer for De Standaard and has won one prize after another, including a World Press Photo Award in 2013, for his series Jesus Make Up and Football where he documented the daily life in the favelas in Rio de Janeiro. His work has been published in The New York Times, The Sunday Times, NRC Handelsblad and many domestic titles.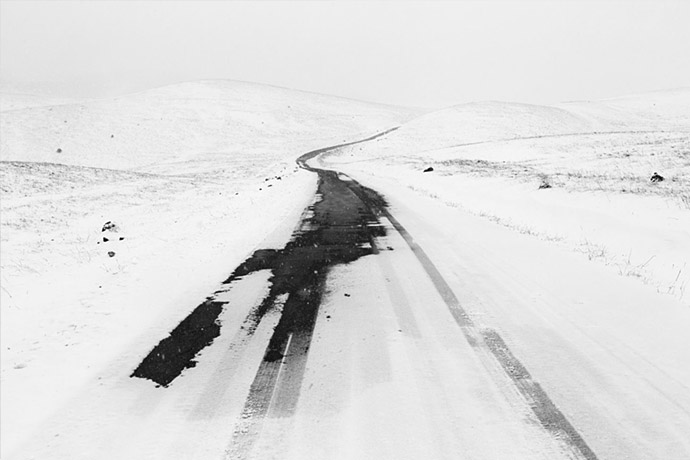 Frederik Buyckx hesitated to send in the series of photos, because he thought of himself that he was not a landscape photographer at all. "I am a documentary photographer, and I initially submitted a series of photos for a different category, about a semi-nomadic people in Kyrgyzstan. But in Kyrgyzstan as well as in a few other places I had also taken some strong landscape photos, so I thought: why not?"

His award-winning series Whiteout, in the Landscape category, was taken in 2017 in the Albania and Central Asia, remote areas where people often live in isolation and in close contact with nature. A harsh existence, fighting against superhuman forces. The images were taken from two separate ongoing projects — WOLF, which he begun in 2014, and Horse Head, which he started in 2017, about that semi-nomadic people in whose life the horse is central. Shot in the snowy mountains of Kyrgyzstan, the Balkans and Norway, Whiteout was born from Buyckx's fascination with small communities who live in harsh winter conditions. In this snow-bound white world, there is a simplicity and a quiet emptiness. A donkey stumbles in an empty mountain-scape, a thick black road disappears into nothing, a figure with a broom is walking to somewhere — we don't know where.
"There is a peculiar transformation of nature when winter comes, when snow and ice start to dominate the landscape and when humans and animals have to deal with the extreme weather. The series investigates this struggle against disappearance. The struggle against a whiteout." — Frederik Buyckx
Frederik Buyckx met the Kyrgyz herders, the protagonists of Horse Head, on his first day in Kyrgyzstan. He had just arrived at the airport and as he's not very fond of cities, he took a bus South to the Naryn region. He dropped his backpack in the last town that had a hotel and started walking and hitchhiking along a road that goes for 150 kilometers all the way to China. In the afternoon he took a lift back. The driver had to drop something in a little village before he returned to the city. In the village some young men were playing a traditional sport on horses. He was so fascinated he told the guy to go to the city without me. After the game they invited him to join them for dinner and some vodka. It immediately clicked within the Kyrgyz community. He communicated with signals that he'd like to stay and they offered him a bed and the shepherds immediately included him in their daily life. That's how Horse Head was born. Buyckx went back to the village seven times. "There is so much beauty in their way of life. It's the other extreme of how we live."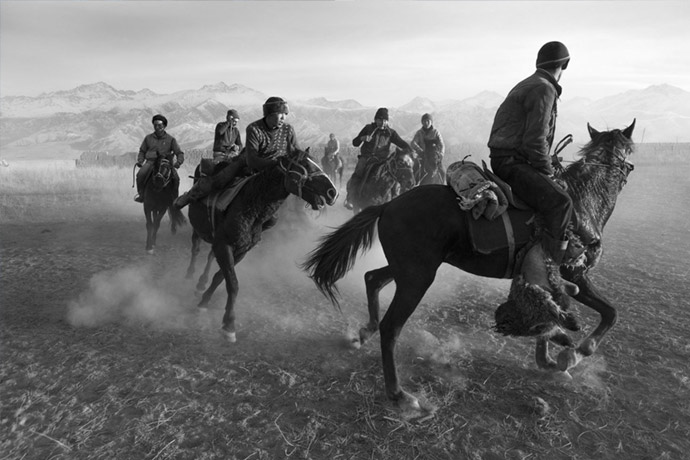 In his mind, the photos are all linked, and they are all documentary. Through his penetrating black and white photos, he shows the pure, hard life of the semi-nomads who guide their herds through the landscape. He wanted to experience what it's like to live as close to nature as possible, because he has the impression that we have forgotten how to do that. In Belgium once an inch of snow falls, the country comes to a standstill. What feeling does Buyckx hope to create? He investigates how humans and animals live together, to what extent they are dependent on each other and how they deal with the relentless force of nature. In Kyrgyzstan he went up the mountains with men on horseback at minus 20 degrees celsius fighting against wind, ice and snow, and if he didn't follow their advice, he wouldn't survive. Winter exposes the herders to icy cold and harsh living conditions. With knowledge that is passed on from generation to generation, they keep themselves and their livestock standing in this inhospitable landscape. They live day-in, day-out with their animals. Buyckx inimitably depicts the emotional bond that the shepherds have with their horses, which are indispensable in their daily life. Those animals are part of every aspect of their lives. It is crucial to herd their animals in the mountains and the horse is also indispensable for its milk and meat. The Kyrgyz use them to go up into the mountains to herd their flocks, to transport them to town and they like to spend their leisure time on the back of a horse and they often play games in which horsemanship dominates all competitions, like Kok Boru — a sport in which horse-mounted players attempt to place a sheep carcass in a goal. That power of nature and the respect that those people muster, was mainly what he was looking for.

According to certain mythologies, the wolf guides people in their journey of self-discovery. Lonely yet powerful, the predator exhibits both beauty and danger. Just like the unspoiled nature of the Kyrgyz plateaus where they roam, and Frederik Buyckx shot his series. In winter the Kurgyz shepherds live quite isolated in farms in the mountains, about half a day away from the village. There's no electricity or running water. In summer, when the snow melts, they do a two-day-trek with all their animals to the grazing plains where they live in yurts and let their sheep roam during the day. The shepherds keep yaks too, and they are freer. They are checked on every few days with binoculars. One night about 500 meters from where Buyckx and the shepherds slept, a yak was eaten by wolves. Buyckx felt uneasy quite some times. Once he was walking alone and the weather suddenly changed. He couldn't see a thing anymore. "In moments like that you're painfully conscious of the risk you're taking. I like that feeling." One summer evening they were doing a trek for two weeks and they had to sleep in a valley notorious for its wolf population. As they were at a height of about 3000 meters, there was no vegetation. To repel the wolves, they had to make a fire with dried cow patties they found at an abandoned farm nearby.

During those mountain tours, the photographer also came across impressive landscapes, but that never happened, had he not first moved in with those people for a week or two. That also makes those landscapes documentary for him. That, and the fact that they are the result of a personal search. The urge to experience those things for himself was just as great as the urge to document them.
"Nothing ever felt more intense then being caught by beauty and anxiety at the same time." — Frederik Buyckx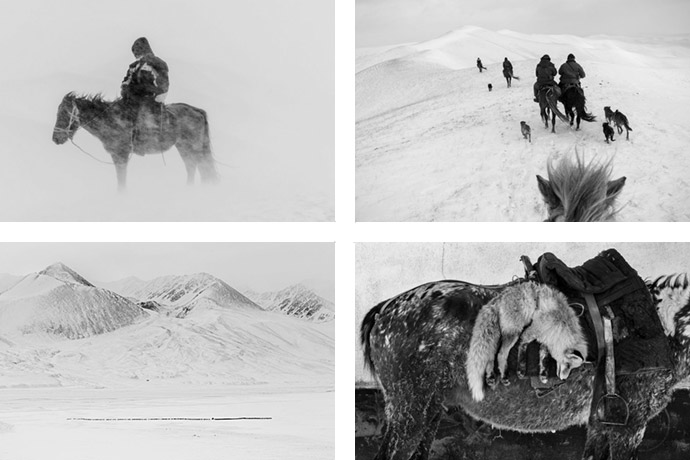 "Buyckx's work returns to the essence of looking at photography. A landscape is often overlooked but is central to our existence." — Zelda Cheatle, chair of judges at the Sony World Photography Awards
Sheep, yaks and riders are just dots in the vast, overwhelming nature. In Buyckx's photographs, you can almost feel the wind cut through your skin as you journey by horse through the snow-covered landscape. Everything makes you feel that he is not only there to take pictures, but that he has a genuine sense of empathy. If you want to experience the feeling from the comfort of your couch, be sure to order his beautifully designed book, Horse Head, published by Hannibal Books. Different paper thicknesses have been used in a very thoughtful way and the book also shows all photos as large as possible without a fold in the middle. For this you have to turn the book a quarter turn. Highly recommended!

In this short video, Frederik Buyckx, tells about the start of his project WOLF.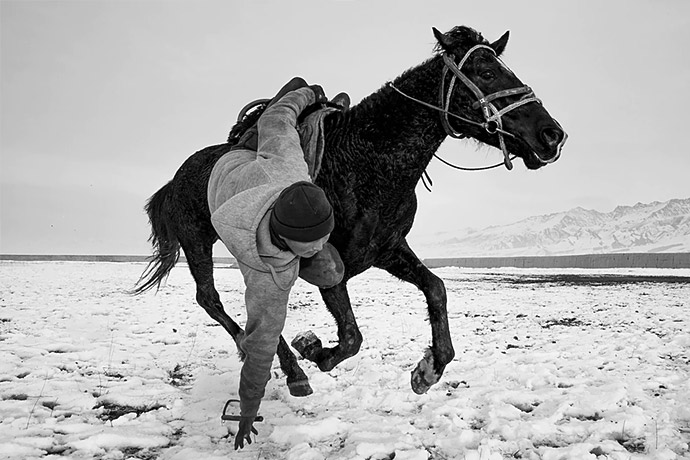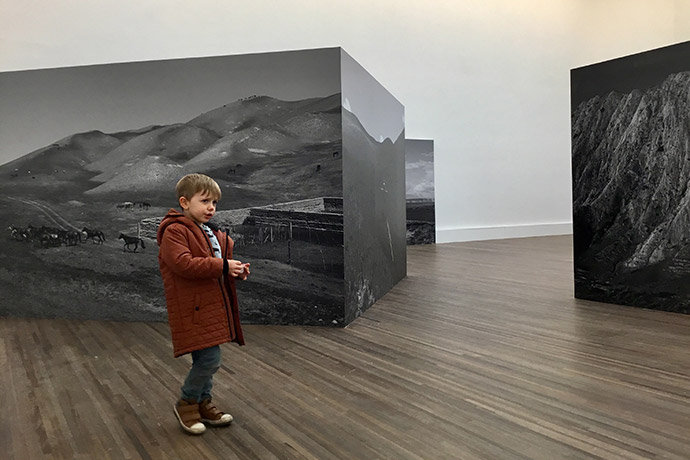 All images courtesy of the artist. All images featured © Frederik Buyckx
---