THE ETERNAL AMAZEMENT
Born in 1976, Vincent Munier lives in the Vosges (France), his homeland, thus cultivating permanent contact with wild nature. He chooses photography to express his dreams, his emotions and his encounters. After his various successes in the prestigious BBC Wildlife Photographer of the Year competition in 2000, 2001 and 2002, he decided to devote himself entirely to photography. Nowadays Vincent Munier is one of the most famous nature photographers. His images have been exhibited in various countries and are the subject of numerous publications in wildlife magazines. At the end of 2018, his work was chosen by Reporters Without Borders to appear in their magazine 100 Photos de Vincent Munier pour la liberté de la presse. Munier is more than a photographer, he's a true artist, a poet of the image.
I got to know this extraordinary wildlife photographer and tireless adventurer when I was searching for photographs of wolves because I named my son Wolf. I was instantly blown away when I saw Munier's photos and the documentary of him surrounded by white Arctic wolves. I immediately ordered one of his books, Arctic. In Arctic, Vincent Munier presents the most beautiful images of his six years of winter expeditions. He travelled hundreds of kilometres, often alone and without assistance, on the territory of the white wolf, the "ghost of the tundra". Unique images, the apparent softness of which would almost make forget the harshness of the shooting conditions. A praise of patience and adventure, but above all of Arctic beauty.

Vincent Munier, born in the mountains on the eastern side of France, is one of the world's leading fine art wildlife photographers in the world today. With many beautiful art books to his name, and with limted edition prints that sell in the leading art galleries worldwide, Munier is a true outdoorsman who is never happier than when he is out in nature, with the animals he loves so much. His beautiful photographs have a unique, minimalist style with a picturesque feeling, belying the fact that he often has had to spend weeks and weeks in the wilderness in order to create them.

Vincent Munier "had the chance to grow up in a family already very sensitive to nature". His father, a teacher, and his uncles fought in the 60s to defend the nature of the Vosges — extension of ski resorts, grouse, beaver ... In addition he lived near the forest. Munier learns from his father to listen to the forest. He transmits to him his knowledge of great observer on the signs left by the fauna: here, a tuft of hairs hanging on branches, there a grouse droppings whose color and texture even indicate the time at which it was deposited. All this language of the forest that cannot be learned in books, but through long hours of listening and observation.
"A camera is not necessary all the time. Walking around with binoculars is enough. Sometimes photography can spoil your emotion. The camera is like a barrier between you and the emotion." — Vincent Munier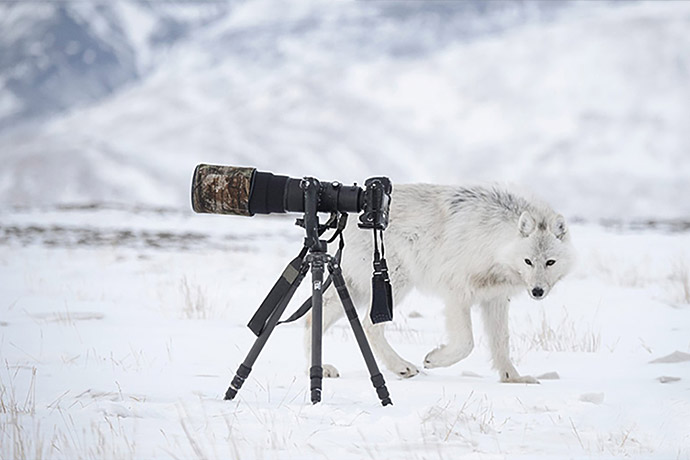 From walking and staying in shelters, Munier also learns to look. He modestly recounts his first great memory: "In November 1988, at the age of 12, in the forest of Chamagne, my father left me under a camouflage net all alone for several hours." A memory tinged both with pride in the trust made by this father who chooses to leave him alone, but also with the anguish caused by the loneliness and the possible or supposed dangers of the forest that surrounds him.

After some time, he hears the sound of leaves cracking behind him under the weight of an animal he can't see. Shivering, holding his breath, young Munier somehow manages to turn around and discovers a small deer just a few meters away observing him. His shaking hand snaps his camera shutter, and the photo will be a little blurry. A decisive moment. It was a kind of revelation, this meeting with that deer, the change in his life. From that moment on he got crazy about photos and didn't stop going out into nature, often alone, to sleep, sharpen and learn. The young Munier understands very quickly that his eye is only the intermediary. But it is also unique. "I don't believe I am an artist, I am a witness to what is happening. Art is in nature. I am there; I have a look. I look a little differently, but art is everywhere."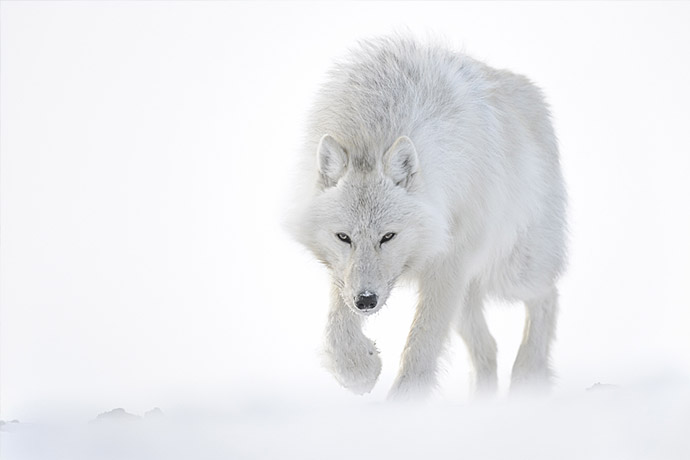 "I dream, I imagine it [the meeting]. And when it happens to you in real life, you have a fucking shock that animates you. That's what makes you continue in the pain, the cold, humidity. No it's all pissing! You forget this kind of suffering." — Vincent Munier
Munier quits school, does the army as a photographer and some odd jobs to pay for equipment and film, and an old car to follow the migration of cranes, to see wilder forests with wolves, lynxes and bears in Slovenia and Romania. "Small jobs, big trips!" Self-taught, he gathers knowledge. Plus three years of press photography which brought him experience — "an excellent school to develop daring" —, press card and salary. Little by little he accumulates photos, participates in competitions, the one for the BBC which he wins three times. Suddenly he stops everything except nature photography. That will be his job from that moment on. Very discreet, showing little of his photos, he waits for magazines to call him.

His work — Robert Hainard style, minimalistic, all in the suggestion, a genre little appreciated at the time by trophy and maniacal photographers — ended up paying off. He goes on trips — Norway, Finland, Taiga, the Far North … , hides, observations, photos, but never forgetting "his" Vosges, where he returns to breathe with his family and continues to go out. And the publications, the books — a dozen to date. Success comes, quite naturally.

Vincent Munier's advice to young apprentice photographers sounds like this: "Let them read Hainard or Geroudet before reading the technical sheets of the latest Nikon. Learning is a lifelong experience. It is a matter of waiting and patience. It's in expectation, and more so in solitary expectation. It happened to me several times I had to leave a month to see the white wolf and to see only traces. It's not at all a frustration."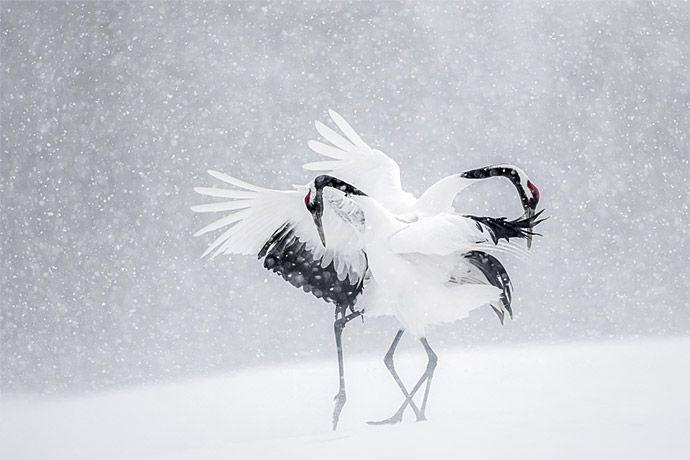 "I live off my passion, today I can afford to do whatever I want." — Vincent Munier
On May 15, 2020, he published a text on his Facebook page advocating openness to beauty. Read this urgently.

You must certainly watch the documentary by the name of Vincent Munier, L'éternel émerveillé. The highlight of the documentary — there is no question of revealing it here — lies in the account of his meeting with the white wolf of the Canadian North. A "wow" moment where its fusion with nature leaves us blissful and where the rather silent man becomes inexhaustible.
All images courtesy of the artist. Photos © Vincent Munier
---
More story related movies/interviews:
---
Related stories in Woodland Magazine: