POETRY THROUGH REPETITION
It is amazing the way Zimoun (1977), a Swiss self-taught sound artist, uses sound in order to create magic. He is most known for his sound sculptures, sound architectures and installation art that combine raw, industrial materials such as cardboard boxes, plastic bags, or old furniture, with mechanical elements such as dc-motors, wires, microphones, speakers and ventilators. By using simple and functional components, the Swiss artist builds architecturally minded sound platforms. It defines space and it makes the spectator be a part of a totally unique experience. His works express the tension between the ordered patterns of Modernism and the chaotic forces of life. The final result is a bunch of kinetic installations that form their proper universe and almost seem alive! Zimoun's installations, with their minimal aesthetics and elegance, have earned him international acclaim.
In April, I've visited the exposition Look As Us Now at and& Festival in Leuven (Belgium). The and& expo showed work by artists who offer new perspectives on innovation and allow us to look at the challenges of our time in a different way. Swiss sound artist Zimoun's installation for this exhibition — known for his industrial disposable materials and large volumes — are tapping balls against a series of cardboard boxes. The large amount of balls hitting the cardboard created a dense landscape of sound. The beats were constantly generated by the motors, the interplay between the ball, the wire and the cardboard, its friction, tension and vibration or by the materials themselves. A deafening haze in which each sub-element could no longer be heard separately. It took some time to let all our senses get used to, and to reflect on the impact of this large mass.

Due to the emotional depth, the acoustic hum of natural phenomena from Zimoun's minimalist constructions reverberates effortlessly throughout the space. The immersive sound system, 168 prepared dc-motors, cotton balls, is composed of 168 motors, cotton balls and a huge curved wall of cardboard boxes. In a way, the immense overload of sonic stimuli could be a metaphor for the endless stream of data that bombard us every day, although the artist himself emphasizes the purely sensory experience.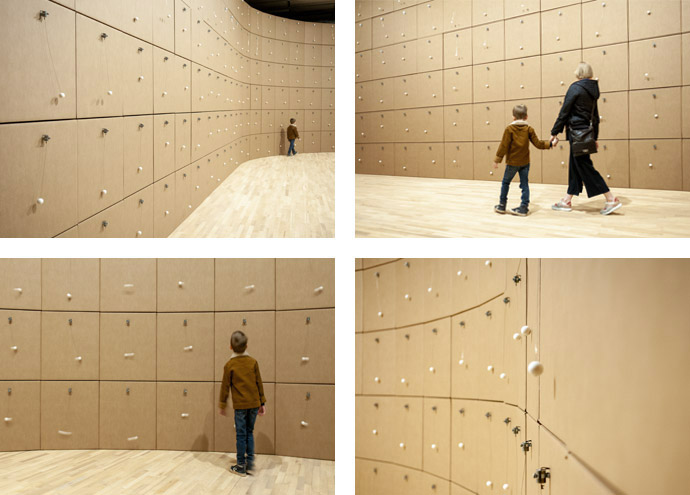 168 prepared dc-motors, cotton balls at and& Leuven, 2021. The acoustic hum reverberates effortlessly throughout the room. The large amount of balls hitting the cardboard creates a dense landscape of sound | Photos by Joël Neelen.
"I like to work with raw, unspectacular and pure materials. These are often every day or industrial materials which are not especially designed to look nice; however, in my opinion, they are often even more beautiful." — Zimoun
Zimoun was born in Bern, Switzerland, and since a small kid he felt a unique love for sound. This passion was constantly growing and led to him becoming a sound explorer. The autodidact artist turned into a sound architect, in the sense that his creations, as he says, can be explored like buildings. His love for simplicity make his works stay focused to what really matters, avoiding the easy path to surprise his audience with cheap tricks.

Through his sound sculptures and installations many of his interests — sound, music and visually realized projects — came together. Zimoun's work was a success at first in his hometown of Bern, where a Swiss composer and musician showed it in his art space several times at the beginning of this century. In 2003 Zimoun and Marc Beekhuis, a Swiss graphic designer, formed the record label, Leerraum [ ]. Leerraum [ ] serves as a label and networking hub of artists working in somehow similar fields. It has become a platform for creative exchange among people who explore forms and structures based on reductive principles and careful, yet radical, use of materials. The concept is to create a pool to exchange visions, knowledge, information and ideas in general. On the other hand, it's also about a curated platform and archive (physical and digital) for small objects and releases. Leerraum [ ] is also publishing small editions of cds and dvds, and is also presenting sound installations, exhibitions and events in collaboration with its artists. Beside his installative compositions, Zimoun also develops purely acoustic works. One can actually buy limited edition sound installations for your space.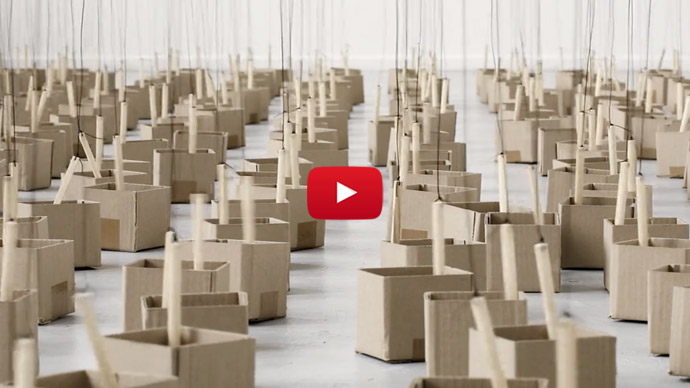 Compilation Video 4.1 (2020), a very nicely edited compilation video of the various sound installations that Zimoun has created from 2005 to 2020 © Zimoun Studio, November 2020.

A METAPHOR FOR THE CIRCUIT OF THE DAILY ROUTINE | The visualization of a short circuit

As his fame grew, Zimoun gained international recognition. He has now been making large-scale sound sculptures with everyday objects for more than 20 years. Zimoun's sculptures are expressly designed to sound like everything and nothing at the same time. The sheer absurdity of the monuments themselves — they are overtly uncertain, aimless, or otherwise self-contained; in a word, Dadaist — provide a simple metaphysical experience. Movement becomes a metaphor for the circuit of the daily routine. In this way Zimoun brings the concept to life as a strange manifestation of both the coherence and the ordinariness of background noise in everyday experience. Here the kinetics 'causes' the sonic, ambient sound to become abstract art by enhancing, as it were, an otherwise imperceptible sense of pure presence.
Dadaism has indeed yielded a lot of music in the field. Two genres could be distinguished: the noise compositions inspired by bruitism (from French: bruit = 'noise, murmur') and the sound poems. Bruitism emerged in Italy in the 1910s, with Marinetti and Luigi Russolo as its main representatives. His Risveglio di una citta in particular has been a great source of inspiration for the Dadaists. Russolo interpreted this piece on his self-designed intonarumori, so-called noise devices that produced all kinds of crackles, bellowing and murmurs.

The Dadaists considered this noise to be the absolute end. The main idea was that any sound can be music. A thought that was later picked up and further developed by John Cage. Every sound is music. The Dadaists did not let themselves be told twice. Hans Jürgen van der Wense, for example, wrote a composition for clarinet, piano and hanging tin sieve in 1919. Walter Mehring designed a competition between a sewing machine and a typewriter.
The sound architect begins by making experiments and prototypes. Through the process of physical tests, things become more concrete and comprehensible. He starts to see what could work and where the problems are hidden. Often each little step is somehow vital in order to build the next one and to optimize performance, to work out idea and materials, along the way. Through prototyping sometimes totally unexpected results show up and can influence the whole process as well. Zimoun keeps his works very reduced, abstract and raw. That way they function more like a code behind things, rather than just creating one connection to one thing. In this way, the works can activate the visitors and allow them to make their own connections, associations and discoveries on different, individual levels.

His choice of simple elements reflects his preoccupation with minimalism. Minimalism is a form of art music that employs limited or minimal musical materials. Prominent features of minimalist music include repetitive patterns or pulses. Zimoun creates complex kinetic sound sculptures by arranging industrially produced parts according to seemingly simple rules. Using motors, wires, ventilators, etc., he creates closed systems that develop their own behavior and rules similarly to artificial creatures. Once running, they are left to themselves and go through an indeterminable process of (de)generation. These quasi autonomous creatures exist in an absolutely synthetic sphere of lifeless matter. However, within the precise, determinist systems creative categories suddenly reappear, such as deviation, refusal and transience out of which complex patterns of behavior evolve.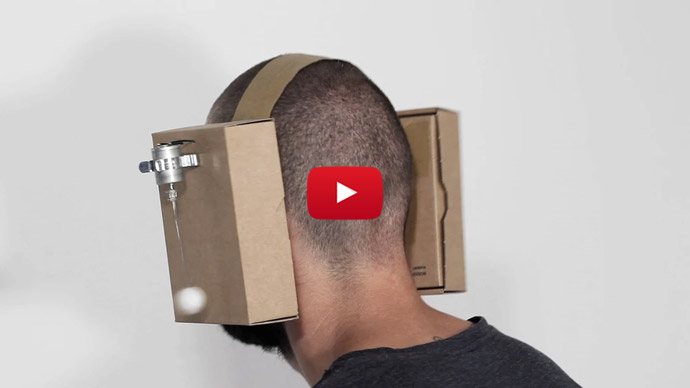 2 prepared dc-motors, cotton balls, cardboard boxes. A pair of kinetic headphones by Zimoun keeps the beat simple. Cardboard headphones? You bet. The Zimoun Studio in Switzerland has created the most D.I.Y. of all headphones, and they're made only of cardboard, dc-motors and cotton balls that bang against your ears. The headphones are not for commercial sale, as it's an edition of six pieces which sells for thousands of bucks, sold in art galleries exclusively.
"I'm interested in sound as an architectural element to create space, but also in sound which somehow inhabits a room and interacts with it. I work with three-dimensional sound structures, with spatial experiences and the exploration of sound, material and space." — Zimoun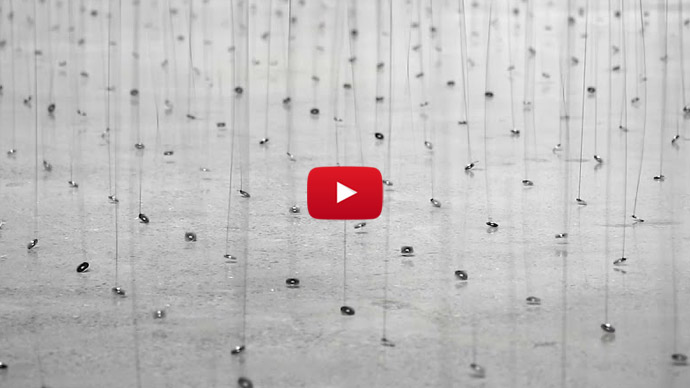 663 prepared dc-motors, 3315 m rope, steel washers ø 40 mm, 2018. Each washer is connected over a rope with a dc-motor. The motor is rotating, and that way the rope is getting somehow tangled up, and this process is making the length of the rope a bit shorter. Once the rope changed its lengths it lifts up the washer slightly from the floor. And as then the washer is not touching the floor anymore the rope is able to re-tangle and the entire process starts again once the washer is again touching the floor. In that sense the system is extremely simple and the individual behaviour of each rope is just the result of the dynamics of the used materials themselves. There is no computer or micro-chip involved.

ARTIFICIALLY RECREATED CHAOS OF NATURE | An continuous vortex of kinetic matter

Some of the artist's installations evokes the disquieting frenzy of beehives or anthills and transfers to closed spaces the sum of perceptions we are used to finding only in nature, where the whish of the wind adds up to the trembling of leaves, to the ticking of the rain, to the gurgling of water.

Zimoun's installations are very fascinating because they reveal what is otherwise invisible: the absolute precision of the mechanisms lying behind the unpredictability of all phenomena. The simplicity and perfection of the works of the artist, which is clearly expressed by the neat setting of the ventilators, the alignment of the supply cables, the positioning of the cardboard boxes, the pure white of the polystyrene, produces effects that, as they sum up, greatly exceed the power of understanding.

In Zimoun's installations, the reverberation of sound plays a fundamental role in the perception of space. And such perception must be as free as possible, unbiased by elements which are independent from the work itself: also for this reason the titles of his installations are not evocative, but plainly descriptive.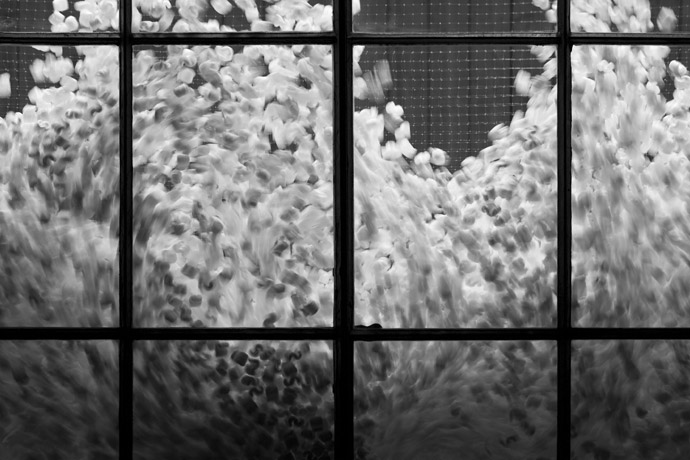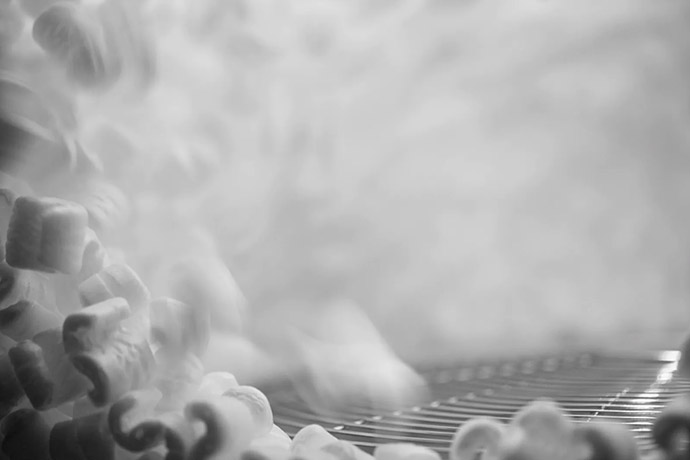 36 ventilators, 4.7 M³ packing chips, or a styrofoam blizzard in a Swiss museum, 2014. Swirling the polystyrene in the depth of each of the windows is actually limited to that space, but it creates the impression that the movement is propagating the entire length of the building. The tapping of chips on the windows is added to the visual effect, reminiscent of a soft continuous rain shower. Inside, the perception changes: the buzzing of the fans covers the tapping of the polystyrene on the windows, revealing the artificial origin of the movement.
"In my work, I do not try to transport specific associations but rather to create atmospheric spaces and states that invite us to observe, think, and reflect on various levels." — Zimoun
Since I'm a big fan of typography (which reminds me that I haven't told a story on that topic at all for now), and for those also interested in typography and artists' books, be sure to check out Zimoun's website under the heading 'books'. Clear importance has been attached to the form in which his books go to the outside world. Zimoun's first exhibition in the Arab world is accompanied by a publication of the first bilingual monograph on the artist. With essays by five international curators and writers, the book is a dual-language publication, 175 pages, with a full-color image section surveying the artist's extensive practice. The book is designed by the Swiss duo Binnenland who have developed a new font specifically for this book.
"During my time installing my show in Abu Dhabi, I spent the weekend in the desert. I was struck by its quality of silence. When it is that silent, it changes how we listen. That kind of listening, as if listening to silence, is in fact what my own work is about, although the installations make sound" — Zimoun
Stay amazed!

All images courtesy of the artist. Header photo © Rémi Angeli.
---
More story related movies/interviews:
---
Related stories on Woodland:
---
Sources: