INTO THE WILD
After 30 years filming wild and wonderful creatures in remote areas of the planet, Gordon Buchanan (1972) has a reputation for relishing dangerous and tough assignments. He has taken part in challenging expeditions and adventures around the globe, always with a view to raising awareness of the fragility of the world's endangered species and habitats. He has travelled to some of the world's remotest corners, striving to convey the wonder and beauty of the natural world that we share the planet with. Scottish wildlife cameraman and presenter Buchanan grew up on the hills and shores around his home on the Isle of Mull, where he spent his childhood in awe of David Attenborough. Unlike most other wildlife cameramen, he lives up close and personal with them in their natural habitat. Bottle feeding, cuddling and playing with baby bear cubs, The Times newspaper reported Buchanan really does have the best job on TV. The Daily Telegraph titled Of all the people cited as David Attenborough's successor, he's out front.
If I remember correctly, it was in 1997 that BBC Two broadcasted the 15-minute nature program Watch Out on Sunday afternoons around 5 pm as a part of The Animal Zone. Watch Out was the guide to Britain's wildlife and how to observe it, presented by naturalist/nature photographer Chris Packham and naturalist Nick Baker and later on by British zoologist Charlotte Uhlenbroek. They took a look at what's happening that week in the world of natural history and they did it in a creative, innovative and often funny way. Because the program only lasted fifteen minutes, it invariably ended with the message to switch on your video recorder, with countdown, because the extra information and credits went so fast that you could watch them again afterwards. I think I first learned about Gordon Buchanan's wanderings during one of the episodes back then.

I have been able to watch several of his many documentaries in recent years on Canvas, on Belgian television. Two of them had an extra added value for me personally because it concerned two animals from my personal big 5 of Europe, namely wolves and lynxes. And it isn't because there has been a lot to do in recent years about some wolves who have chosen a nature reserve to stay near my hometown that I want to bring this story about Gordon Buchanan. Rather, it is out of a belief how intelligent wolves are and what a fantastic group spirit lives among them.
In September 1989, at the age of seventeen Gordon Buchanan landed the opportunity of a lifetime when the renowned film maker Nick Gordon offered him the job of assistant. Buchanan immediately left school and soon after left for Sierra Leone in West Africa where he was to spend the next eighteen months, documenting the lives of the animals that inhabited a tiny fragment of the Gola Rainforest.

In September 1991 Buchanan's next project took him to the Amazonas region of Venezuela. After a tip-off from a scientist working in the area, he and Nick Gordon set off to find the Piaroa tribe, an indigenous people whose ancient practice of worshipping and consuming the world's largest species of tarantula was a gift opportunity for a wildlife film maker. During his five months in Venezuela Buchanan travelled by canoe far up the Orinoco River, encountering many of the Amazon's most secretive animals, and the famed Yanomamo Indians who had virtually no contact with the outside world. The resulting film for Survival Anglia titled Giant Tarantula was a huge success, and went on to win several awards. From Venezuela, Gordon then spent most of the next two years in Brazil on the Amazon and its tributaries.
"Just spending time with these people, you realise that human beings are capable of incredible things. For these tribes, surviving is about having a close relationship with the world around us." — Gordon Buchanan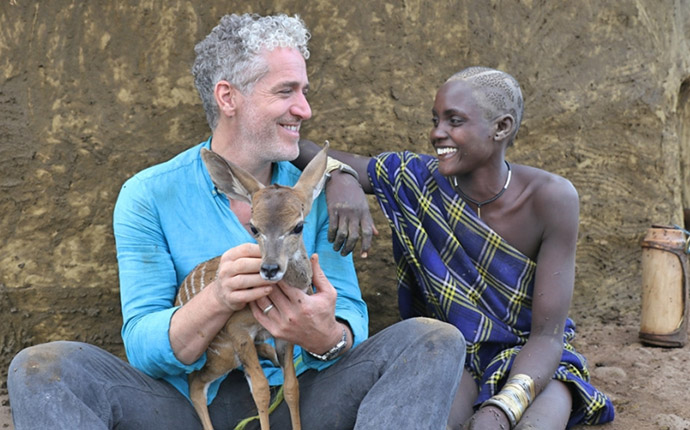 Hyena People of Ethiopia — Nature filmmaker Gordon Buchanan traveled to the remote Omo Valley in Ethiopia to meet a cattle-herding people called the Bodi and to find out how they can live so close to hyenas, a fierce predator loathed and feared by many people. In the Omo Valley, wildlife has largely been replaced by cattle so hyenas have little choice but to raid livestock.
In January 1995 after five years learning his craft, Buchanan finished his apprenticeship, scraped the necessary money together to buy the bare bones of an Arriflex camera kit, and for the first time set foot into the industry to work independently as a cameraman in his own right. Two very shaky years followed, with little work and a lot of debt while he struggled to gain recognition. However with time and persistence work began to trickle and then flood in. In the years to follow Buchanan has made a name as a respected film maker specialising in big cats. Filming lions and hyenas at night in the Serengeti in 1999 lead to Buchanan teaming up with esteemed film maker Mike Birkhead to make two films for the BBC Natural World series: Leopard Hunters in Sri Lanka and The Tigers Of The Emerald Forest in the north of India.

In addition to his work behind the camera Gordon Buchanan has made successful forays into working in front of the lens. Gordon Buchanan is a spell-binding storyteller who can captivate an audience with his fund of wild and wonderful tales about the natural world, while at the same time educating and informing on topical issues. His relaxed and informal manner was put to good use in two series for the BBC. Wild Scotland and Wild West Country were hugely popular with the BBC Two audience, and have provided an interesting diversion to Buchanan's main love of filming.
At the start of 2004 Buchanan, with his wife and daughter, returned to the Isle of Mull to commence a film about the wildlife on and around his native island. Buchanan has filmed foxes for Springwatch, an annual BBC television series which chart the fortunes of British wildlife during the changing of the seasons in the United Kingdom. In Autumnwatch he travelled to the Farne Islands to film grey seal pups.
"I think the furthest I've been from people on my own was in the Amazon nearly 30 years ago, when I was about 19. My boss had gone back to the city, which was about a week's journey away. It was just me, and I had a bag of rice and some fishing tackle and a canoe and I spent a month up there completely by myself without seeing another human being and I loved it." — Gordon Buchanan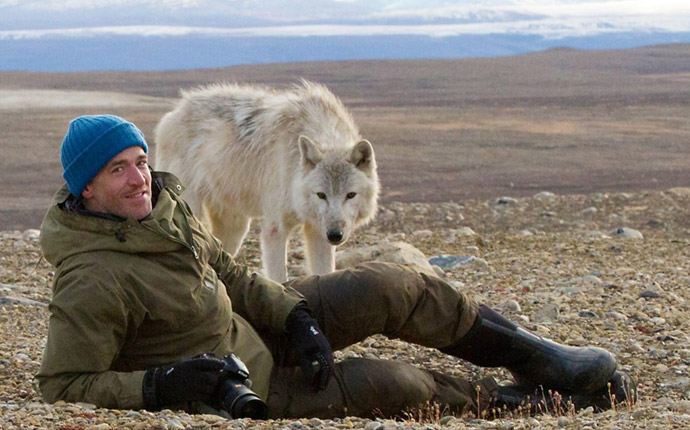 Gordon Buchanan pictured with predatory pal while filming "The Snow Wolf Family and Me" on Ellesmere Island — land of musk oxen — most northerly point of land in Canada.
Like many wildlife filmmakers, Gordon Buchanan relishes isolation. When it comes to self-isolation, wildlife filmmakers are real experts. Gordon Buchanan has survived — and enjoyed — complete solitude for weeks at a time throughout a career filming animals such as bears, wolves and elephants in the wild. He particularly enjoys the way that being out in the wild reawakens our own natural instincts. "If you're by yourself in a wild place you become very vigilant and aware of everything, whether it's the weather or the change of light or an insect crawling over a branch or any noise. You just become a part of the natural world and I think that in itself is very grounding and very fulfilling." Being part of nature is one thing, but the degree to which wildlife filmmakers should involve themselves with the animals they're filming is always a subject of debate. Buchanan said there are no one-size-fits-all rules. "It comes down to the individual animals," he mentioned in an interview with Brad Newsome from The Sydney Morning Harald. "You can't say 'with all wolves you have to stay 100 metres away from them', because some wolves you can't get within a mile of and others are happy to stand five metres away from you. I think it's about reading and being sensitive to the animal and having the animal's welfare as the number-one priority. Over time as I've got to know different animals it's quite easy to transfer those experiences from one species to another."

Buchanan's documentary productions include The Snow Wolf Family and Me (2014), the highly acclaimed BBC Two series The Polar Bear Family and Me (2013) and The Bear Family and Me (2011), for which he received a Royal Television Society award for his presenting work. He has also recently featured as a guest presenter on BBC Two's Winterwatch, the countryside series with which he has had a long association, both in front of and behind the camera. Snow Cats and Me following on from Grizzly Bear Cubs and Me which aired in 2018. Both series documented the rehabilitation of the animals into the Russian wilderness. Gordon has presented the Family and Me series since it began in 2016. He received a Royal Television Society award for his presenting work.
"I'm perfectly happy in my own company so isolation isn't a problem." — Gordon Buchanan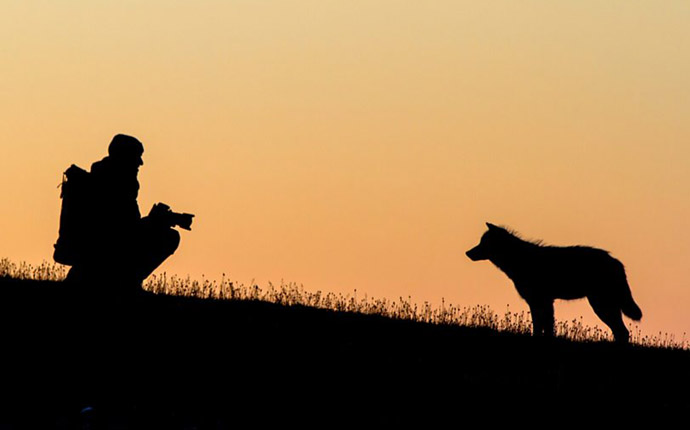 Gordon Buchanan and snow wolf against haunting background of night sky in Arctic.

The Snow Wolf Family and Me

One of the most fascinating creatures inhabiting the Arctic is the arctic wolf. Year-around white coats and slightly shorter noses and ears distinguish these wolves from other races of the gray wolf, and the life of the arctic wolf is basically the same as the lives of wolves everywhere. The High Arctic is mostly unsettled by people. Gordon Buchanan's dream was to get closer to wild wolves than anyone before. Ellesmere Island, Canada, is an uninhabited island where the population of Arctic wolves have had no contact with humans. The landscape is so remote, and in winter so cold, that humans rarely visit. A pack of wolves need to feed themselves during the light months to survive the harsh winter. In hope to get a better understanding for the wolves, he travelled to the remote far-flung Canadian high Arctic in search of the notoriously elusive predator. It has become a fantastic documentary about these Arctic wolves and Buchanan provides the viewer with a basic insight into how a wild wolf pack functions.

The wildlife filmmaker lived in a tent for a few months, and when he had been there for a while, a white wolf family turned up and showed interest in him. The curious wolves checked out his equipment and even him! Arctic wolves can unusually lack a fear of humans. In such a harsh and wild environment it's wonderful to see the family strength and community of a wild wolf pack and how they interacted with a human in there domain.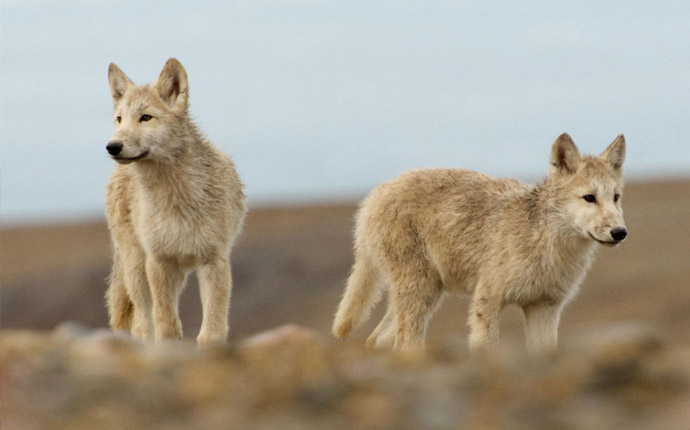 Snow wolves pups run wild in Canadian high Arctic.
Wolves are one of the most iconic and fascinating animals on earth, yet biologists have never been able to follow the detail of their lives in the wild. In this heart-warming three-part series Buchanan as he attempts to gain the trust of a wild wolf pack, revealing the true nature of this remarkable animal. After some time, Buchanan got accepted as a member of their family, including four adults, two yearlings and three pups, and has some close encounters that reveal a softer side to the animals. The cutest sequence showed three pups practising howling. Each would hesitatingly raise its snout skywards before essaying a mournful cry.

The wolf pack a very loving family that took care of each other and did everything in their power to make sure that the pups would survive in the harsh landscape. It's remarkable to see the relationship that develops between the wolves and Gordon Buchanan. It's just amazing to see how close he came to these wild wolves!

Gordon Buchanan and the team returned in autumn to find the den abandoned, now inhabited by a weasel. Six weeks had passed and there was no clue to whether the pups had survived. However while Buchanan was gone scientists had put a radio collar on one of the wolves, GPS traveling showed that that wolf, at least, was still alive. Buchanan followed the GPS signal and located the pack, with all nine members alive. He renewed his relationship with the wolves though he was most interested in the pups because if they had to survive the long cold winter, they needed to be very well fed. Remote cameras were put out and became expensive chew toys. Buchanan commented on how little discord he saw between the wolves. The pups were now accompanying the rest of the pack in their daily travel. He was surprised by the amount of travelling the pups were doing at this age. Perhaps though it is the harsh environment itself that makes it essential the pups learn the required skills in their first year. Only the fittest will survive so far north. The wolf is an apex predator, top of the food chain. Without humans the only animal that threatens a wolf is another wolf. Wolves are also very family orientated intelligent animals, losing a member affects the whole pack. This is also clearly discussed in the documentary.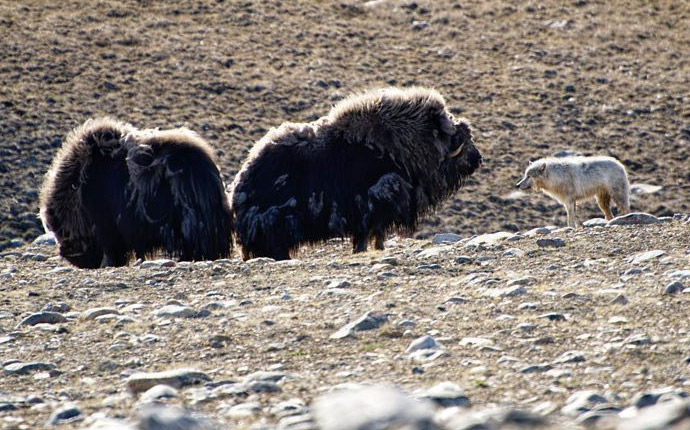 The wolves are wary of the power of musk oxen, showing respect for their hooves and sharp horns. Unless wolves catch their prey off guard, the musk oxen usually can fend them off.
Care was taken to not influence what happened in the wild. I value these documentaries as they raise awareness of the issues that threaten wildlife. The main threat is still the reduction of habitat, something this snow wolf family are fortunately currently not worried by. This program has brought Gordon Buchanan as close to wild wolves as we have been for perhaps ten thousand years. Remarkable footage. Therefore I highly recommend you to watch Snow Wolf Family and Me!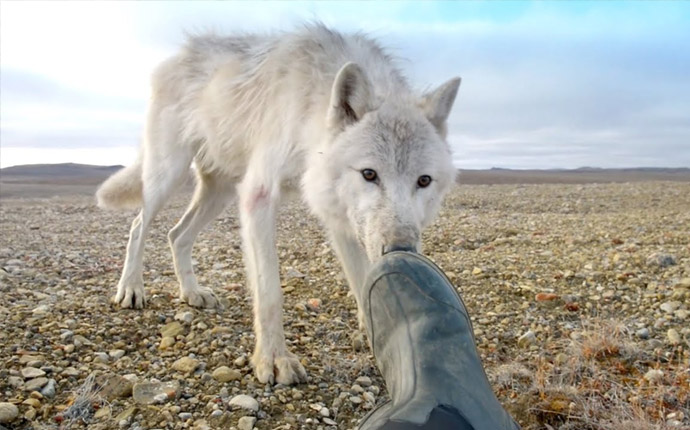 Arctic wolves can unusually lack a fear of humans. The wildlife photographer has close encounter with an arctic wolf.
During the preparations for this story, I suddenly came across another documentary film about the wolves that was shot on the Canadian island of Ellesmere. This documentary is entitled Kingdom of the White Wolf and was commissioned by National Geographic. Neil Shea, anthropologist, award-winning writer and pioneer of Instagram journalism, living in New York, wrote a fascinating article about this docu film on the National Geographic website under the title Inside the harsh lives of wolves living at the top of the world. The author spent 30 hours travelling with arctic wolves and gained a new appreciation for these predators of the tundra.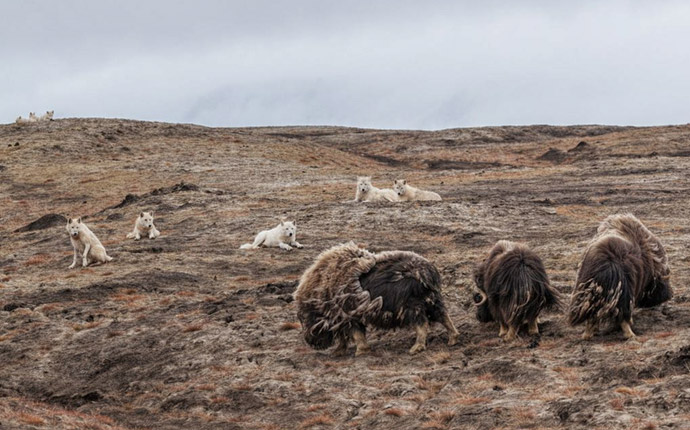 The wolves keep three male musk oxen in their sights. To kill one of these animals, which can weigh up to 650 pounds, the pack must learn to cooperate. The wolves look for opportunities to isolate one muskox from the protection of the herd. These musk oxen deterred the threat. | Photo © Ronan Donovan

I contacted Neil Shea by email asking if he was on Buchanan's team at Ellesmere, but he informed me that he was there during the summer and fall of 2018 as a part of a team of filmmakers, among which biologist, explorer and wildlife photographer Ronan Donovan, who documented Ellesmere Island's arctic wolves for National Geographic WILD. That's four years later than Gordon Buchanan's two visits. Despite the fact that I have not (yet) seen this documentary, I still want to warmly recommend Shea's beautifully written story, somewhere between prose and poetry, in addition to a series of beautiful photos.

Some questions that came to my mind, when I looked at the trailer of Kingdom of the White Wolf online: Could there be wolves in this documentary pack that were also seen in Gordon Buchanan's film? Maybe the pups became adults after four years? Is the measure of an animal's wildness equal to the distance it keeps from humans? And does human contact somehow make them less wild?




"Humans aren't usually the objects of such appraisal, though my body seemed to recognise it way down beyond thought. I shivered again, and this time it wasn't from the cold. However playful they'd appeared a few minutes before, these were wild wolves. Their white coats were dark with gore. The carcass they'd been feeding on, a muskox many times larger than me, lay nearby with its rib cage cracked open, the bones splayed like a fan against the sky." — Neil Shea

Snow Cats and Me

Buchanan's latest film, Snow Cats and Me, sees him involving himself in nature in a different way. The two-part documentary follows him and Russian doctor biologist Victor Lukarevsky as they work to rehabilitate four captive Eurasian lynx for release into the wild. It's an emotional journey and Buchanan and Lukarevsky were very much learning as they went. The two older lynx with tufted ears had been born in the wild but had spent four years in small squalid cages in a gloomy garage as breeding stock near a fur farm. The two younger ones were born into the pet trade and knew only a small city apartment. Once they were fully grown, the owner often didn't want them anymore. They were so tame, so domesticated, they followed Buchanan around and had no fear of humans.

Russia is a stronghold for lynx. There are more there than anywhere else in the world. Victor Lukarevsky wanted to do this project because he kept seeing kittens for sale and knew there were lynx in fur farms being bred for producing fur. Lukarevsky was born in Moldavia when it was still part of the Soviet Union. For three decades as a wildlife biologist he has studied and protected big cats. As well as Siberian tigers he has studied leopards including the critically endangered far eastern (or Amur) leopard. And in this documentary he wanted to give these short-tailed wildcats a better life but the hardest part was getting the right lynx back to create an opportunity to release them back into the wild. No one's attempted to do this before. After transporting them to a secure rehabilitation location deep in the forest, the lynx were back where they belonged. Initially Buchanan and Lukarevsky were worried about the state of their health and how much muscle they still had left.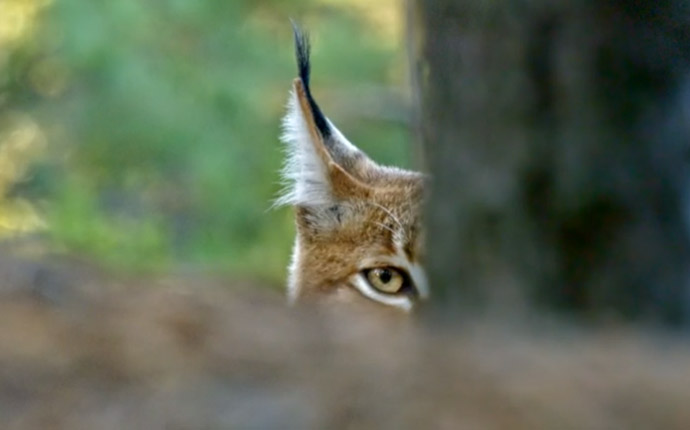 Lithe and skillful, the lynx is a shy, lone hunter. It's a beautiful creature that's rarely seen. Woodland is their main habitat. The name "lynx" originated in Middle English via Latin from Greek word "lunx", derived from the Indo-European root "*leuk-", meaning "light, brightness", in reference to the luminescence of its reflective eyes.
"For 30 years I have been involved in the conservation of big cats. Giving up? It's not my way. I tell myself, as long my legs will support my body I will go into the field." — Victor Lukarevsky
The fur trapper agreed to give the lynx up because he thought they had stopped producing kittens, but a few months after being rescued, Buchanan and Lukarevsky discovered the female lynx had given birth to little lynx kittens. As kittens they look like domestic cats, but these animals are top predators and very solitary animals.

All of them had different challenges that had to be overcome as Buchanan and Lukarevsky spent months training them to hunt with the aid of some ingenious contraptions and sometimes by drastic action. They made them strong again and taught the lynx how to stay far away from humans. They had to associate people with fear and skulk off into the trees. Just by helping them awaken their instincts one could see their wild behaviour was all there. The goal was to release them into a vast wildlife refuge in a remote part of Siberia, the largest forest on earth. This documentary is an heartwarming run-up to the moment when the wildcats with their short tail and penciled ears can start their free life triumphantly.
"It was really magical to be able to have given those animals a little bit of what they need; space to move around, to be out in the snow and the rain. To have those natural smells in the woods. They need to thrive. If you compare it to a human being, it's like being incarcerated in such small confines. It's staggering they adjusted really quickly." — Gordon Buchanan
His films promises a unique opportunity to hear personal recollections of his globetrotting travels, as he delves into his world of wonderful wildlife all illustrated with his own film footage and photography. With a reputation for relishing dangerous and tough assignments, his tales of challenging expeditions as well as the cutest animal footage possible, make for a thrilling television evening not to be missed.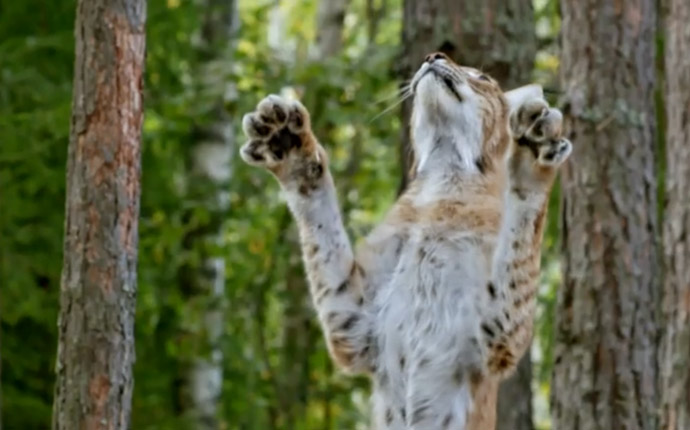 A lynx is only about three feet long, yet it can jump about 2 metres in the air to strike at a game bird as it takes off from the ground! The lynx hunts by jumping on its prey, helped by the rugged, forested country in which it resides.
"Things are dire. If you look at the loss of rainforests, acidification of the ocean, loss of the coral reef system. Things need to change or we will lose it all. It cannot continue. It's not about slowing down this rate of loss, it's about completely rethinking how we live our lives. We're using up finite resources in a way as if they were infinite resources." — Gordon Buchanan
Gordon Buchanan was awarded an MBE (Member of the Order of the British Empire) in the 2020 Queen's New Years Honours List for service to conservation and wildlife filmmaking. He is also patron of Trees for Life, a conservation charity working with landowners to restore the Caledonian Forest, and an ambassador for the Scottish Wildlife Trust. The cameraman dad-of-two is still in despair at the state of the planet. He recently announced his online event and socially distanced UK theatre tour for Spring 2021.

Stay amazed!
All images courtesy of the artist. Photos © Gordon Buchanan.
---
See/read also some story related movies/interviews:
---
Related stories on Woodland: