ARCTIC HEROES
For decades, Iceland's best-known photographer Ragnar Axelsson (1958) has been traveling throughout the remote regions of the Arctic. With unrivalled mastery of black and very white, he captures the elementary human experience in nature on the fringes of the habitable world. Although he has trekked through glacial storms, fallen through rifts and awakened on ice that's drifted out to sea, Axelsson isn't into parachute journalism. He spends time with, and participates in the life of the ones he's documenting. The focus of his work highlights the extraordinary relationships the people of the Arctic have developed with their extreme environment — relationships that change in profound and complex ways due to unprecedented climate change. Over the time, he has witnessed a tremendous change in the landscape, the environment, the basic way of life in small Inuit villages in Greenland, the Faroe Islands and Iceland. His stark photographs capture a place of extremes, bathed in a surreal white Arctic light.
It is often said that one photo says so much more than a thousand words, but when I first saw the black and white photos of Ragnar Axelsson on Instagram I was curious about the story that was written with it. For me, the discovery of Axelsson's photographs is quite new, as is the man himself, despite having a certain world fame. He has an extraordinary eye for capturing the most unique cultures and environments, documenting the lives of hunters, fishermen and farmers. I immediately decided to follow his profile because what he does — tell a current and realistic story, both in word and image — is something I would also like to do. But taking the step to approach people in a foreign country to first get a story and then take some nice photos is not so simple or obvious. Capturing these very personal insights into people's lives can only be achieved with a great deal of patience, social commitment, courage and cultural empathy. Maybe someday I'll get that far.

For example, on Sandoy, one of the Faroe Islands, on our way along the road to Husavik, we encountered two men manually shearing the sheep in a meadow. We were able to take nice pictures of the event, but the language difference did not allow us to construct a story at that time. Maybe if we had taken more time, things might have turned out differently. It could have provided an illustrated story of how the shepherds deal with the fading interest in knitting wool, once described as the gold of the Faroe Islands. Most of the sheep are walking around unshaven these days. But nevertheless we still have a very nice memory of the archipelago and we have bundled our photos in a tiny book that you can read as a travel report.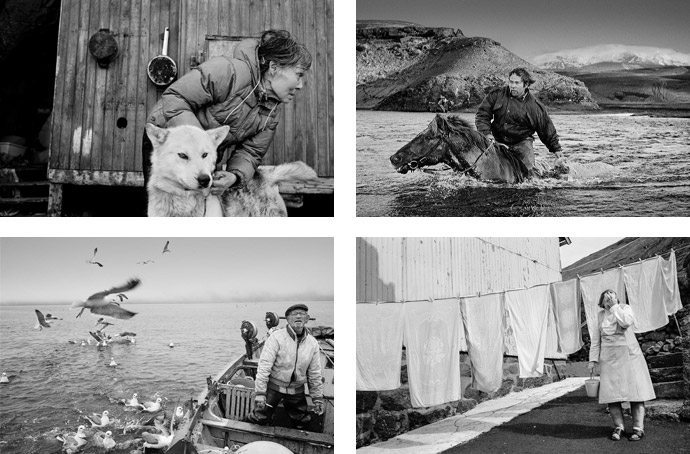 Axelsson mainly uses his Instagram account to share his endearing portraits combined with an interesting story. Each photo tells a great story about the subject, be it a shepherd or a hunter, a dog or a horse, a glacier or a river. Although he has also portrayed the work on the summer pastures, life in the villages, women and children, life on the ice is an archaic, masculine world. The elements have taken over in this pale world, the photos are gritty. Then clear again.

As the world turns its gaze toward the Arctic; the landscape whose inhabitants have done the least to cause climate change is where the devastating effects are most visible. Their ancient culture is set to become extinct; the probability of these communities continuing to live traditionally is becoming increasingly unlikely. In his native Iceland, Ragnar Axelsson looked at the fishermen and farmers of remote villages and thought if he did not photograph them, then no one would know they ever existed. It is this thought that has led to this unique body of work captured in Greenland, with unprecedented access to a community that rarely let outsiders in.

On his first trip to Greenland, 30 years ago, Axelsson took photographs to capture moments not thinking of them as a group but rather individual images. But after returning to Iceland, and looking at the photographs he had taken, the Leica ambassador realised they felt more like parts of a story rather than isolated images. Inspired he went back between thirty and forty times for two to six week periods at a time to take more photographs and fill out this story.

The Times described his work as "remarkable", "beautiful", and "a gift for the eyes, mind and heart". With unrivalled mastery of black and white, which he uses not as a short cut to aesthetics but as a form of photographic syntax to shape his narrative, Axelsson captures with equal mastery the snow-bitten jaws of a wolf-dog or the windblown face of a hunter wandering along a wave-drenched, gale-swept beach.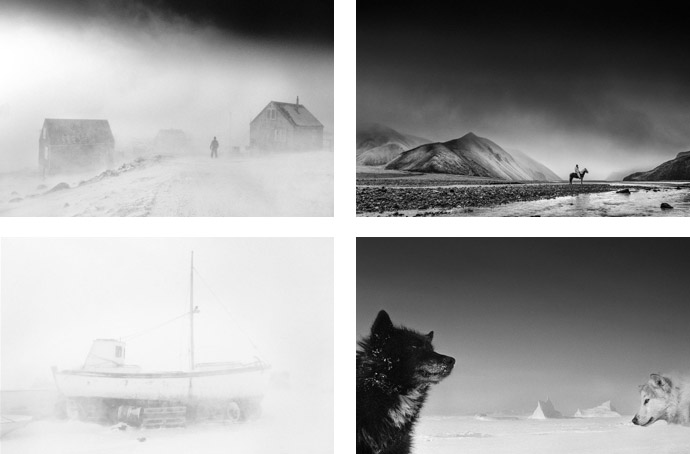 "Time and again, I visited small villages all over Greenland to collect stories of dogs and hunters. Sometimes I'd be lucky to get one story, other times none at all. I can safely say that it was just as difficult to squeeze stories out of these hunters as it was to photograph them out on the freezing cold of the sea ice." — Ragnar Axelsson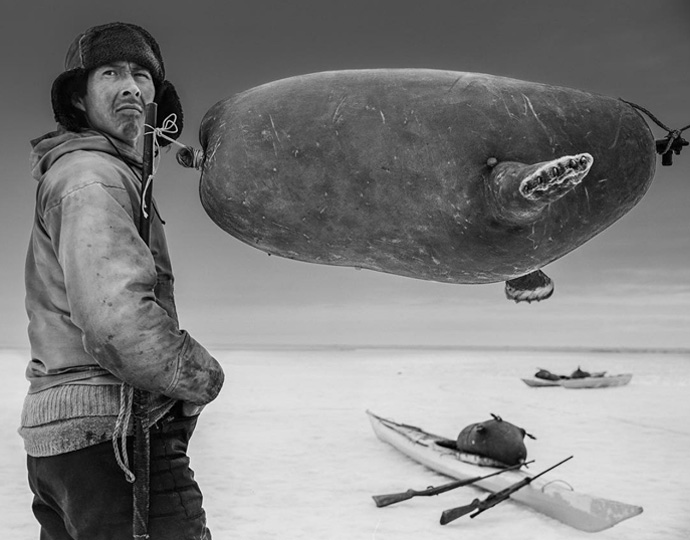 From the book Faces of the North, 2016. "Ole was always patrolling the ice edge, constantly on the lookout for whales, polar bears, walruses, and seals. In the meantime, he mended his equipment and joked around with his companions. The dogs were footsore after such little snowpack on the ice, so they were dressed in kamik, sealskin booties. On my later trips to Qaanaaq I asked around for Ole, but no knew where he was or what had become of him. Someone said he was from Upernavik, but no one there knew anything either. Ole remains an unsolved mystery for me. He was a good hunter and remarkably kind. Maybe we'll meet again one day, but will he recognize me?" — Ragnar Axelsson
WHERE THE WORLD IS MELTING | Last Days of the Arctic

Ragnar Axelsson started taking photographs of the people who lived on the farms outside of the city when he was ten. So he has always been a photographer, but he wanted to be a pilot. Unfortunately, by the time he got his license, there were few jobs for pilots so he fell back on photography. When Axelsson began photographing life in the Arctic, his main goal was really just to document what it was to live in the cold. As a pilot, he photographed the glaciers from above in a small plane, but he soon realized that there was something going on. If you look at some of his panoramic photographs he took in Greenland years ago, all you see is ice, but today there is only open water. When he was photographing an old hunter in Greenland who, sniffing the air and speaking in his native Greenlandic, the man told him, "There is something wrong, it shouldn't be like this. The 'big ice' is sick." The hunter was talking about the glacier and how ice was changing in the fjord. That was a turning point for Axelsson. He started flying from Reykjavik to the north of Iceland and other polar regions and lived in/on the ice with the hunters for weeks. Close to. No telephoto lens, no use of drones, no photo montages. Secluded.

The signs of climate change have become unmissable: for the populations — human and otherwise — the effects of global warming are visible every single day. People are part of nature and as such they sense everything. Axelsson thinks that when you look at the faces of these people in this part of the world you are looking at a way of life that is dying. You see the old fishermen with their wooden boats and the farmers with their long, white beards. In Greenland the younger generation has little interest in living as hunters on the ice. The Far North is going to be the biggest environmental issue for years to come because it is changing so fast. Axelsson was inspired by the extraordinary Arctic explorer Wally Herbert, who very heroic and brave explored the North Pole in 1969. Unfortunately, he wasn't in the news that much because the Apollo 11 boys landed on the moon the same year. Unlike Herbert, Axellson only goes out on the ice with his camera for a few weeks at a time, but that is certainly still quite difficult.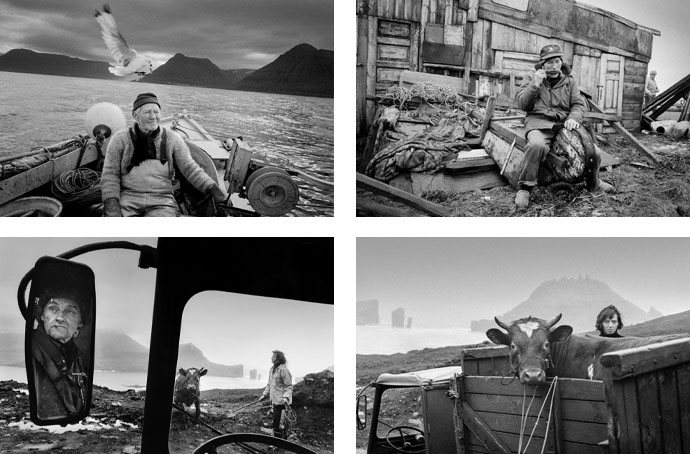 "There is something inexplicable about the Arctic that speaks to you, a force that draws you to it like a magnet. You tell yourself that you're never returning, but this is a place that keeps dragging you back. On the ice, you see life in a totally different way. There's a sense of serenity and simplicity." — Ragnar Axelsson
FISHERMEN OR INUIT HUNTERS | The faces of climate change

The hunters, the ice, the animals, a few houses, the light, the time and nothing else. Archaic emptiness in the black and white photographs. The image of a tiny group of people with hunting sleds in front of a gigantic ice cliff. Where not a single tree stands as a reference, man becomes marginalized in this overwhelming panorama of the Arctic Ocean. If Ragnar Axelsson's photographs were just that, pure beauty, they wouldn't sink so deeply into you. They tell of an existential struggle. The hunters are concerned. Axelsson has an idiosyncratic way of portraying the hunters. They protrude into the picture from the side, large and close, behind them the landscape opens up dynamically in a wide angle. Their faces: highly concentrated to get things done at minus 40 degrees, to survive the wait in the ice. Yet there is kindness in it, and humor too. Before Axelsson was allowed to go out on hunts, he spent years just hanging out in villages. Initially, some hunters were suspicious, but he gained their trust and developed close friendships.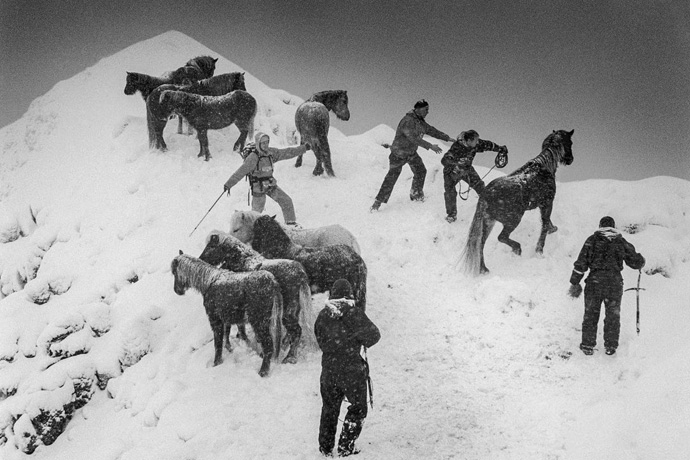 Horse Rescue, Skarðsheiði, Iceland. On New Year's Eve 1994 the booming fireworks caused a herd of horses to bolt from Tunga farm in Svínadalur valley. They were found three days later stuck on a little ledge, high on a cliff. The way down was treacherous: on one side was an 80-meter, sheer rock wall and on the other was a steep, craggy drop. The slopes were icebound, so there was little to keep man or horse from plunging right off the mountainside. Poor visibility ruled out a helicopter rescue. A rescue team was thrown together to head up the mountain, including a vet to tranquilize the horses so they wouldn't put up a fight. The farmers lured the horses with hay and slipped them into harnesses, then hacked a path through the ice and down the slope, leading the horses off the mountainside one by one. Some horses were tied up so they could be lowered down the cliff by rope. One horse lost its footing and slid quite a way down the ice but survived. One of the horses was found injured on the slope, but the rescue team managed to move it back to Tunga and treat its wounds. It was no small feat to get the horses down without loss of life or limb.
Ragnar Axelsson has been working on a project documenting people's lives in all eight countries of the Arctic. At this pivotal time, as climate change irrevocably disrupts the physical and traditional realities of their world, Ragnar is bearing witness to the immediate and direct threat global warming poses to their survival.

The Arctic is warming faster than any other region on earth. This rapid climate change has had a devastating effect on the region's ecology and, consequently, on the Inuit people who depend on the Arctic ice for their livelihood and culture. Hailed as 'one of the greatest documentary photographers of our times', Ragnar Axelsson has been recording the changing face of life in the Arctic for some 30 years. This extended second edition of The Last Days of the Arctic — which was first published in 2010 and quickly became a rarity — presents 160 of his stunning photographs from Canada and Greenland, with superb duotone printing, captions added for the black-and-white photographs and new images. Axelsson's gorgeous photographs show vast glaciers, sleds gliding across ice and houses buried in snow, but they also depict how the Inuit's changing way of life foresees the changes that are on their way to the rest of the world.
"In the vastness of Greenland there are places to be found where one gets the distinct impression of being alone in the world, places few people have ever reached. The stillness is overwhelming. The emptiness seems boundless." — Ragnar Axelsson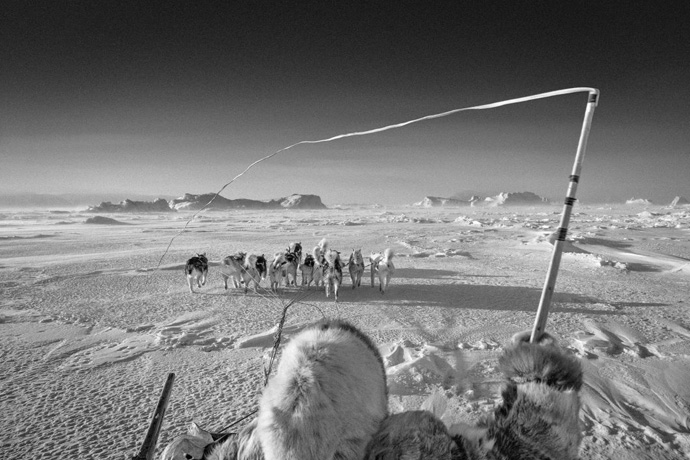 On patrol with the endangered sled dogs of Greenland. Ragnar Axelsson worked all over Greenland mostly on the east coast and north towards Thule. The dogs were in all the villages and the hunters gave him anecdotes about the immense qualities of some of their companions. The hunters were sometimes shy telling him their adventures. For them, going out on the ice to catch a seal is an ordinary day.
ARCTIC HEROES | A Tribute to the Sled Dogs of Greenland

Ragnar Axelsson also celebrated the hardy hounds as they and their icy world come under threat. Without sled dogs, there would be no life in Greenland. Axelsson started photographing life in Greenland around 1986, focusing mainly on hunters and daily life in villages. Dogs were an integral part of this daily life. They were fun to photograph and he gradually got into it. His book, Arctic Heroes, takes a poignant look at the fate of the Greenland sled dog. In Greenland, where the melting ice sheet is irrevocably disrupting the hunters' 4,000-year old traditional way of life, the stark reality of global warming is an immediate and direct threat to their everyday survival.

The number of Inuit going out on the ice is declining because warming temperature are shortening hunting seasons. Melt rates have increased by 7 percent a year for the ice cap that covers 80 percent of Greenland's surface, according to the National Center for Atmospheric Research. Polar bears, which use the ice as a hunting platform, are also shrinking in number.

The Greenland sled dog, essential to Inuit settlement and survival, now faces extinction as hunters are forced to adapt to the vanishing world around them. In over 150 images, and through hunters' personal stories, this book bears witness to the animals' magnificence and the deep, integral role they play in the hunters' lives. It's a hard life but it's also a good life. The number of hunters is declining, as is that of dogs. Ten years ago, there were 30,000 sled dogs in Greenland, there are only 11,000 in 2021.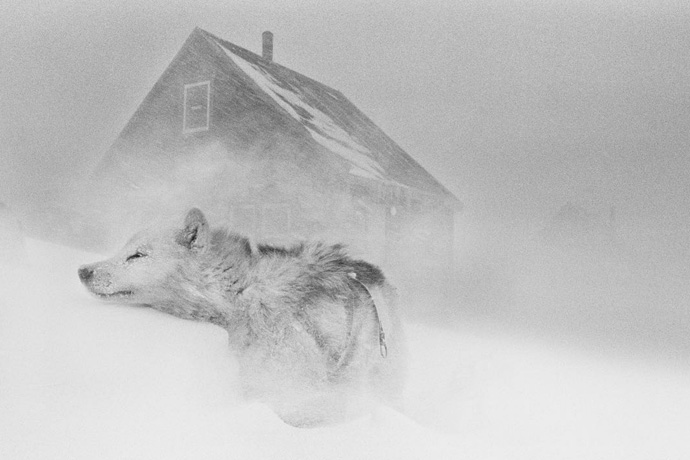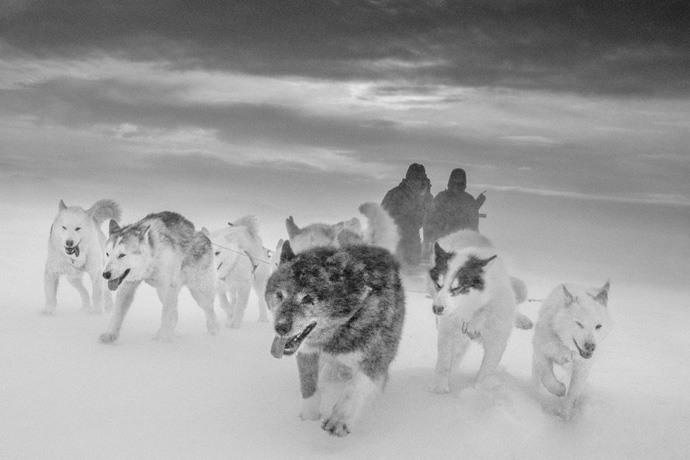 Ragnar Axelsson spends much time with, and participates in the life of the ones he's documenting, including polar bear hunting. And, he asks for permission whether his pictures can be published.

"Hjelmer, I have pictures from this trip that maybe not everyone should see. If you want me to get rid of them I will, so you won't have any trouble.' After a pensive silence, Hjelmer says, "I want you to show everyone how my life is. It's not always nice and it's not always easy. It's often a struggle to stay alive. There are so many that have been killed while trying to provide for their families. Life here is extraordinary. But it can also be perilous. Those who throw stones at us hunters should take a good look at themselves first. We can't simply run out to the store and buy whatever we want. We have to hunt to provide for our families. This has been the legacy of the Greenlandic hunter for 4000 years. And this way of life is dying out. Our world is melting."
"Watching the melting of the glaciers is like watching someone die: sad." — Ragnar Axelsson
Ragnar Axelsson was a photojournalist at Morgunblaðið from 1976 to 2018. He has worked as a freelancer in Latvia, Lithuania, Mozambique, South Africa, China, and Ukraine. His photographs are widely published in magazines and his images have won him recognition as a documentary photographer. He has had photographs and picture essays published in Life, National Geographic Magazine, Le Figaro, Stern, La Vanguardia, Time, and elsewhere.

He has also had several books of his work published, including Where the World is Melting (2021), Glacier (2018), Behind the Mountains (2013), Last Days of the Arctic (2010), Faces of the North (2004) and has won numerous photography awards. He has also been honoured as Icelandic Photographer of the Year on several occasions.
All images courtesy of the artist. Photos © Ragnar Axelsson.
---
More story related movies/stories:
---
Related stories in Woodland Magazine:
---
Sources: