DREAM BUILDER PROMENADE
You might be familiar with his strange apartment blocks in former Eastern Bloc architectural style, stray desolate villas, exorbitant but useless bridge constructions or block-boxes with a corner off. The Belgian architecture photographer and visual artist Filip Dujardin (1971) was called a digital tinkerer in his first overview book Fictions. In his digital photo collages he compiled images into a non-existent building. He arranges expected and less expected building elements together. In a way the compositions look suspicious with their bizarre repetitions and unexpected combinations. They even evoke strangeness. The building elements wring and feel as unadapted in their new entourage. Plausibility is Dujardin's guiding track. His limits during the creation of these images is the thin line between reality and irrealty. He creates confusion in the brain with his ingenious examples of photography and architecture. As Filip Dujardin made his breakthrough with his photo montages, nowadays he is working with real bricks. As a result, his work no longer hangs on the wall, it became a wall.
I grew up a few miles from the domain Bokrijk Open Air Museum, as it were. And when I started my own printed magazine in 2016, to inform regional and compatriots about what was going on in my hometown, I came across a poster Filip Dujardin designed commissioned by Bokrijk Open Air Museum. That's how I got to know his work and decided to bring an article about this atypical architectural photographer. The photographer had used Bokrijk's patrimony as a basic material to create a new structure that contains both the past and the future of Bokrijk. He used the timber frame as a universal — and still relevant — building method to create a tower volume, in which the lines of the timber frame determined the graphics and the relief. Within this tower an evolution can be observed in abstraction from bottom to top. At the bottom, there is a literal reference to the buildings in Bokrijk, gradually passing over to purified volumes and ending in an open structure, as if the tower is waiting for completion.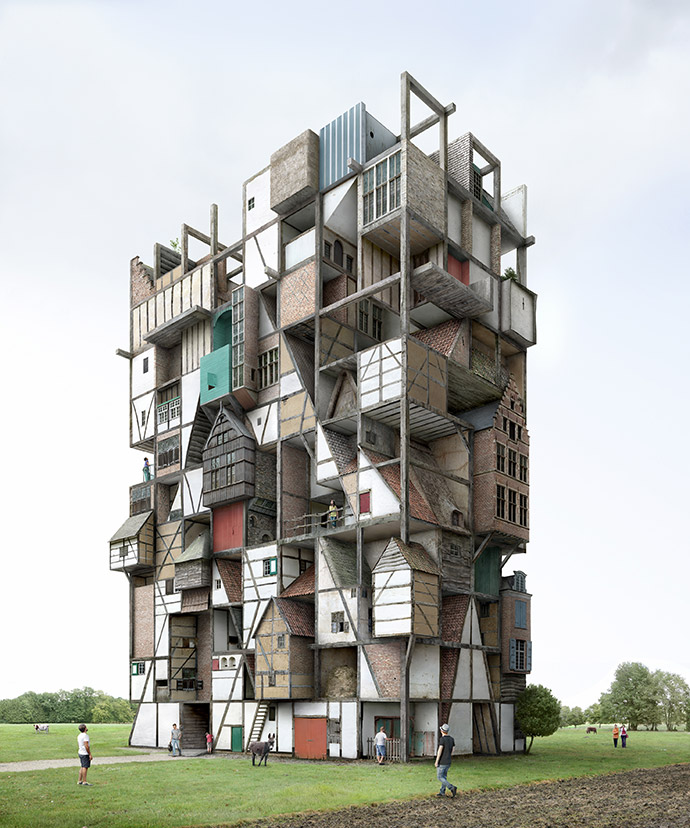 With an open view to the future: at the bottom of the structure, there is a literal reference to the buildings in Bokrijk, gradually passing over to purified volumes and ending in an open structure, as if the tower is waiting for completion. An openness that refers to the transition that Bokrijk was undergoing at that time. | Photo by Filip Dujardin.
"Am I a photographer who builds, or am I a builder who shoots? Or have I always been a hidden architect who is not allowed to build, so I just take pictures? Maybe photography has always been a detour for me to be able to come to the building. " — Filip Dujardin
Filip Dujardin is an outsider in the art world. Trained as an art historian, specialization in architecture, and photographer at the Royal Academy of Fine Arts in Ghent, he has mainly made name as an artist working with architectural photography. After his studies he became technical assistant to Magnum photographer Carl De Keyser and afterwards he worked together with Frederik Vercruysse. Together they made fame as architectural photographers. In 2007 Dujardin started working as an independent photographer. He has evolved from an architectural photographer who interprets the work of others to making his own creations. Today, he's still exploring the possibilities and meaning that architecture can have, but he doesn't want to propose a new kind of architecture or alternative way of building. It's just a visual exploration.

To cut, paste and re-assemble is the main focus in the work of Filip Dujardin, both in his photo montages and in his sculptural work. In 2008 he gained international fame with Fictions, a series of digital image montages. By digitally editing photos of real buildings, Dujardin creates surreal, fictional buildings. He links humor and originality to references to art history. Fictions shows wonderful buildings that seem ingeniously embedded in the existing landscape. Dujardin creates castles in the air that stimulate the imagination, even if there is only sporadically a living being to be seen. It becomes all the more exciting when you know that the photographer just resamples ordinary buildings from his local area of Ghent in northwest Belgium to create entirely new structures. Dujardin is putting together a new world with it, barely a few hectares from ours, or so it seems.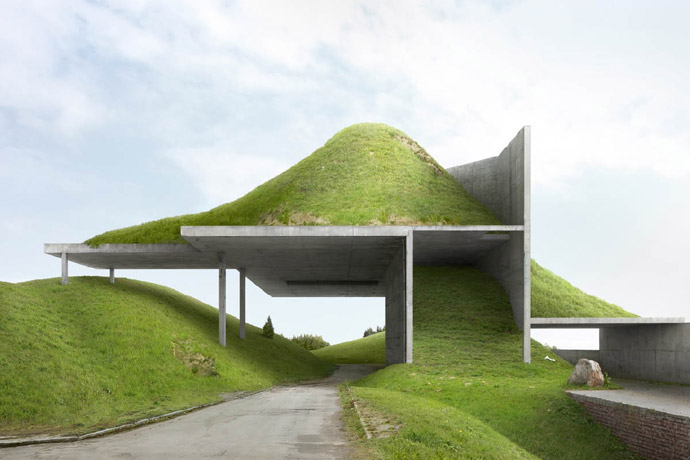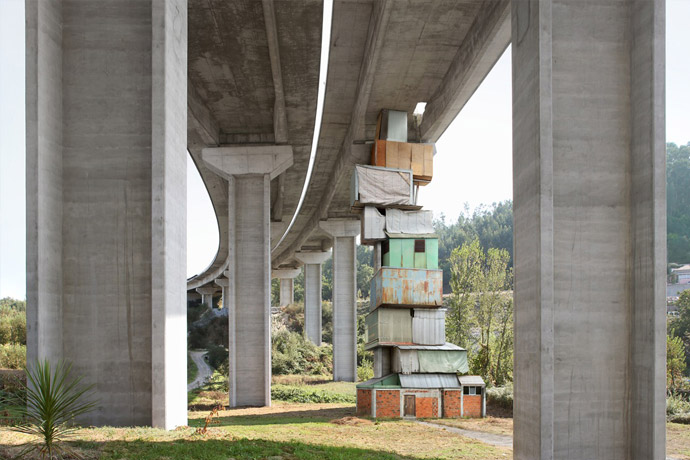 Above: Untitled, from the series Fictions. Filip Dujardin's idea of an integrated landscape is powerfully visualized in this untitled photograph. Instead of flattening this countryside hill, Dujardin suggests an architectural intervention, upon which the earthy mound is raised above a newly paved road. | Below: GMRS 008 | Photos by Filip Dujardin.
At first glance, Filip Dujardin's photographs of buildings seem almost ordinary, though highly modern, only revealing their structural implausibility upon close examination. The viewer can sometimes believe that these architectural structures are real although Dujardin ignores the laws of physics, defying gravity and material, to create exquisite architectural compositions. His spectacular works use digital manipulation to create maze-like, gravity-defying architectural compositions — impossible constructions reminiscent of housing projects or a cascading illusion designed by M.C. Escher. Several of the world's leading museums from New York to South Korea purchased his digital photo collages to become part of their permanent collection.
"As an architectural photographer I am aware of what is structurally possible in architecture. Nowadays, building techniques are so advanced that projects are apparently balanced on the edge of what is possible. As I am not an architect or engineer I have to trust an intuitive approach to architecture as well. While I am making these images, I can feel when the balance is shifting towards science fiction. There's still a kind of 'down to earth' approach to my process." — Filip Dujardin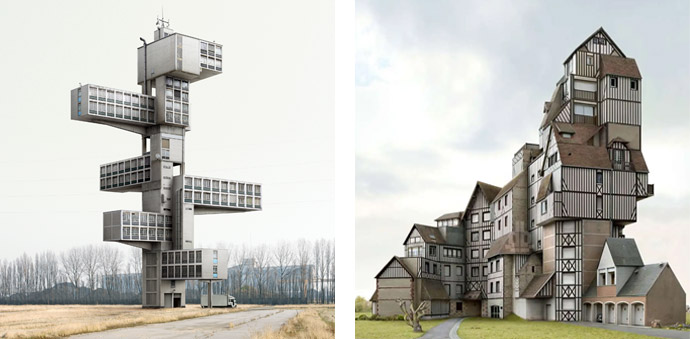 Left: From the Fictions series | Right: From the Deauville series | Photos by Filip Dujardin.
In the beginning Dujardin transformed photos of existing architecture. Afterwards he started from an actual model he photographed. Now he designs his projects with 3D software and covers them with pictures of existing buildings. Filip Dujardin's work has evolved from two-dimensional photography to three-dimensional installation art. He realized that photography was a detour to create spatial work. Analyzing, dissecting and reconstructing architecture is the common thread running through all his work. Initially this manifested itself in the making of photographic collages of architectural structures and later in the building of spatial sculptures in brick and nowadays even in the making of smaller (furniture) objects. The vocabulary of architecture is always used as a basis, but the grammatical rules are adapted to generate new forms. The boundaries between fiction and reality are explored and concepts such as functionality and spatiality are dissected.
"The brick, to me, is like a pixel, which is the foundation of digital photography." — Filip Dujardin
As a photographer he has captured the achievements of the better architects. What would he make of it himself? As a child Filip Dujardin was always busy making architecture in a kind of primitive way. This resulted in building constructions with Lego blocks or cardboard castles. Also the well-known retired Belgian architect, urban planner and artist Luc Deleu — the man whose vision is 50 years ahead of our time — also reused the LEGO blocks for his series of LEGO constructions. This free way of building is still how Dujardin makes his digital photo montages. For his series Fictions he made models with his children's LEGO blocks, which he then photographed. The photo became the model on which Dujardin pasted real architecture in Photoshop. Real architecture is more practical and often results in compromise. When Dujardin got the chance to build his first 3D installation, it was an abstract translation of his photographic work. There he already felt the limitations of a real structure (perhaps frustration) because he faced many technical, financial and structural problems.

His project Sequence nr.1 is pure facadism. He made a ribbon building out of it, a multi-sided facade. He drew on the typologies that everyone knows: a portico, a staircase, battlements, a factory chimney, a door, a roof, a bow. The wall is built from the large brick that has traditionally been produced here. The doors and windows are made in 4/5 of the usual sizes. You feel that something isn't right. You could interpret the whole as an unfolded house or even as an allusion to the ribbon development in Flanders.
"In my photos I strip spaces and building elements of their functionality. In real building I keep the freedom to shape my own idea, but this time I can't do that without practical requirements. It must not collapse. A wall of forty meters alone will not stand, so I have placed the typologies on it like buttresses." — Filip Dujardin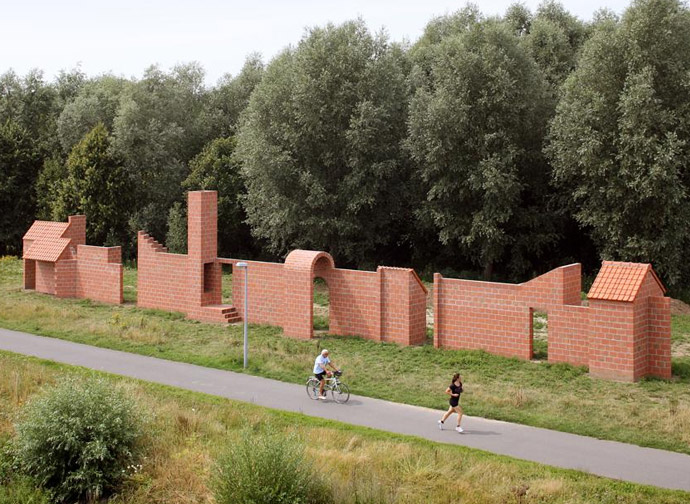 Sequence No. 1: You could interpret the whole as an unfolded house or even as an allusion to the ribbon development in Flanders. | Photo by Filip Dujardin.
In 2015, for the first time, Filip Dujardin ventured into real building. He created his installation for the art route Flux in Kortrijk. He has developed an interest in installation which explore the boundaries between architecture and sculpture. The building is located on a strip on the banks of the Leie, where the city has already come to some rest. Joggers and cyclists turn their heads as they pass by the curious construction, an elongated wall of about forty meters. The building forms look familiar to them, but they had never seen them in this combination. Sequence No. 1 is a wall that holds the promise of a building. Some transverse structures seem to indicate a certain depth effect, but it remains a suggestion. "Sequence No. 1 is a promenade architectural, but at the same time it is pure nonsense," he said. His architectural installation also reminds me of the sculpture in the form of a labyrinth, in which circles alternate with squares, which has been in Middelheim since 1993. The Danish artist Per Kirkeby called his untitled geometric brick structure a form of minimalism: they unite art and architecture. That is also the case with Filip Dujardin.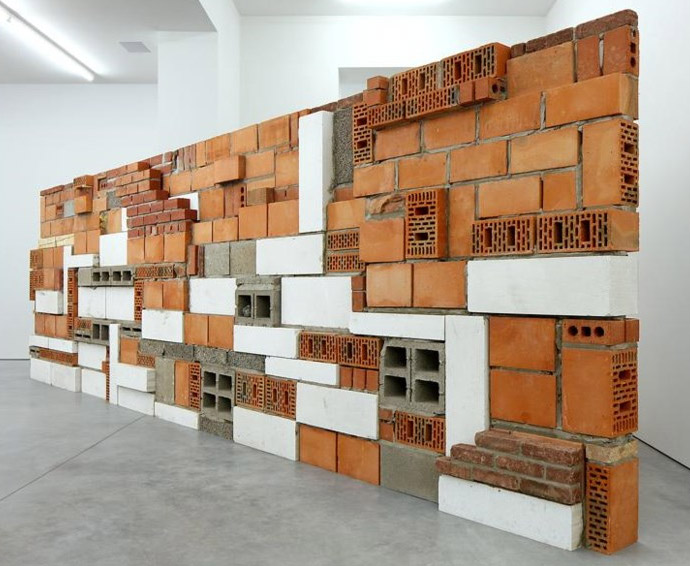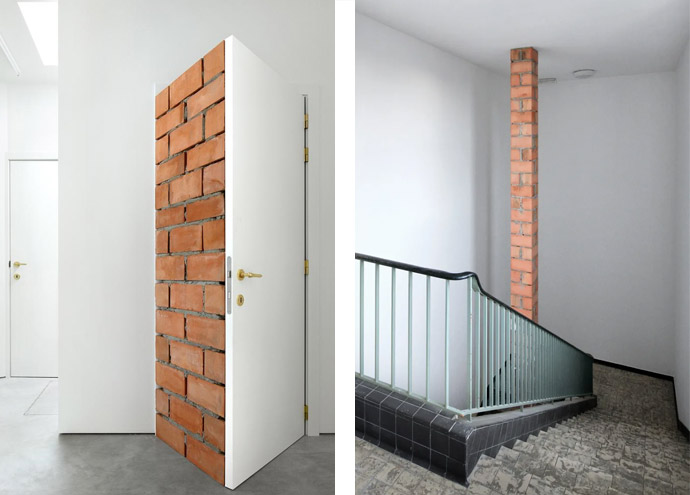 Above: Dujardin expresses his professional love for banal materials in 'The wall'. Literally conceived as a sleeper, this wall with its diagonal position blocks the smooth passage in the gallery. He creates a composition with red quick-build, gray cement stone, white plaster blocks and a few types of brick. It has indentations, plays with horizontal versus vertical patterns and gets a different texture depending on how the stone is placed. There's more to a wall than you think. | Below left: In 'Doors' a piece of wall is wedged between a door. | Below right: In 2014, in the museum space of Z33, Dujardin bricked a column of six meters high on the stairs, which was not only quite alien to the zone, but also stood out uncomfortably high. | Photos by Filip Dujardin.
In 2018, Filip Dujardin took over the Concertgebouw in Bruges with a spatial installation that nestles in the concrete structure. Quick-build bricks work their way into the niches and corners of the building. Entirely in keeping with the seasonal theme of 'metamorphosis', Dujardin played with spaces and walls and made structures that can be both the beginning and the end: the Concertgebouw as a stage to show steadfastness, innovation and everything in between.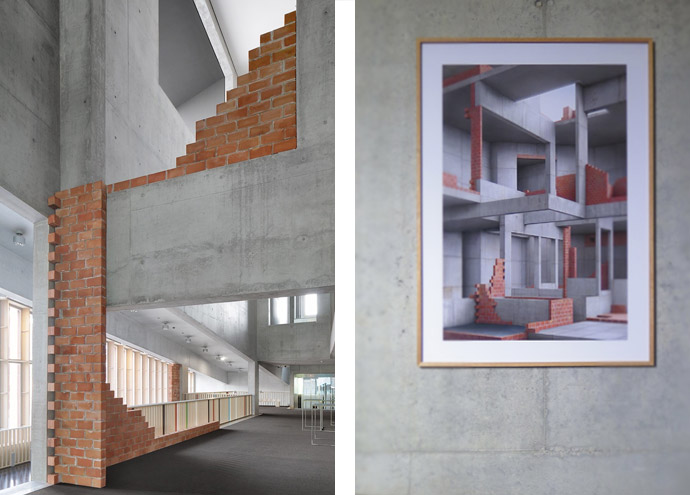 Left: During the spring of 2018, photographer and visual artist Filip Dujardin took over the Concertgebouw for several months with a spatial installation that nestled into the concrete structure. Quick-build bricks made their way into the niches and corners of the building, right up to the edge of the roof. | Right: In 2019, the Concertgebouw added a digital photo collage by Dujardin, based on that installation, to its permanent art collection. The photo was given the same title as the 2018 installation, Sequens n°4. It is not a literal copy of the installation, but a more universal, classic collage. | Photos by Peter De Bruyne.
"I want to play at being an architect. All my creations leave the impression that they could have been built, it's just that you've never seen them." — Filip Dujardin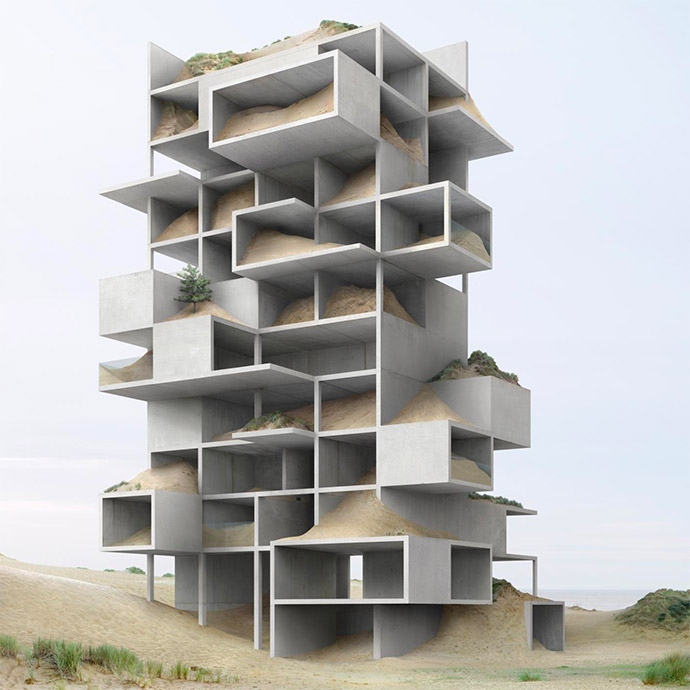 Digital photo montage for the first International Photo Biennale of Ostend. I suspect that this photo refers to the ever-increasing use of concrete along the Belgian coast due to the incessant construction of apartment buildings at the expense of the original dune landscape. | Photo by Filip Dujardin.
For the first International Photo Biennale Ostend, from September 4 to October 24, 2021, Filip Dujardin has created a number of new image montages that refer to the 'genius loci' (the spirit of a place) of Ostend. Belle Époque architecture, together with contemporary reality, the dunes, the beach, the sea and king Leopold II, is used as a source of inspiration to arrive at new interpretations and insights. Humor and mild criticism are by no means shunned.

Stay amazed!

All images courtesy of the artist. Photos © Filip Dujardin & Peter De Bruyne.
---
More story related movies/interviews:
---
Related stories on Woodland:
---
Sources: