OH YEAH !
The fellow Swiss veterans of Yello are back! The genius electro duo, consisting of Boris Blank (1952) and Dieter Meier (1945), broke through in 1985 with the hit Oh Yeah, which ended up on various soundtracks. And that while the band already had hits like Bostich and I Love you to their name. I've been a fan from the very beginning and I played the life out both singles as a 17 year old. Yello was founded in 1979 in Zurich, Switzerland and celebrate their 40th anniversary with a comprehensive retrospective, Yell40 Years. Not for nothing the 40th story in our Woodland Stories series. Dieter Meier and Boris Blank's new anthology collection is not a common best of, but more a place for all the pearls of their discography that have always stood for the Yello sound cosmos, but never really received the spotlight that they deserve. Songs like the everlasting fan favourite I Love you, the eccentric Rubberbandman or the Mellow Yello classic Desire — the stylistic range of the Zurich originals have always known no limits. They may not have attained the household name status of Kraftwerk or Giorgio Moroder, but for the last 42 years, these devoted sound painters have played a pivotal role in the development of electronic music. Some of the songs on Yell40 Years have been completely unpublished so far. Songs that are still surviving with electronic music today. It's almost like the world has caught up with what they were doing. It's fun, refreshing and totally infectious.
Last month, Gjon's Tears narrowly lost the Eurovision contest 2021. He wasn't in my personal top 10 either, but I'm still looking forward to the moment when Switzerland sends its arguably biggest and exciting export since milk chocolate, named Yello, to Eurovison. That would certainly yield hilarious television with a great visual show and a contemporary version of the extraordinary Belgian entry from 1983. Rendez-vous by Pas De Deux ended up in eighteenth place that year, one spot better than this year's Belgian entry Hooverphonic with The Wrong Place. But who or what is Yello?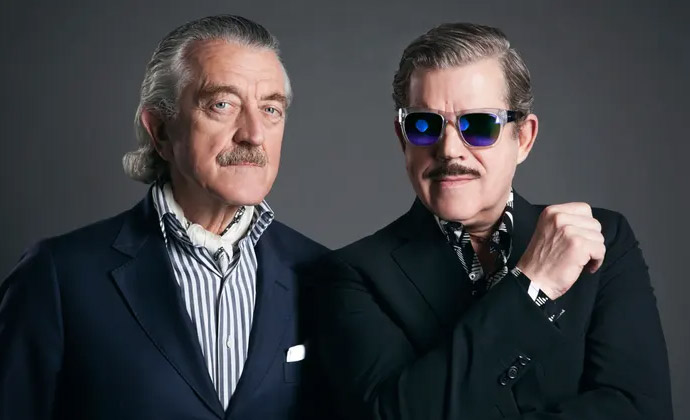 Swiss droll: Dieter Meier and Boris Blank of Yello | Photo by The Gardian.
"I got interested in music when I was a kid. I wasn't a musician in the traditional sense, but I was fascinated by sound. When I was on holiday in the Swiss mountains, I used to experiment with different echo timings from different mountains. I borrowed my parents' Revox A77 reel-to-reel machine and would record anything that caught my ear. Deserted buildings were my favourite; all those big natural reverbs." — Boris Blank

SYNTHESIZER | Yello's first single only sold eighty copies in Switzerland

As one-half of Swiss electro pioneers Yello, Boris Blank was intrigued with all kind of sounds, rather than instruments, from a young age. However, he never learned how to formally read music. As a child he often went on holiday in the Swiss Alps and became fascinated by echo effect in the mountains. As a boy, he was never allowed to play an instrument so he instead created music and rhythm from whatever he could find in his mother's kitchen or whatever made sounds. He became obsessed with the creative possibilities of recording, including making tape loops out of found sounds, echo effects and manipulating samples of music. Blank started to record these sounds and that's how he created his instruments and started to play these instruments so rightly he's often described as one of the true godfathers of techno music because he did it when nobody did it. In the local music store in Zurich, he was therefore looked at strangely when he asked for synthesizers. When he entered the store, the salesperson thought, "No, he again". He let him in, but closed the door of the room where only five synthesizers were set up. They didn't want to hear it. When Yello had some success with their first album Solid Pleasure, the salesman welcomed him with open arms: "Boris, welcome. We have a new device, try it". Suddenly they accepted that electronic music and it became hip.

Back in 1977 Blank first met Carlos Péron via their hash dealer when they listened to music together. Péron listened to more free jazz, Blank was into King Crimson or Pink Floyd and some jazz. They got closer to each other and later on, they lived in the same community in a house, in an old villa in Zurich. One day, Blank, ex-signwriter, ex-TV repairman and ex-truck driver (and wrecker), was recording the incredible shriekings of a car shredding plant just outside Zurich when he chanced upon someone else doing exactly the same thing. This turned out to be one Péron. This unlikely coincidence provided them with an opportunity simply too good to waste. So they started to record together, Blank supplying the music, Péron providing 'found' sounds and effects. Then, clutching their demos, they set off for San Francisco to meet people there that they liked a lot, like The Residents and Tuxedomoon. Those were their music idols in America. They decided to go with our promo tape to Ralph Records, and play them tehir music, in the hopes that they had a positive reaction. When they came back home, they had already received a special delivery post envelope from San Francisco that said they were interested to do something with them. A friend who owned Music Market record store in Zurich, Paul Vajsabel, gave them two further suggestions: one, they would benefit from a vocalist and two, he knew just the man for the job. Enter Dieter Meier who also regularly visited the same little store that had import records from America and England.

So in 1979, by his twenties, Blank had formed a band along with Carlos Perón and dandy, conceptual artist and singer Dieter Meier. Meier came up with the idea the band's name should be a name which has a good sound, rather than having a story behind it. It should sound like a children's toy. Like Lego. Yello. Dieter Meier is a millionaire industrialist with a very diverse career including being on the national golf team of Switzerland. He was a professional poker player and filmmaker, he designed watches and wrote children's books. Nowadays he is an avant-garde artist and operates an organic farm in Argentina producing beef and wine. Their first promo tape was sent to Ralph Records and immediately landed a record deal. When Yello entered the music scene, punk was especially popular. Boris Blank, the creative engine behind the Swiss electronica band Yello, didn't like punk music or the punk movement. Nobody gave electronic music a chance at the time. It was said that it would just be a temporary thing that would be gone in a year.

Dieter Meier grew up with jazz, all those major eruptions of ideas that lasted a very short time, maybe ten years. For him this was an incredible inspiration, not as a musical inspiration but as a creature it showed him the way to freedom. This music was so individual, the great musicians who really found themselves in what they did, that this approach opened the door for Meier to try something else. Not necessarily as a musician, definitely not as a jazz musician, it was just an incredible inspiration. That new world of expression which was not traditional, was like an eruption, waking up all existence. All the great guys from Theolonius Monk to Sonny Rollins, Miles Davis, Cannonball Adderley... These are the heroes of Meier's youth. The biggest inspiration ever in his whole life.

Within months after Blank met Meier, they had recorded I. T. Splash, which was released in January 1979 (and reportedly financed by pornographer Edi Stöckli). Initial sales were poor, with just 80 copies being sold in Switzerland, while London's Rough Trade picked up around 200 copies. However, a solo copy that was sent to The Residents' Ralph Records in San Francisco proved to be the clincher, with the group releasing its first album on the imprint in 1980… before history beckoned.
Long before Meier and co formed Yello, the Zurich native was an accomplished conceptual artist, and in 1972, as part of the documenta 5 art exhibition in Kassel, Germany (the theme of which was Befragung der Realität — Bildwelten Heute / Questioning Reality — Pictorial worlds Today), Meier installed a commemorative plaque at the town's railway station, which read, "On 23 March 1994, from 3 to 4 pm, Dieter Meier will stand on this plaque". Some 22 years later, on the date in question, he did just that.

It's not the only offbeat artwork undertaken by Meier; for a 1970 exhibition in Munich, he spent 12 hours walking round the city, marking each minute where he went, stood or rested with stamped clock stickers. Another of Meier's previous escapades included a piece of concept art which involved taking a week to sort 100,000 pieces of metal into a hundred sacks of 1000 pieces each. As a result, he was invited to New York, where he set up a street stall offering to purchase the word "Yes" or "No" from any passer-by for the sum of one dollar.

Anyone who recognizes the man with the blue-tinted horn-rimmed glasses and the brilliantly shiny hair today could easily mistake the whole thing for an art action.
"The music of Stockhausen was academically perfect, but I felt it lacked the human touch. I wasn't a fan. Even if you're making music with machines and mathematical equations, you must not make it sound too artificial. It has to feel alive." — Boris Blank

SAMPLING AND SEQUENCING | Yello has been at the foundation of hip hop music

Boris Blank borrowed a Revox A77 tape recorder which allowed him to record several tracks and then lay them on top of each other. He liked to experiment with sounds and he started recording many different sounds on tape and then cut the tape into pieces of the same length, glued them together and reassemble it as a new loop, messing around with tape speed and creating weird delays with the two tape heads. Blank didn't realise it at the time, but this was a form of sampling and sequencing. It always took a lot of time, but something interesting always came out. Sometimes, the loops were so long they would cover the dining table, and he would have to guide them with pencils stuck in bits of plasticine. When every piece of tape was the same length, it became some kind of rhythm. It was also very interesting because you could have various speeds, and you had the possibility for interesting feedback and echoes. Blank used that method to record Yello's first music. And that method is still the same to this day. In the 80s, Boris Blank was among the pioneers of sampling and famously amassed a large library of sounds. It became the foundation of hip hop music and sampling has since influenced many genres of music, particularly electronic music and pop.
"America thought we were black guys rapping, not music from the cheese-and-chocolate land." — Boris Blank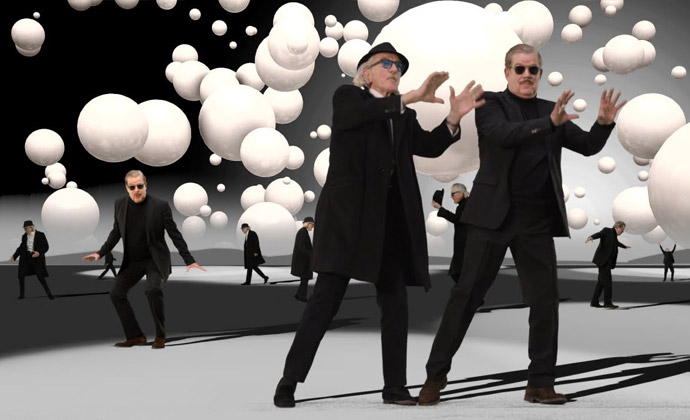 Yello's track Waba Duba (2020) is the most fun electronica has had in years. It's a good marriage between the nonsensical frivolity of Oh Yeah and the funky, infectious rhythms of The Race | Photo by Polydor/Universal Music.
Boris Blank does not call himself a musician, but rather a mood maker. He creates atmospheres in different ways, just like a painter. He considers himself as a constructor of music, starting composing with manipulation of self-recorded samples and finishing the tracks with the participation of invited professional musicians. Once satisfied, he called on Dieter Meier to come up with the vocals because he's always very quick with ideas. Still, the idea for the lyrics to Oh Yeah came from Blank himself: "I said to Meier 'We don't do a verse, then a chorus and then another verse. Let's try to make the whole song just oh yeah'." Meier was not immediately convinced about the song, but was persuaded nonetheless. And to this day they are still reaping the benefits, because many people want to use it for an advertisement or a movie. This keeps the Swiss electronic pioneers in existence, because they don't sell that many fysical albums anymore. It was a lucky punch.
"We've never understood ourselves as a pop band. We see ourselves as arty farties." — Boris Blank
"I'm definitely not a rock singer, I'm more of an actor who plays parts within Boris' sound pictures — parts he has invented. When Boris has a sketch of this picture finished, then I sort of step into it and try to define — to sculpt — a figure. I even give it a name. All these figures have names, and they become real." — Dieter Meier

FUN, REFRESHING AND TOTALLY INFECTIOUS | It was the experience of two kids playing on a beach

One of the many striking aspects of Yello's music is its narrative vocal style. Dieter Meier had no plans to pursue a career as a singer or form a band and Boris Blank didn't want to work with a vocalist. Their meeting, Meier said, was "a double disaster for Boris. He felt as if he was a sound painter, doing electronic music, and even a brilliant singer would be putting extra brushstrokes on his work. And I was a very bad singer." Still, they kept working together, discovering a shared sense of very dry, oddball humour that percolates throughout their oeuvre, from track titles to album sleeves to videos: "It's not like we say 'we've got to do some humour, people will like this'," noted Blank, "it's just what happens when both of us are around together." Meier's vocals were always predicated on an eerie inhumanity — electronic cut-ups and processing making him infernally robotic, a kind of ludic counterpoint to fellow synthpop pioneers Kraftwerk's deadpanning. And at the age of 76, he's still exactly that.

Their intention was to be a very arty, leftfield entity. Their 1981 single Bostich, a confection of relentless synthesiser, disco beats and Meier's 'percussive' vocals, became a huge hit on black radio in the US. Carlos Perón left Yello in 1983. Weirder still, Yello next became proper pop stars, without intending to. They had a string of admittedly unlikely hit singles. 1985's Vicious Games made the US dance/club top 10; The Race reached No 7 in the UK in 1988; they worked with Shirley Bassey on 1987's The Rhythm Divine; the deathless Oh Yeah wasn't that big a hit, but became almost omnipresent in 80s cinema and TV. It felt like a rather strange experience, Meier told The Gardian. "It was the experience of two kids playing on a beach, sculpting things with sand or whatever they can find, but when the success started it was like those two kids were suddenly taken into a public space. We signed these contracts with a lot of zeros after a few digits, when in the beginning no one would have spent a penny promoting Yello." Their louche and high tech style would become a foundational influence on global club music and, amazingly, they continue steadily creating until the present day.
"Dieter has a whole universe of other things he's involved in. Wine, meat, art. He's happy to not be stuck in this studio every day, as I am. He's one percent, but has a big effect. His voice is very important for Yello. This is the brand and the 'yeah'." — Boris Blank
In 1980 their music was labeled as new wave, partly because they debuted on the label of The Residents. But fourteen albums later, this Swiss duo still makes the same music, without ever sounding dated. The madcap Swiss duo's last year's album Point has been described as taking the sound of their classic albums Stella, One Second and Flag and "twists it into something ultra-modern." Apparently "part spy film, part Dali-painting, part strobe lit dance floor, part 4D car chase and part deep space torch song. It's Yello, absolutely on point." The album launches off with the rhythmic babble of Waba Duba, over a groove that directly references the synthetic brass parping of classic Yello, a good marriage between the nonsensical frivolity of Oh Yeah and the funky, infectious rhythms of The Race. Blank and Meier's trippy imaginations were always endlessly fertile, and so it still is. The same basic elements can be reconfigured again and again and still delight. Whether it's that nonsense scatting, Meier's baritone mutterings and chatterings seem like invocations of a glamorous and gloriously weird world, and the pair's productions bubble with funk.
Yello seemed happy to exist outside the mainstream, but their influence stretched far and wide, as exemplified by a 1995 remix album featuring contributions from the likes of Moby, The Orb, Carl Cox and Detroit legend Carl Craig. We can conclude that Yello's music is a genre in itself. Electronics, samples and vocals are the main ingredients, a good dose of humor and alienation is their trademark, and their often funky music still inspires DJs from all over the world.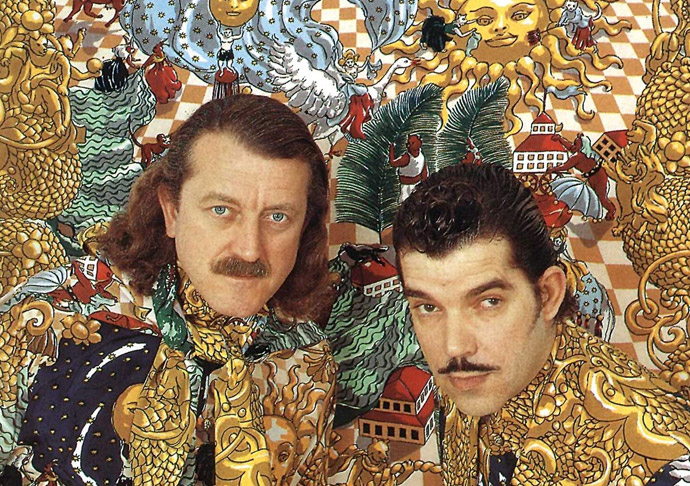 Baby is the seventh studio album by the band Yello, released in 1991 under the label Mercury.
"My home studio is based around a PowerBook, but I don't particularly like working on small screens, so I've set up a big, hi-res monitor and some decent Dynaudio speakers. It feels much more comfortable now." — Boris Blank
Stay amazed!

All images courtesy of the artist. Photos © .
---
More story related movies/interviews:
---
Related stories on Woodland:
---
Sources: