THE IMPOSSIBLE BAND
Iceland music has its specifics and rules. Being original, give space to other types of arts and put effort to differentiate from the rest of the scene. These traits fits to the description of one of the most interesting Iceland groups which has not suppressed its uniqueness although they were considered as strangers. Connoisseurs of the enchanting music in the style of electro house will be able to enjoy the incredible energy, sensuality and craftsmanship of the Icelandic band GusGus. Pure euphoria soft vocals, singing about love, sex and fame, and precise rhythms. One of the most influential electronic acts to hail from the North, the quirky, several-member coed band from Reykjavík has paved the wave for the Icelandic electronic scene for over two decades, boasts countless collaborations and has earned them a reputation as one of the most exciting live bands in the world. Originally, the group had twelve members, though the lineup would change time and time over as individuals broke off to pursue other equally successful projects.
Every now and then we come across a place so extraordinary, so separated from the rest of the world, that it seems unreal. Yemen, Arabia Felix, is one such place. If I remember correctly, it was sometime in September 1996 when I arrived at Sana'a airport in the dead of night. Chaos. In my backpack a Walkman with two cassettes that would accompany me on this unlikely journey: Pisces Iscariot of the Smashing Pumpkins and Polydistortion of GusGus. This bizarre collective has fascinated me ever since and I've been following them from the beginning. I also remember fondly their great gig back in 1997 at Pukkelpop.

Going from Yemen to Iceland is only 7,397 kilometers. Iceland is small, isolated, cold and punches well above its weight in terms of musical output. There are the obvious heavy-hitters — The Sugarcubes, Björk, Sigur Rós, Múm, Of Monsters & Men and so on — but also a deep and rich underbelly of exciting musical talent that offers up a diverse array of quality sounds. One of the big names in Icelandic music that perhaps gets a little overlooked these days, GusGus, has been going strong for over 20 years and released their tenth album in 2018. But, if you're just getting started, then you should start with their cracking second album Polydistortion.
This band did not originate like other bands. The story of GusGus saw the light of day for the first time in 1995, when aspiring filmmakers Stefán Árni and Siggi Kjartansson set out to make a short film called Pleasure. They had already picked up praise and prizes for their innovative work in experimental filmmaking and design. Their aim was to enhance that burgeoning reputation by telling a short story from the underbelly of Reykjavík (Iceland). After that, the next stop would be a feature film. Of course, it didn't work out as planned — but what did happen was even better. When Árni and Kjartansson had settled on the cast of the film, it dawned on them that the actors they had gone for — Daníel Ágúst (participated in the Eurovision Song Contest 1989 for Iceland with the song Það sem enginn sér, finished in 22nd place, scoring no points), Magnús Jónsson (aka Blake), and Hafdís Huld — were all stars of both theatre and music. To take advantage of this happy coincidence, they teamed up with electronic band T-World, so bringing into being GusGus: a fusion of a band, a conglomeration of friends, DJs, filmmakers, singers, musicans, actors, photographers, computer geeks and designers. The only concept was total freedom. T-World is one of the most iconic electronic duos, founded by Biggi Veira (Birgir Þórarinsson) — a true Reykjavík native, purveyor of fine rhythms and synths, DJ maestro and well-known collector of high heels and hosiery — and Herb Legowitz (aka Maggi Lego). Currently, Biggi Veira is half of the remaining founding members of the legendary Icelandic electronic band GusGus.

Biggi Veira started tapping into music at 13. There was basically no music at his home but his friend's older brothers had Oxygen by Jean Michael Jarre. He thought it was cool, as did the feeling on Love over Gold by Dire Straits. Two years later he became friends with one of the DJs at his school who introduced him to Hi-NRG and Italo Disco. Biggi Veira just loved those synth sounds and the electronic beats. This was 1983. Soon he found out that a lot of the stuff he was playing he recorded on cassettes from some of the boys a year younger. They were into the British synthwave stuff, like Soft Cell and Depeche Mode that he totally fell for. After buying a second cassette recorder and the TR-505, a cheap drum machine he used for drums and bass sequencing, the first track he recorded was a cover of So Hurt by Human League. A few years passed and then in 1992, the ambient-techno scene transformed him with tracks from FSOL, The Orb, Autechre and Aphex Twin of course. So you could say that the core of his musical nerve system was a mixture of those intelligent brakes, new wave and drum machine disco. His transition to what he is now was mostly thanks to his ex-partner in T-World, Maggi Lego, who in 1993, introduced Biggi Veira what was going on in the club those days and together they experimented with sampling and cut up beats.

So initially GusGus was as a multimedia collective that combined sexually tinged dance music with visual arts and shorts made by the group's members. The individual manifestations of GusGus — music, film, photos or appearances — surprisingly still found a stringent form, even if the individual arts were constantly interwoven. The focus of a concert was not inevitably the music, but the unity of the music with the otherwise only accompanying activities such as film, slide and slogan projections. Comfortable trip-hop beats intertwined with soulful vocals, gently lively techno rhythms with funk guitars, sweet pop with claustrophobic radio play like that of Tricky, ethereal chants met cold electro beats, followed by almost folky meditative chants.

It was an era of many vibrant and fundamental changes within electronic music. After the birth of 'house' in the states, the party animals in Britain and the techno minds in Germany took over and defined a new platform for music. Anything was possible and GusGus was inspired by that feeling. Today everything is much more sophisticated and retro-minded. There is no special scene GusGus relate to. They needed to create our own scene that is basically a mixture of late 70's and 1993 ambient breaks stuff, infused with new sound possibilities and the trademark GusGus groove.
"The approach is very much driven by the same force, a desire for exploration and music being an emotional force for us. We never see others as fans to please, we just approach music as a means to fulfill our own emotional needs. Being able to share that with others is, however, our greatest privilege." — Daníel Ágúst & Birgir Þórarinsson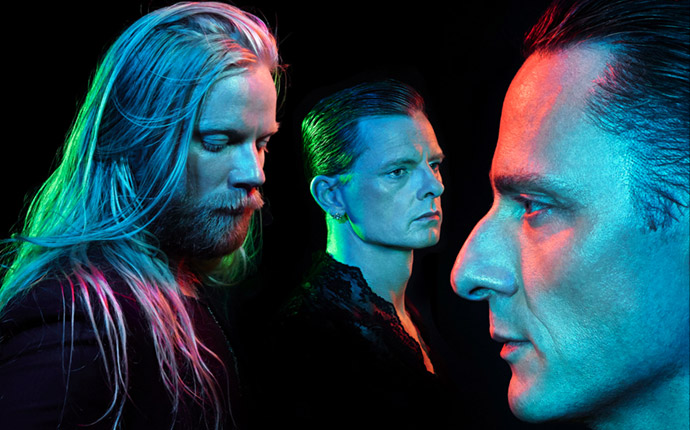 The band's collaborators changed rapidly, with the core crew currently being Högni Egilsson, Birgir 'Biggi Veira' Þórarinsson and Daníel Ágúst Haraldsson | Photo by Kjartan Hreinsson
GusGus didn't get its name from the chubby little mouse in Disney's Cinderella, but it refers to the 1974 German film Angst essen Seele auf (Ali: Fear Eats the Soul) (1974) by Rainer Werner Fassbinder, where the film's heroine (a prostitute) tells about preparing couscous to seduce a man, pronouncing it goosegoose. (The title Angst essen Seele auf is intentionally grammatically wrong. Correct German would have been Angst isst die Seele auf, but the linguistic error has to translate the broken German of protagonist Ali.) "Let's eat food together... let's make music... let's make love... that's GusGus."

A self-titled debut album appeared on their Kjól & Anderson imprint in conjunction with the screening of Pleasure and immediately caused a buzz on the scene in their native land. Eventually its euphoric grooves and sensual beats reached the demanding ears of the London-based indie label 4AD Records, which signed the band in 1996. After striking this deal with 4AD they became one of the most sought after electronic music acts out of Iceland. With the release of their 4AD debut and second album Polydistortion, the collective started touring relentlessly to a wide acclaim that has been enforced to this day. The single Believe showcased GusGus in the era of their heyday. Believe was a treasure of falsetto vocalisations, grinding beats and grungy instrumentation. It was dark and glowering funk music, made all the more sublime with its sampling of Kool and the Gang's Jungle Jazz. The album demonstrates the band's unwavering ability to turn understatement and melancholy into electronic audial beauty.

The studio setup in beginning of 1995, when T-World was assimilated into Gusgus, was: Pro6 on Windows 3.1, a 16 Mackie mixer, Ensoniq DP4 for effects and then a Roland S-550 sampler, TR-909, TR-808, Arp-2600, Yamaha CS-30, SH-101, SH-2 and Biggi Veira's old Juno 2 and TR-505 for beats and synths. That was the stuff they used doing the first GusGus album Polydistortion.

Polydistortion, was a triumphant vindication of this faith in synergy and serendipity. It also demonstrated that Iceland had more than just Björk (Guðmundsdóttir ) to contribute to the global music scene. Mixing sinuous electronic grooves with a perverse pop sensibility, GusGus caused a stir on festivals and in clubs around the world, their first two singles (Polyesterday and Believe) serving as calling cards for the riches of the album as a whole. But, despite praise from the world's critics and a string of classy remixes (from the likes of Carl Craig, Amon Tobin and DJ Vadim) the problems inherent in such an ambitious project were beginning to take their toll.

Some of the collective quietly retreated, unable to make their creative voices heard in the general melée. The financial implications of touring — which inevitably involved flying a dozen people and banks of equipment from Iceland to the rest of the world — also began to bite. Nonetheless, GusGus went back into the studio to craft a third album. The first single, Ladyshave, was a statement of intent. A classic electro-pop tune, it nonetheless sacrificed some of the quirkiness that made GusGus's debut so special in an attempt to appeal to radio. Released in 1999, parent album This Is Normal — a cocktail of sometimes danceable, sometimes dreamlike songs — suffered from the same sense of contrivance. Although the record was favourably reviewed, further singles — the electro-funk of Starlovers and the mutant house groove of Very Important People — failed to make the impact on the airwaves that the band (and label) were hoping for.

After their third album, the filmmaking arm of GusGus, Siggi Kjartansson and Stefán Árni Þorgeirsson, split off to form the production company Celebrator, now known as Arni & Kinski, which has produced award-winning advertisements and videos. A few former members such as Hafdís Huld, Blake, and Daníel Ágúst have gone solo, most notably though Emilíana Torrini, who provided a song (Gollum's Song) for the soundtrack to Peter Jackson's The Lord of the Rings: The Two Towers (2002) and probably best known for her 2009 single Jungle Drum. She contributed vocals to several songs on their debut Polydistortion (1997), most notably Why.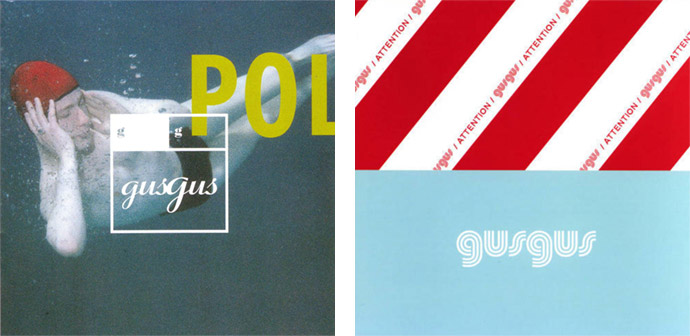 Two top albums by GusGus: Polydistortion (1997) and Attention (2002)
Visiting Iceland is on many people's bucket list — it certainly is on mine —, so it would have been easy for the Icelandic Tourism Board to simply commission an advert that showcased the country's dramatic landscapes and outstanding natural beauty. But instead they harnessed the catchy track Jungle Drum by homegrown singer/songwriter Emilíana Torrini Davíðsdóttir and ending up creating a fun, quirky and far more engaging piece of communication... anyway, just watch it, you'll see what I mean!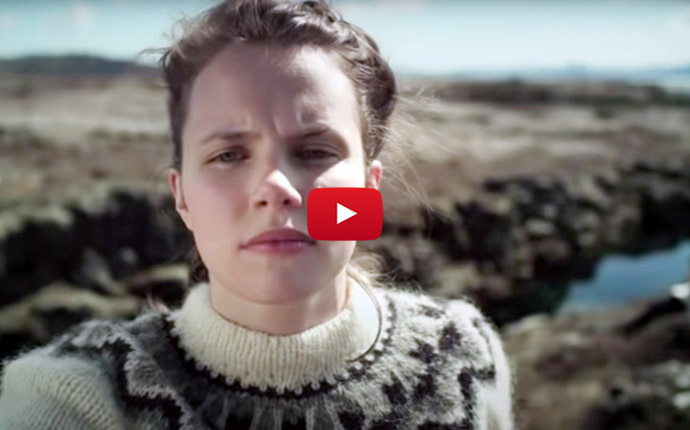 So, the collective gradually unravelled. Their final 4AD release, GusGus vs. T-World, was a collection of glistening techno instrumentals, recorded by just three of the original nine. Although it was a great genre record, it bore very little relationship to the original multimedia concept. Since then, Daníel Ágúst and Hafdís Huld — have both made solo albums, while all of the band still work in Iceland's vibrant creative scene. And the best of the music that they made as GusGus sounds as fresh and unusual today as it did when it was first conceived.

Following a successful foray into hook-fueled tech-pop, Icelandic collective GusGus have regrouped, re-signed (leaving 4AD for a multi-album deal with the Moonshine Music label) and returned to the quirky rhythms and funk-fortified grooves of their debut, Polydistortion. Their fourth release, Attention, retains the group's knack for cybernetic pop hooks (Desire) while exploring chill-out (Detention) and hard, filter-filled trance (I.I.E.), all the while nodding its head to the retro beats of pioneers like The Sugarcubes and Kraftwerk. Tracks like the infectious David — whose beat is reminiscent of Depeche Mode's Just Can't Get Enough — and Unnecessary — with its drum machine backbeat, near-minimalist bass line, screaming electric guitars and nimble lyrics — were post-rock at its most delectably danceable and refreshingly unpretentious. Singer Urður Hákonardóttir (aka Earth) displays a confident vocal diversity throughout the album, from her soulful performances on Call of the Wild and Don't Hide What You Feel to her out-of-this-world delivery on Your Moves Are Mine, the sexiest of the disc's 10 tracks. Her orgasmic vocal, in fact, sounded as if it was lifted straight from a Giorgio Moroder disco nugget. Attention might very well be what Deee-Lite would sound like had they survived the '90s. It fused their signature style with an electro-pop/'80s vibe. This standed to reason, since Depeche Mode producer Gareth Jones did some production on the disc.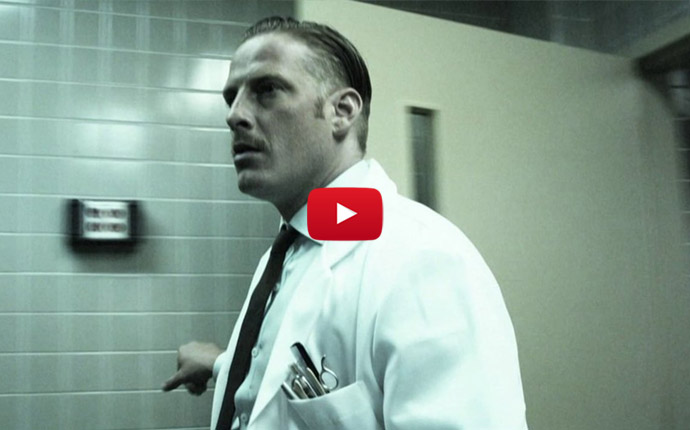 'Add this song' to your heart / Let it beat in your chest real hard / Add this song to your head / When you wake up and go out of bed / ...
Since releasing their phenomenally acclaimed ninth album Mexico in 2014, the third release with German label Kompak after 24/7 (2009) — often described as 'a wet dream' and the video (above) certainly represented it well — and Arabian Horse (2011), GusGus spent a huge amount of time in the live setting, bringing anthemic tracks to their avid fan base around the world. The album title was derived by vocalist Ágúst. Mexico was used a metaphor to describe human beings' imperative to forever 'head westward.' GusGus once again presented the audience with magical soundscapes that go from synth-pop Obnoxiously Sexual to deep techno Mexico to progressive house Airwaves and the chart topping stomper Crossfade. The combination of the vocal artistry of Daníel Ágúst and the raspy melodic voice of Icelandic indie prodigy Högni Egilsson surrounded by mesmerizing electronics, haunting grooves, with subtle string and brass arrangements blending in, created a very unique and powerful sound produced by mastermind Biggi Veira which has been leaving audiences clamoring for more. Högni Egilsson is a ubiquitous figure in Icelandic culture. Coming up with indie darlings Hjaltalín, he made himself known to both younger and older generations. Together with GusGus, Egilsson endeared himself to the club crowd.
'Crossfade' begins slowly, with a thumping rhythm that refuses to let up, finally culminating in a gorgeous man-on-man duet that lingers between humorous and eerie. Watch the video.
"The most important piece is not an instrument, it is the Mackie mixer VLZ1604 that connects everything through my fingers. But then if that was the only thing I had on stage not much more than silence would be experienced. The live set is curated through carefully selected pieces of gear that make it possible to create huge soundscapes, tight grooves and a 100% manually manipulated electronic live set." — GusGus
The Icelandic collective has just one man who has been there through thick and thin. On this occasion Biggi Veira, ever-present in the group's intriguing history, is joined by Daníel Ágúst as the last pair left standing, with Högni (Egilsson) having left for pastures new at Erased Tapes Records. With their tenth studio album, the Icelandic electronic collective deliver eight tracks of introspective, often euphoric, progressive dance music. Now made up solely of two founding members, GusGus' Lies Are More Flexible is an album of two halves, with the first four tracks featuring Ágúst on vocals, and instrumental section following them. The sound is that bit sparser, but it suits moody vocals. GusGus played with the different styles of dance and electronic music throughout their career and it's clear that this album is no different. There's a mix of influences here, from Italo Disco to progressive house, which all come together in a satisfying, coherent way. The grooves are never less than classy, from the slick Lifetime to the epic Featherlight, the slow builder which begins the album with gently building arpeggios, seemingly echoing through an endless cavern before a driving 4/4 enters the soundscape, and introduces the tone of the album. Even though the pair are relative veterans in the electronic music stakes, they continue to find new and subtly different ways of presenting thoughts and music.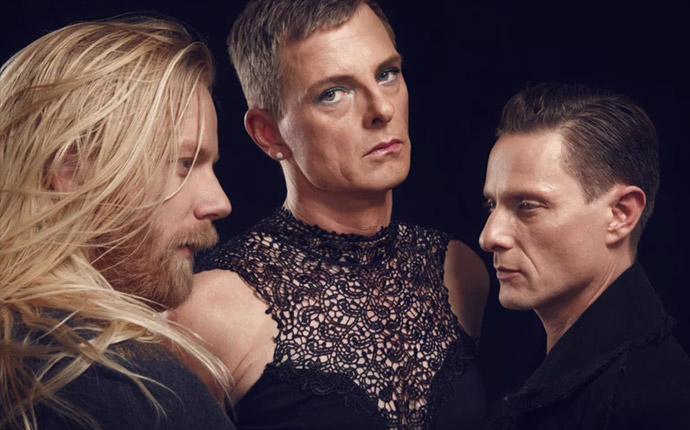 Högni Egilsson, Birgir 'Biggi Veira' Þórarinsson and Daníel Ágúst Haraldsson | Photo by Kjartan Hreinsson
Yet the whole is so much greater than the sum of the parts. The Icelandic collective have now clocked up more than two decades of electronic wizardry, with a line-up that appears to change like musical chairs. Yet somehow they have kept their identity, with slinky grooves, ultra cool bass lines and slick beats.

Stay amazed!

All images courtesy of the artist.
---
See/read also some story related movies/interviews: