REL'AXE'DNESS
She comes from the same country as Pippi Langstrømpe, but Julia Kalthoff (1988) does what almost no woman does: she makes axes. There have been some twenty axe forges in Sweden, most of these started around 1900. Today, there are few left. In 2010, at the age of 22, Julia Kalthoff became the chief executive officer of a 130-year-old Swedish axe manufacturing company in Storvik, located in an area of Sweden that Kalthoof describes as "iron country". Wetterlings Swedish Axe Works started manufacturing axes, broad-axes and bark shovels for the then-thriving forest industry in 1880. Julia Kalthoff had taken a forging and a carpentry course. She is a fan of handicrafts, forging and organizing. Just back from traveling the world, gaining blacksmith skills was on top of Kalthoff's bucket list. One day in the forge, she got the opportunity to temporally step in as manager. This ended up with her running the forge for five years. Julia Kalthoff doesn't want to be a symbolic feminist figure. She just loves to shape with her hands, refining wood and metal into an axe. That is why she founded her own label, Kalthoff Axes, in 2016.
Sometimes a mundane exploration on internet excavates a wonderful surprise that will immediately prompt you to discover more. In her TEDx talk I found on the internet, Julia Kalthoff tells with a lot of enthusiasm how much she especially enjoys carving and splitting wood and at the same time this act works as a medicine for her. She feels like a totally awesome superwoman. She taught wood splitting. She moves the limits forward and gets in touch with some power that she didn't know she had. She finds her own rhythm and this activity brings her in the state of being relaxed. This is why I've chosen 'Relaxedness' as the title for this story about this smart, physically fit young lady in good shape. Relaxedness contains the word 'axe'; her handicraft, and being relaxed at the same time, creates a balanced axe.

Julia Kalthoff is called the Queen of Axes of Sweden, she calls herself an axe maker. I find her really inspiring: besides her clearly being a driven, business savvy woman in a heavily male dominated industry, she appears to be a truly innovating and inspiring person.
Julia Kalthoff ends her talk with some very inspiring words: "Blacksmiths are the kings of the craft because we make the tools that help other craftspeople do their best work. It is like we spread waves of craft, creativity and quality all over the world. When people use these tools they continue these waves. Let the axe empower us. Let it be the positive counterweight of today. It is more needed then ever... and we will continue to spread these waves all over the world."
"By thinking about the axe and making a perfect model, others can think about what to do with it." — Julia Kalthoff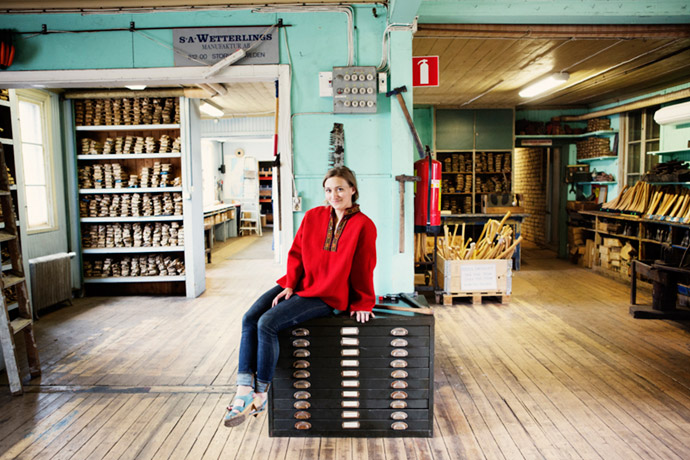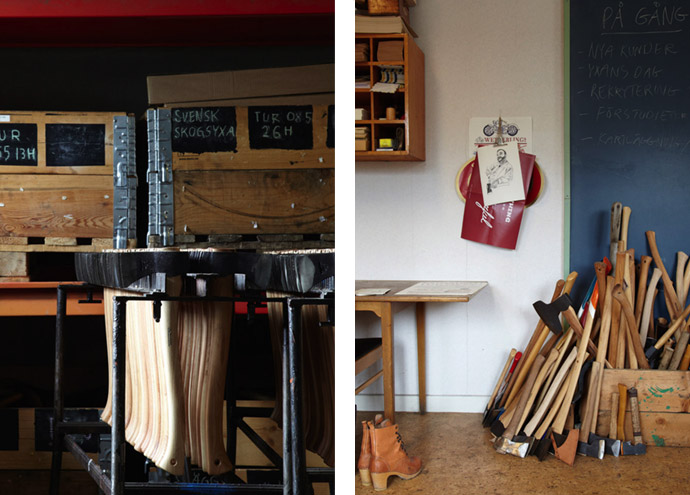 During the period 2009-2013, the youthful Julia Kalthoff has been responsible and CEO at Wetterling's | Above: photo by Maria Hansson | Below: photos by Leslie Williamson.

LET THE CRAFT DO THE TALKING | With respect for heirloom Swedish handicraft traditions

Just how did a 24-year-old ended up running a 130-year-old Swedish axe manufacturer? When she was nineteen, Kalthoff knew she wanted to be a blacksmith because she loved fire and she liked to get dirty. She grew up in Skåne but ended up in Gästrikland when she signed up for a 10-day course at a forge in northern Sweden. She couldn't afford tuition so in exchange she worked odd jobs. It was more or less coincidental that she ended up with a company specialized in axes, the Swedish company Gränsfors Bruk. After about six months of working and forging, she took a job as a temporary manager at Wetterlings. When her three-month tenure was up, she stayed on, and about a year later took over as CEO. On the website of Wetterlings I read: "It was fun to offer her to work at Wetterlings as a helper in both the smithy and office. When the CEO Lars Jungefors resigned, the office became empty and Julia had to step in as manager and later as CEO. She has done well — so well that she was awarded a prize and money by the scouts and the Swedish king for her leadership."

Wetterlings started making axes to supply Sweden's booming forestry industry — at the time, the country was very rural and filled with forests. The company thrived for decades, making axes for the large part of the Swedish population that worked in forestry. Beginning in the 1940s, however, chainsaws began to overtake axes as the primary tool for woodcutting. Many forges tried to make cheaper axes to compete, but this era saw a lot of axe companies go bankrupt. Wetterlings took a different approach — they returned to their roots and started making heirloom axes especially for people who are seeking high-quality tools.

In 2013, under her leadership, Wetterlings Manufaktur has won a prize for employee work practices and returned the factory to hydroelectric power. Kalthoff was awarded the scholarship Kompassrosen for having the courage to break patterns and make long-term sustainable decisions that have benefited colleagues, companies and the environment. The Konungens Stiftelse Ungt Ledarskap (Young Leadership Scholarship Committee) and the Swedish king gave the following statement in the award ceremony: "They have saved an old industry in poor conditions and set good examples of what can be done by building on a classic Swedish cultural heritage and appreciating quality and craftsmanship."

Turning to traditional career paths and investing in knowledge in crafts and manufacturing rather than theoretical leadership training, Julia Kalthoff has taken on the challenge as a young CEO of a traditional company in a men's industry. Through sometimes awkward decisions, such as ending unprofitable customer relationships and deliberately increasing production costs by investing in Swedish manufacturing and high quality, she has given Wetterlings a bright future. An effort that has also made a difference for the entire region. The sustainability perspective also extends to leadership, which is based on care and commitment from every employee. The scholarship helped to keep developing good leadership.
"My leadership is based on visions. We have gone back to the roots and put a greater focus on crafts, which is radical today when some say it is impossible to produce piece production in Sweden. But it is precisely through these changes that we have increased sales and profits, hired more people and changed the company." — Julia Kalthoff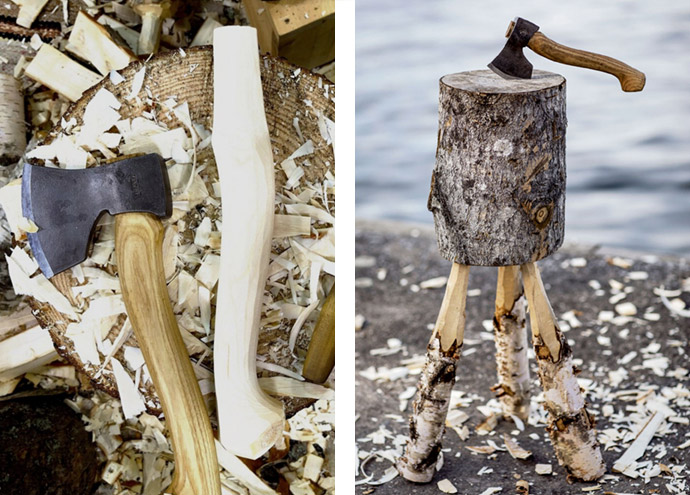 Julia Kalthoff is convinced that axes mark the transition to civilization | Photos by Tina Stafrén.

JUST ONE STYLE | Julia Kalthoff knows axes, like really knows them

On the product end of things, with her guidance Wetterlings undertook the high profile "The Bushman Axe - By Survivorman Les Stroud", created alongside and endorsed by the famous wilderness experts. After this period she had a leave of absence for university study. She studied Business & Economics at the Uppsala University and started a handicraft festival.

From there it was only a small step to self-employment and releasing her very own axe. Kalthoff Axes has been around since 2016 and the founder accepted her first orders in October 2018. With customers from all over the world, Julia Kalthoff's fresh axe smells not just linseed oil but success. They order directly through her website or through one of the distributors based in the US, South Korea, Japan and Sweden. The production of around 50 axes a week still takes place in an underground garage in the center of Stockholm.

However, her work process is thorough and time consuming, but her company is not a one-woman show either. Kalthoff has forged axes in various types of steel that have been tested for hardness. Then she cut hard materials and twigs and studied the results under a microscope together with Norwegian Dr. Fredrik Haakonsen, a specialist in steel tools. They developed the perfect forging and hardening methods. The wood for their axes comes from Skåne in the south of her native Sweden, while the blades are supplied by a blacksmith in Arvika. Kalthoff's job is the finishing: coarse and fine grinding and polishing of the blade, shaping and grinding the handle and fine-tuning the finished axe. Julia Kalthoff also developed the design together with the master carver Beth Moen, one of Norway's most skilled craftsmen, whom she calls her great role model. Together they had to find out what a good axe arm should look like. Moen has been able to try out and evaluate many prototypes, and Kalthoff made changes. After release the axes got further testing by heavy hitters in the world of woodworking and hand tool use. It's great to see such a deep focus on a singular product. It takes one to two hours to perfect each axe. At the moment she has more work than time. Without her two part-time employees she would be lost.
"I can't find a better empowerment symbol than axes. Think about it, I helps you start a fire, build a house. Our entire society was build with an axe in our hands!" — Julia Kalthoff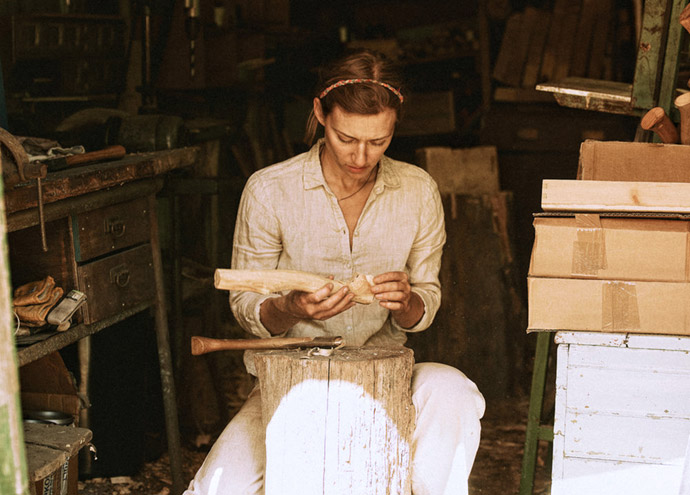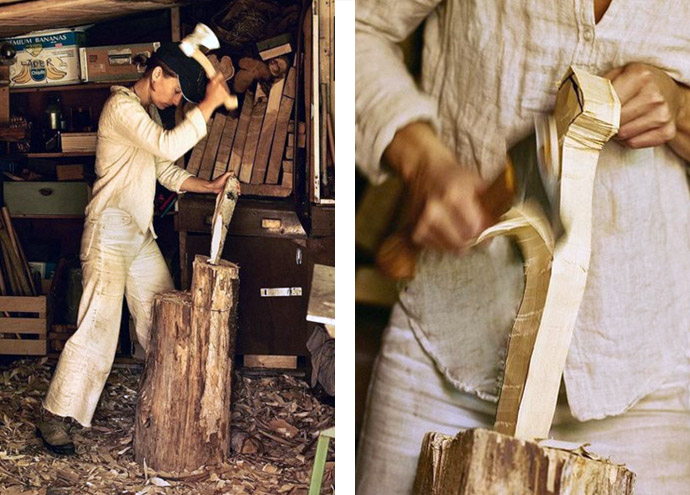 Julia Kalthoff is one of Sweden's leading axe makers and she doesn't hesitate when she starts conjuring an elegant, crafted axe shaft out of a simple block of wood. Kalthoff likes to use freshly cut wood. It is softer and easier to work with, but instead care should be taken with the finished work so that it does not crack when it dries | Photos by Kalthoff Axes.

PEOPLE LIKE TO WORK WITH WOOD | A sensual distraction from tech-heavy everyday life

People have needed hobbies since they left their caves and did other things than to hunt after the next meal. It is especially important today as they are increasingly switching from the upright to the bent position. People sitting at the computer for ten hours a day, people wandering the streets staring at their smartphones, not even knowing that their fingers can do more than just type WhatsApp messages. Julia Kalthoff has one particular tip for everyone: woodworking. With an axe like her small carver 01, a specialty axe and a precision tool. At the same time the axe lies comfortably in the hand, about a foot long, with a smooth polished wooden handle, the blade protected by a leather sheath. The good news for all those modern people with decision-making problems: at Kalthoff Axes there's only one model: the 550 gram axe head is easy to swing. The edge comes ready to use and will hold a sharp edge for a long time. The 30-32 degree angle works well for both soft and hard wood. Hardened to 57 Rockwell, it has good edge retention and is still easy to sharpen. The standard model is suitable for beginners and advanced users and costs about 190 euros. Forged from Swedish Carbon specially alloyed steel. Handle from Swedish ash.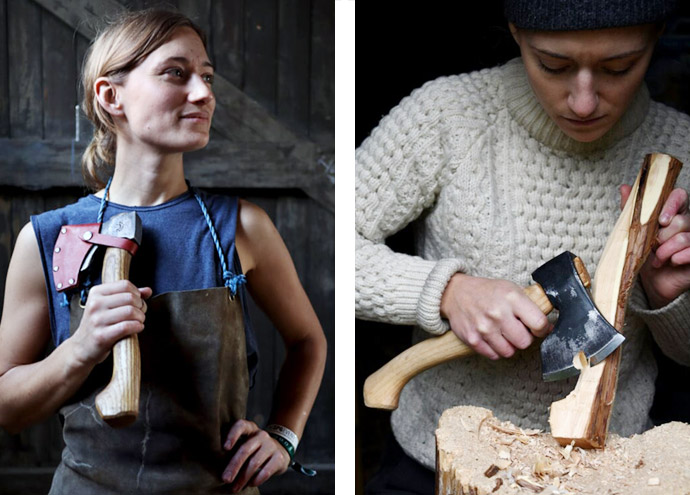 Why axes? Axes have been around for two and a half million years, marking the transition to civilization. The axe allowed our ancestors to build houses and make fires. An axe is an extension of ourselves. At the same time it demands respect for the material | Photo on the left by The Guardian, photo on the right by Kalthoff Axes.
Julia Kalthoff only knows one other female manufacturer in Sweden, otherwise they are only men. During her training she had always had to do very difficult tasks. She describes herself as a feminist, but doesn't want to be a symbolic figure: "I don't want to be seen as a woman, I want to be seen as a professional." She's an inspiring role model and influential figure in the industry. It is assuring to see a young woman moving into the future with such keen direction. I think the idea of pursuing something more or less on a fluke then passionately exploring that direction until you're in a place to have a real impact on the field as a whole is simply awe-inspiring. If you're in the market for a new carving axe, be sure to get in there quick.
"I'm looking for those small details that makes a really, really good axe. I've done loads of different prototypes home at the workshop and sent them to a number of professional wood carvers to get their feedback. Then I've gone back into the workshop to continuously improve my prototypes to perfection." — Julia Kalthoff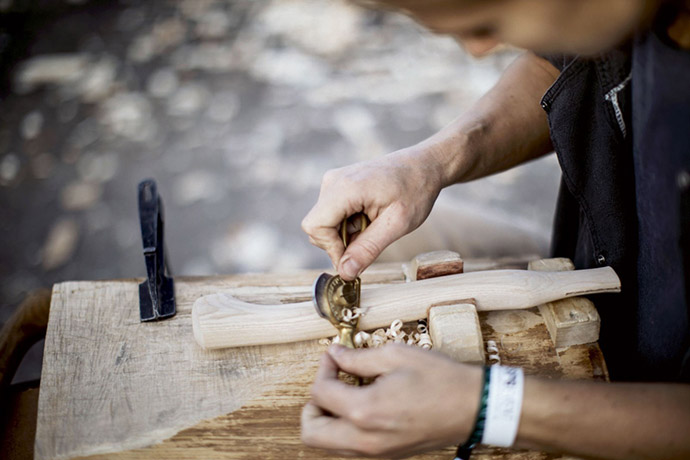 The wood for Julia's Kalthoff Axes comes from her homeland, Skåne in southern Sweden | Photo by Tina Stafrén.
In her TEDx talk, Kalthoff talks about how balancing bold leadership with respect for heirloom Swedish handicraft traditions and visions for sustainable manufacturing turned Wetterlings into a strong player on the international axe scene. Julia Kalthoff start her talk convincingly: "When you forge an axe, you're sweating because you work hard and you feel the fire heat and the steel is 1.000 degrees. And sometimes it even hurts. Because you get axchausted, your hands sake and you get blisters. But at the same time it's so beautiful! The steel is glowing and you move like a dance. And imagine that you, with your hands, can take a piece of steel and shape it into something that might last for 1.000 of years. To me axes is about something deep and extremely powerful ..."

When asked what a full-time person does in her spare time, Kalthoff replied that she likes to read and eat. Friends are very important to her and spending time in nature. And she also likes tango. In short, I think her life is in good balance.

I haven't got myself a wonderful little axe from Kalthoff Axes yet but I really like what Kalthoff Axes are doing.

Stay amazed!

All images courtesy of the artist. Photos © Tina Stafrén, Maria Hansson, Leslie Williamson, The Guardian and Kalthoff Axes.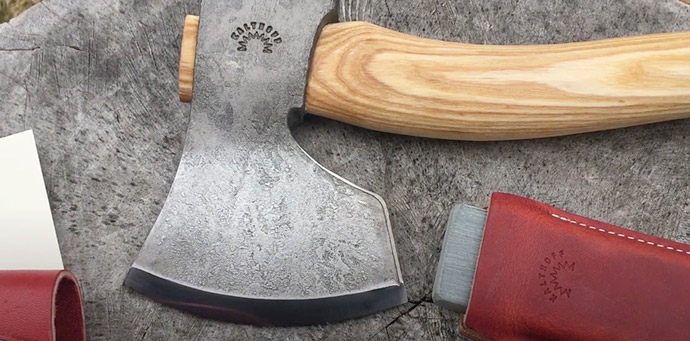 ---
More story related movies/interviews:
---
Related stories on Woodland: