SQUEEGEE !
Simon Marchner (1989) is a freelance graphic designer and illustrator based in Munich, Germany. He is specialized in music related designs such as tour posters, album artworks, merchandise etc. If musicians, bands or festival organizers are looking for something very special then Simon Marchner is the right address. He does not deliver announcement posters that hang on advertising pillars or power boxes, but art prints. Marchner creates the special graphics he designed himself by hand using the screen printing process. His minimalist style is mainly used for silkscreen printed limited edition posters, unique pieces, signed and numbered in pencil by the artist. The works of art are then sold on the evening of the concert or given away to fans. His customers include such well-known bands as Band of Horses, Bob Mould, Noel Gallagher's High Flying Birds, Courtney Barnett, Nada Surf, Bad Religion, The National, among others which are known far beyond Bavaria.
A long time ago, in the pre-computer era, I myself followed a training in old printing techniques with a specialization in silkscreen printing. This allows me to get a good impression of the process to be followed. It was a time when water-based inks had yet to be introduced and solvents, like paint thinner and white spirit, were still often used to do the cleaning work. So, it was not always very healthy if you were busy all day long in a small space. But without a doubt it was a lot of fun! I myself had rather immersed myself in painting directly on the silk screen. I had my own silk screens and rubber squeegee for screen printing posters and T-shirts. The latter always sold out very quickly. But it was mainly about fun and not so much about making money. I even designed and screen printed a corrugated cardboard box with a handle as packaging for my T-shirts. I think I still have the drawing on tracing paper in my archive. Each vertex was pierced with a needle so that the vertexes were transferred to the corrugated board. Piece by piece I cut out the shape of the box by hand from large cardboard sheets.

What really triggers me when I look at Simon Marchner's silk-screened posters is the layering and depth he creates despite the fact that he uses few different colors.
Today Simon Marchner lives and works in Munich, but he's originally from the quiet Pfarrkirchen in Lower Bavaria, the capital of the district Rottal-Inn. The creative part of his life takes place in Munich but his screen printing studio was still located in his hometown until last year. During his studies he already focused on the screen printing process and this technology takes up most of my work today.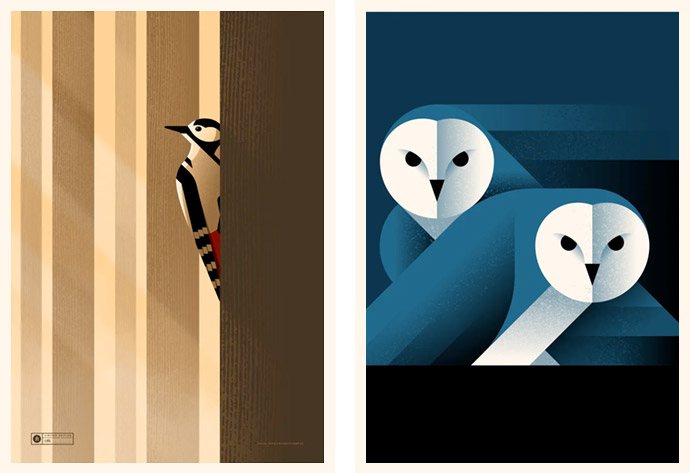 Left: Woodpecker Artprint, Edition of 75 | Right: Barn Owl Artprint, Edition of 30
In the sketchbook of graphic designer Simon Marchner, there is a double page with owls. The lines of the shadowy sketches alternate between thick and thin lines. One of the owls is colored in on the face. Below it is the exact name: Barn Owl. Birds and owls run through the young man's life: "I drew birds in kindergarten."

His creative streak came to the fore early on. Even as a child, Marchner loved to draw, and often, but back then he still used animals. At the age of 14, he already started drawing his own cover ideas for his self-burned CD-collection. It was a way of representing his favorite music with the help of images. He studied communication design at the Munich University of Applied Sciences from 2012 to 2016. But it wasn't just graphics that interested him ardently, at the latest from puberty, his great love for music also flared up. Back then he mostly listened to indie and punk, nowadays his customers come from all kinds of music — from jazz to soul to electronics.

As he started to design posters and T-shirts for bands he was friends with, or flyers for Club Bogaloo in Pfarrkirchen, it turned out to be a door opener. So Simon Marchner made the decision to take the plunge into self-employment. In his parents' garage, he gradually built up a workshop but last year he moved his workshop and office to the alternative cultural center Bahnwärter Thiel in the Munich district of Ludwigsvorstadt, where he rented a container and regularly is brooding over new work.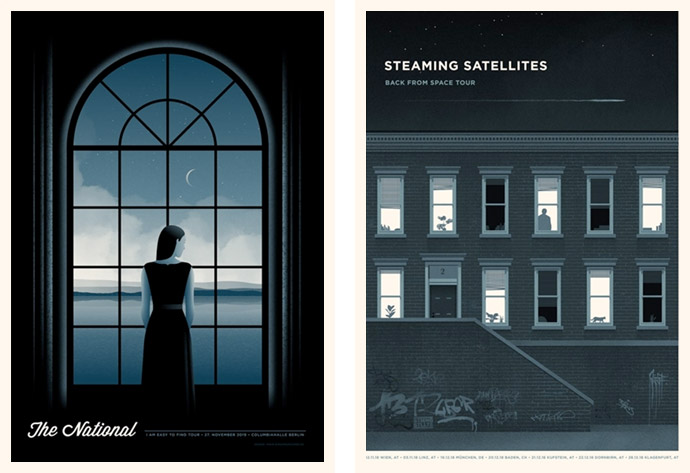 Left: The National Concert Poster 2019, Limited edition of 180, Sold out | Right: Steaming Satellites Concert Poster 2018, Limited edition of 119
"I love Munich, but when it comes to exhibitions, I just haven't found my place here yet. I am neither high culture nor underground — there is nothing in between in Munich." — Simon Marchner

SCREEN PRINTING | an incredible way of creating great prints

A passion for screen printing became Simon Marchner's profession. While screen printing was only a side note during his studies, he had relatively free access to the screen printing workshop at the university and therefore he was able to acquire all the necessary knowledge himself. The priniciple of screen printing is that each color of the design is printed individually through a silkscreen and put on paper one after the other, so several screens can be used to produce a multi-coloured image or design. It takes a lot of time, but it feels very special. For that reason Marchner tries to reduce the designs to the essence and works with fewer colors. He comes from a design direction where the motto was "less is more".

The musicians like his posters and sell or offer them to their fans. In contrast to posters from internet printing companies, they receive an unique limited-edition hand-printed poster which is numbered between 70 to a maximum of 200. The preparation for printing alone takes an hour. The process is very complex. Real handicraft, but the effort is worth it. "Each poster differs slightly from the other due to the way it is printed," Marchner says, so there are only unique copies. He particularly values ​his independence in the creation process. That is particularly important to him. The artist goes to work meticulously and lets creativity run free, but he's also an absolute perfectionist who has to do everything himself. But not because he doesn't trust others, but because he puts a lot of heart and soul into his projects. The joy is great when the musicians then approve the design and it can go to press.

He also learned that there was a separate scene of young artists making silkscreen posters during the day and selling them at concerts at night. But unfortunately Marchner cannot live on it so far, but it is a welcome extra income. It was no longer just about announcing the band's concerts, but the posters became real collectibles. The artists exhibit at so-called 'Flatstocks' — a touring poster exhibition or gig posters featuring artists from around the world. A few of the most biggest poster conventions at festivals are the Primavera Sound Festival in Barcelona or the Reeperbahn Festival in Hamburg.

Simon Marchner used to sell his posters himself at these merchandise stands. Nowadays he is usually present 'incognito' at the concerts of the bands as he did for his favorite band The National, for which he was also allowed to work.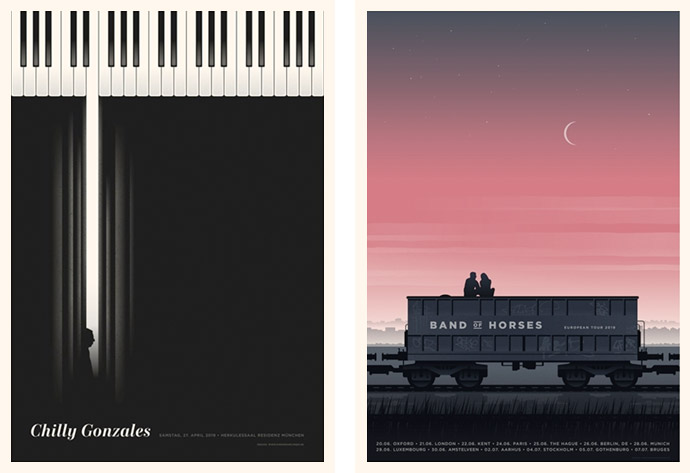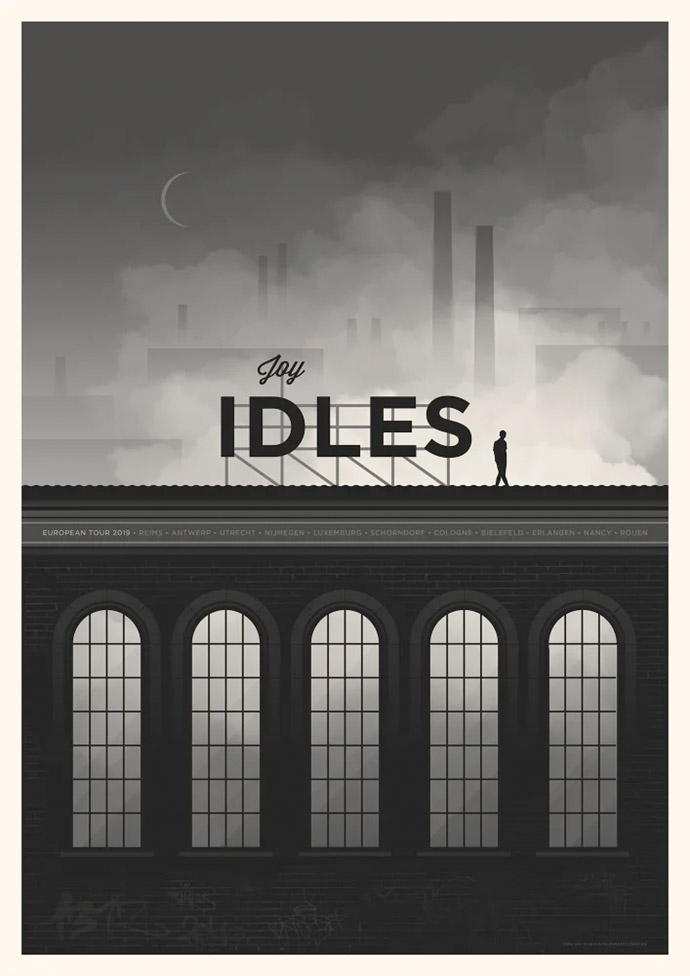 Left: Chilly Gonzales Concert Poster 2019, Limited edition of 100, Sold out | Right: Band Of Horses Concert Poster 2019, Limited edition of 320 | Bottom: Idles European Tour 2019, Limited Edition of 300, Sold out
"There is a lot of word of mouth. They know what they're getting into through my website. The price and circulation are then officially clarified with the manager. Some bands have specific ideas about the design or motif, some give me a completely free hand." — Simon Marchner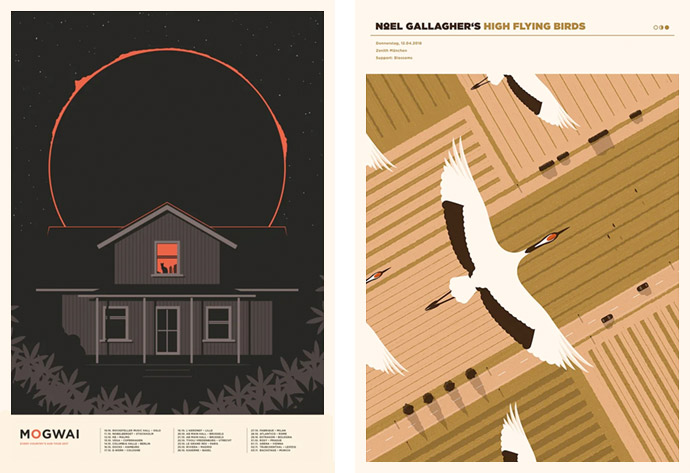 Left: Mogwai European Tour 2017, Limited Edition of 140 | Right: Noel Gallagher's High Flying Birds 2018, Limited edition of 100

ICH BIN ABSOLUTER PERFEKTIONIST | How can music be visualized?

First of all, Simon Marchner immerses himself in the music of the band for which he has to design a poster. To do this, he tries to capture the topics or the mood it evokes in him. When it is clear which direction he wants to take, it is time to implement the motive. He develops an idea, visualizes it with a digital pen on the computer and then works step by step until the finished poster. He develops ideas with passion and enthusiasm for music and the bands he works for and moves between emotion and sober function. In him the emotional artist and the sober graphic artist collide. But Marchner says clearly: "I am a graphic artist." He thinks up things from the given purpose.

Basically, printmaker Marchner wants to capture and reproduce the music and mood of the respective band. The focus is on the graphics and you can see that in his posters. They look well thought out, characterized by its own, very well thought-out style: rarely more than three colors, clear lines, purposeful minimalism and with a lot of freedom. In each poster you find an environment of absolute mood. Marchner's shapes are crisp, perfect beyond the real world. Every poster begins as a simple sketch. Analog. Pen and paper. The final art is born in the computer, which he digitally edits, combines and finally adds textures, before returning to the analog world to prepare the screens, selecting the paper, mixing the colors and starting to print himself.

Especially within his posters one can see he developed his own style which he kept improving over the years. This development process was like learning a new language for him. This often gave his customers a completely new view of their art form. Quite exciting for both sides. The specificity of Marchner's voice is in the uncompromising aesthetic of quiet simplicity. He speaks through his portrayel of focused moments and the clarity of composition.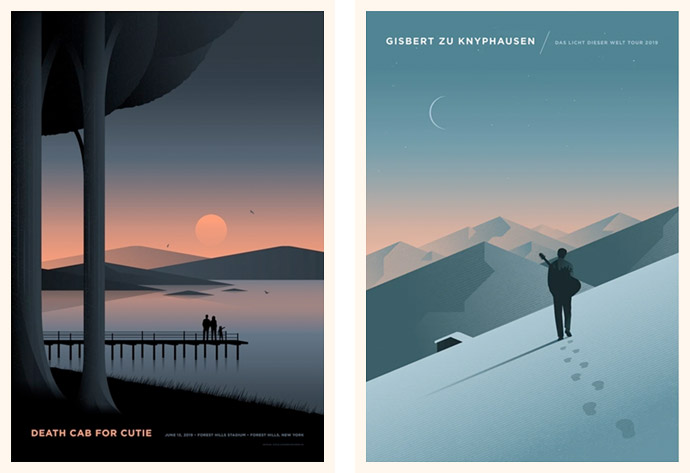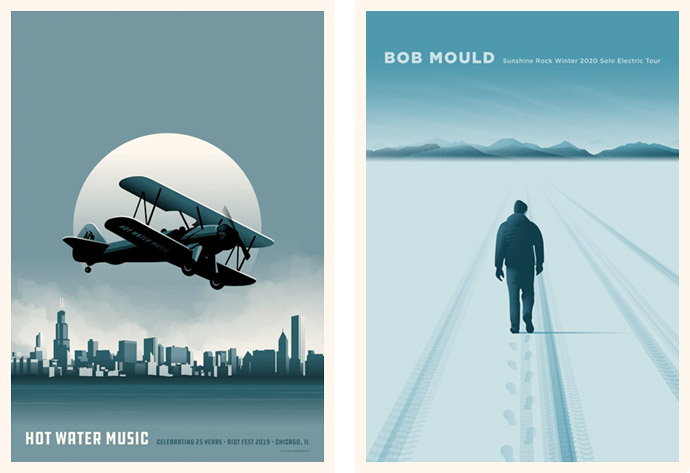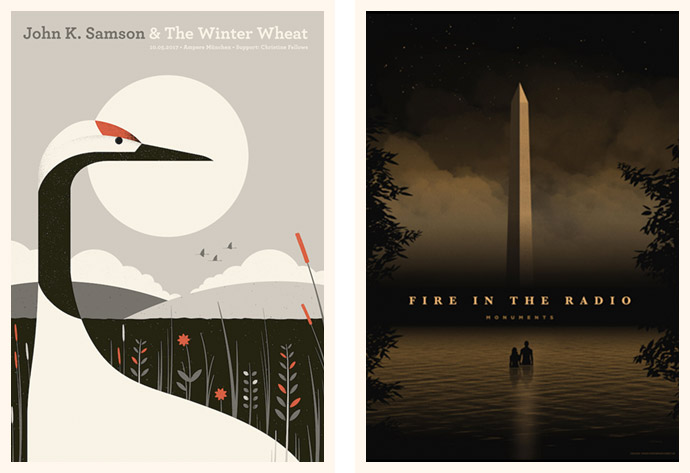 Above left: Death Cab For Cutie Concert Poster 2019, Limited edition of 50, Sold out | Above right: Gisbert zu Knyphausen Tour 2019, Limited Edition of 135 | Middle left: Hot Water Music, Riot Fest 2019 | Middle right: Bob Mould (Hüsker Dü / Sugar) US Winter Solo Tour 2020 | John K. Samson (Weakerthans) & Bottom left: The Winter Wheat, Ampere München 2017, Limited Edition of 70, Sold out | Bottom right: Fire in the Radio, promotional poster Monuments, 2020
In addition to his favorite projects, the posters, which he often works on for a whole week, he also does graphic work on commission. There usually is no shortage of orders because Marchner has long made a name for himself in the music industry, the list of his customers is long and prominent. It ranges from the Canadian cult pianist Jason Charles Beck, professionally known as Chilly Gonzales, to Oasis co-founder Noel Gallagher to well-known bands such as Beatsteaks, a punk rock band from Berlin. Usually interested parties contact him. Exceptional he tries to contact a specific band by email himself.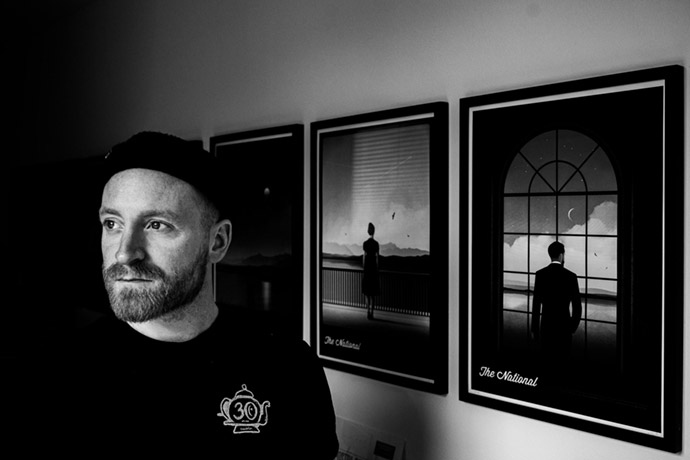 Simon in his office in the Atelierpark Bahnwärter Thiel | Photo by Sven Jürgensmeier
The Corona crisis with all the lockdowns does not leave the Simon Marchner unaffected. There are no more concerts, so there is absolutely no demand for music posters anymore. A collaboration with Bob Mould, a mammoth project of 23 cover designs for his exclusive indie edition limited to 750 copies worldwide vinyl boxset, Distortion: 1996-2007, saved Marchner somehow over the lockdown period. It's the second of four vinyl boxsets chronicling the solo career of legendary American musician. Each album in the set is pressed on clear vinyl with unique splatter effects.

And it is good that the graphic designer has long developed a second pillar. In addition to his favorite projects, the posters, which he often works on for weeks, he also does graphic work on commission. Most recently he designed a book cover, a company logo or the labels for a beverage manufacturer.

Oh yeah, I named this story after a book from 2016, Squeegee !! – The European Gig Poster Movement, which is a survey about the Gig-Poster-Scene in Europe.

Stay amazed!
All images courtesy of the artist.
---
More story related movies/interviews:
---
Related stories on Woodland: