CYCLING NOSTALGIA
With a very extensive portfolio that appeals to everyone's imagination, Italian illustrator, painter and cartoonist, Riccardo Guasco (1975), tries to convey the introspective side of athletes with his designs using warm colours, Cubism like form play and a hint of humour. He is endowed with that peculiar form of sensitivity in which formal grace goes hand in hand with delicacy of intention. Just look at any of his awe-inspiring illustrations and paint artworks, whether an advertisement or a magazine cover, and you will always see the touch of wonder that is the prerogative of a poetic vision. The resulting works will also make your eyes smile. If you're someone who revels in cycling nostalgia, especially the artistic side of things, there's a strong likelihood that you've come across the heroic cycling art of Riccardo Guasco.
I must confess that my first meeting with Riccardo Guasco's graphic work took place a few weeks after stopping on vacation for a short break in a very small bar on the pre-eminently Scotch whiskey island, Isle of Islay. On the wall hung a number of small, illustrated portraits of legendary, and at the same time most eccentric, riders in the peloton, including Eddy Merckx, our Belgian cycling hero. Bernard 'Gitane' (Hinault), Fausto 'Bianchi' (Coppi), Tom 'Peugeot' (Simpson) and Robert 'Peugeot' (Millar) in the polka dot jersey — once one of the best riders in the men's peloton, today she is called Philippa York who would rather have become a woman earlier and never been a rider — stood next to Eddy 'Molteni'.

When I got home, I started looking for the artist of these cartoony cyclist portraits. My search eventually brought me to Richard Mitchelson, but along the way I also came across beautiful illustrations of the Glorious cycling team made by Riccardo Guasco: Veni Vidi Bici! L'arte di illustrare la bicicletta with portraits of cyclists Eddy Merckx, Fausto Coppi, Costante Girardengo and others. When I visited his website, a whole new world opened up. Cycling is certainly a great passion of Guasco, the bicycle is perhaps the place where the ideas of this brilliant illustrator are born. It's no coincidence that the poster of the Maratona Dles Dolomites Enel has been made by his skilled hands for years. His camera is the notebook, therein he collects snapshots of what surrounds him and inspires him. His style is so recognizable through the many designs he has made so far. I am already impressed, wondering if you are too after reading and viewing this story.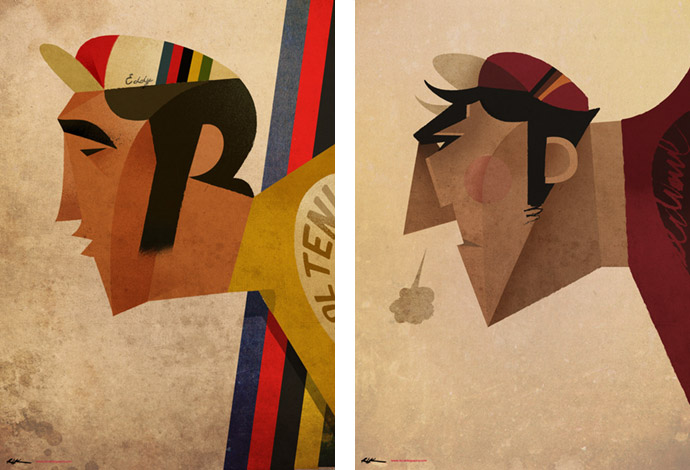 "My collection about cyclists was one of my earlier works. I wanted to convey the more introspective side of each cyclist, rather than to portray them just as racers; my attention was addressed to their thoughts and their soul, I wanted to tell something only through their profiles. So, I decided to sometimes eliminate the bicycle and everything that was redundant for me. And I was left with faces belonging to heroes, profiles speaking about struggle, noses stuck out in order to reach the finishing line they would have passed shortly." — Riccardo Guasco
So today I'm featuring professional Italian artist Riccardo 'Rik' Guasco, with his amazing illustrations and painter artworks. Guasco was born in Alessandria, a small town in the northwestern part of Italy, also known as Piedmont. Alessandria is connected to the bicycle by an umbilical cord. In 1867, entrepreneur and local beer brewer Carlo Michel came back from the Paris International Exposition with what might have been the first velocipede in Italy. Also cycling's UCI was even headquartered in Alessandria for 15 years, beginning in 1898 and one of the first velodromes was constructed in here in 1888. By 1890 bike rallies drew huge numbers of riders. This is truly città delle bicicletta or the city of the bicycle. But that is another story to tell ... If you ever visit Alessandria you can find all about its bicycle history at the AcdB Museo - Alessandria Città delle Biciclette.

Riccardo Guasco, still based in Alessandria today, is most proud of his posters for LaMitica, created to honor the Castellania region of the historic cyclists. LaMitica is a cyclo-tourist event run off in the hills, in which the participants use vintage bikes to honour Coppi's legend, but also to reaffirm the bond between cycling and the surrounding landscapes. In 2011, one of the organizers of LaMitica, Pietro Cordelli, was the first visitor to enter the gallery La corte dei miracoli during Guasco's first exhibition in Gavi. He complimented Guasco and immediately bought two posters. Ever since then, a collaboration has developed that has led to many successful editions of vintage cycling event.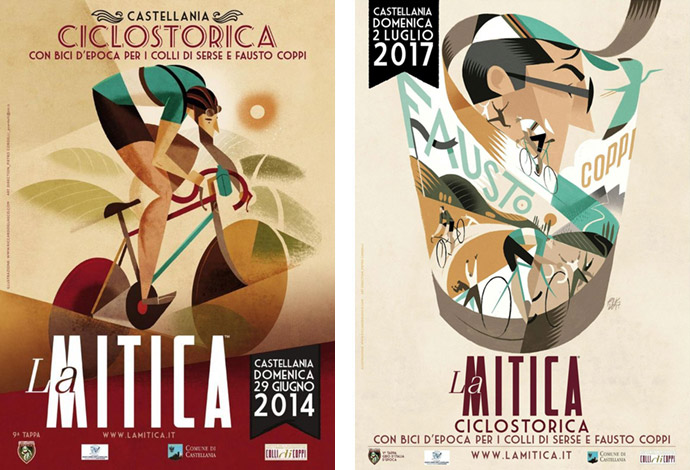 Guasco calls himself a man in love with the art form of a poster or a billboard, which he sees as a tool that is capable of elevating and educating people. If done well, a billboard is just like an open-air art gallery. In other words, it is viewable to everybody who passes by. For example, visiting a museum is less accessible because you have to buy a ticket first. Guasco interpretates a poster or a billboard as an useful medium to mix poetry with irony and vice versa "to elicit the eye's smile". In fact the extraordinary nature of his purely pictorial style lies precisely in the ordinariness of what he portrays, transformed by his pencil into artistic situations. In the space that exists between dreams and daily life, human figures become bodies transfigured into contortions full of passion, until they merge with the surrounding contextual elements.

Guasco was unaware that he wanted to become an illustrator. It was more of a natural path, spawned by his passion for art. You can say he grew into it. In Italy, however, it is believed that being an artist is more of a hobby. You cannot be a professional artist. So he's always been told that art is okay, but it's something you do after work and that's why it can't be a normal job. That said, he thought, "What comes closest to art that can also be a job?" So he started working in the advertising industry and on behalf of companies to also create free work. Guasco has found a way to combine the two.

Ever since he was a little boy, he has always been drawing. And he has always got the chance to attend art schools. Watching Riccardo Guasco as he works you see that his illustrations have a very manual component. Almost all his works arise from the paper first, and several times he prefers not to switch them into a digital format because he doesn't want to loose the freshness they have on the paper. He always starts with a pencil sketch, which is then coloured with a brush — ink, watercolor, acrylic, Chinese brush — before being finished on the computer. The Italian painter works on and off canvas, just as easily using a paintbrush for his wall paintings as a mousepen for his funky digital work. He often uses software tools in his job. Photoshop and Illustrator are useful but not essential tools. He doesn't want to tie himself down to a single software. He found himself having to reinvent himself as a painter on walls, on cardboard, on glass, on stamps, on fabric, so many supports that made him fall in love with his profession, with his job, every time.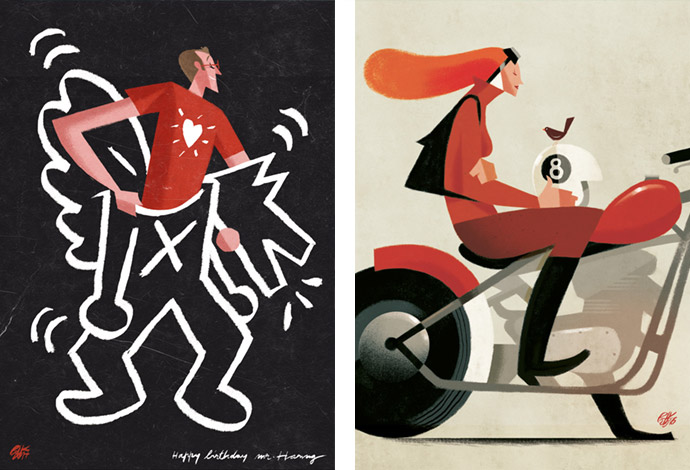 He paints everything he sees around him. Obviously inspired by the likes of Pablo Picasso and Lyonel Feininger, but with an apparent modern and original twist. He attended the Turin Art Academy, influenced by movements such as Cubism and Futurism. His greatest passion comes from Cubism, as it was an early-20th-century avant-garde art movement that was one of the most influential art movements that revolutionized European painting and sculpture in the 1900s. In his opinion, it is innovative even today as it explored dimensions that had not yet been studied. There were concepts that didn't even exist before the 1900s such as perspective. That alone required an enormous amount of research. Cubist works would provide a radical challenge to the painterly conventions for producing an illusion of depth, and they would attack the tradition of 'high' art by including within two-dimensional paintings and collages a range of extraneous materials not traditionally associated with high art, such as newspaper clippings, scraps of sheet music and stencilled lettering. Many studies came together and created a real avant-garde. The avant-garde, or vanguardism, were people or works that were experimental, radical, or unorthodox with respect to art, culture, or society. It was frequently characterized by aesthetic innovation and initial unacceptability. The avant-garde pushed the boundaries of what is accepted as the norm or the status quo, primarily in the cultural realm.

Later, his passion has been enriched with comics — with the characters coming from Il Corriere dei Piccoli, the first Italian weekly comic magazine, and artists creating advertising placards in the Forties — such as Raymond Savignac, Leonetto Cappiello and Marcello Dudovich. It's a style taking inspiration from simple images, made up of few lines but full of expressive and emotional content.
"My memories of the Giro are not tied to a specific moment, stage, sprint – not even to having witnessed the peloton pass by as a kid pawing in his sandals on the roadside. My memories are by osmosis, because between Alessandria, where I was born, Torona and Novi Ligure, the triangle labelled as the land of the superchamps, heroic cycling whizzes by even if you are not a follower. Stories on Girardengo and Coppi, who used to train along these roads, and on their wingmen Carrea, Milano, Serse Coppi and Cuniolo, Malabrozza, Meazzo, Maino. In short, lots of wheels that I met during my artistic wandering in the form of theatre plays, books or stories told by the voices of those that were there." — Riccardo Guasco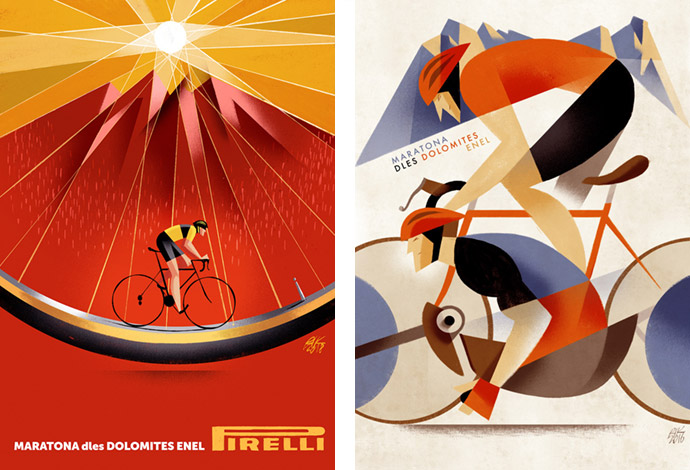 Guasco is looking for the lightness of the form and the chromatic warmth to trigger sensations of perfect, geometrical relations. If I were an art historian I would say that Guasco's art is an exaltation of color and line simplification that bears a bold resemblance to the Italian Pittura Metafisica movement, while at the same time his caricatures possess a softness similar to that of the Italian modernist Amedeo Modigliani — albeit with a touch of Cubism. Over the years, Guasco's art has appeared in numerous cycling publications, immortalizing the greatest cycling legends and celebrating some of the sport's most iconic races. In addition, Guasco is annually commissioned by the renowned cycling club Maratona dles Dolomites to commemorate each year's event with a series of special drawings, which trace the history of the club back some thirty years.

It is clearly the gestation on paper that gives his drawings such lightness — the same lightness that allows these creations to fly high before coming to ground in advertising campaigns, magazines, books and even bicycles. Besides heroic cycling of old times, Guasco has worked with The New Yorker, Gazzetta dello Sport, Eni, Ferrari, Teatro Comunale di Bologna, Artonov Festival Brussels, San Marino Poste, Martini, Longines, Greenpeace, Rai, Rapha, Thames & Hudson and L'Espresso.
"I never spend too much time on the same painting or illustration because I do not want to loose the freshness and spontaneity of the very first idea I've put on the paper." — Riccardo Guasco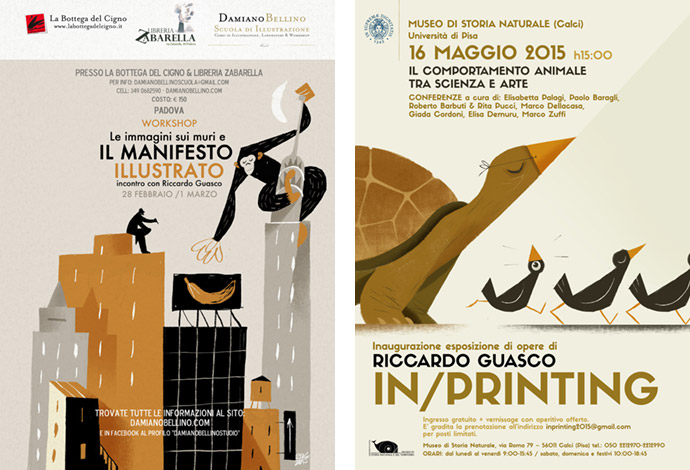 Riccardo Guasco likes to work with customers and/or agencies that ask him for unusual illustrations. He thinks that facing and dealing with brief and customer's requirements is like a training. Usually, he tries to explain to the customer that first of all they need to rely on each other and have a mutual consideration; only in that way it is possible to discuss and create an illustration satisfying both. He knows he has a really peculiar and codified style, and this is a luck that helps him to meet customers who are exactly looking for his illustrations because they appreciate and consider them interesting from a quality point of view.

This year, Guasco published a picture book, What a Masterpiece!, wherein the Western world's greatest art is closer than you expect. In this wordless fantasy stars a boy who travels through one famous art and design masterpiece after another. The pleasure comes from being able to identify the works of art as the boy encounters them, from the time he wakes up in a familiar-looking bedroom to the moment he puts his hands to his mouth in a horrified scream. Silkscreen-like works of art unite different works with a palette of warm tones.

Guasco shows a sleepy-eyed boy waking up with a selection of melted alarm clocks and then walking into the bathroom, stalked by a tall shadow shaped like a Giacometti sculpture, featuring Duchamp's Fountain. You catch on to the particular brilliance of this wordless book: there's going to be a story. The boys daily routines brings him face-to-face with Escher's winding stairs, Banksy's balloon girl, Picasso's dancing fauns, and many more familiar sights make their appearance (as do design objects by Starck and Bialetti). Maybe the boy's bedroom looks a little like Van Gogh's. Maybe that apple looks a bit like Magritte's. And maybe another masterpiece is on its way … It's a celebration of creativity across the centuries. What a Masterpiece! will inspire young artists to find wonder in their everyday lives. Because the story of this curated introduction to Western art is so simple — the boy walks from left to right — small children can happily flip through the pages, even if they can't identify the references. And a key in the back provides answers for the baffled or uninitiated. An exaltation of artistic expression.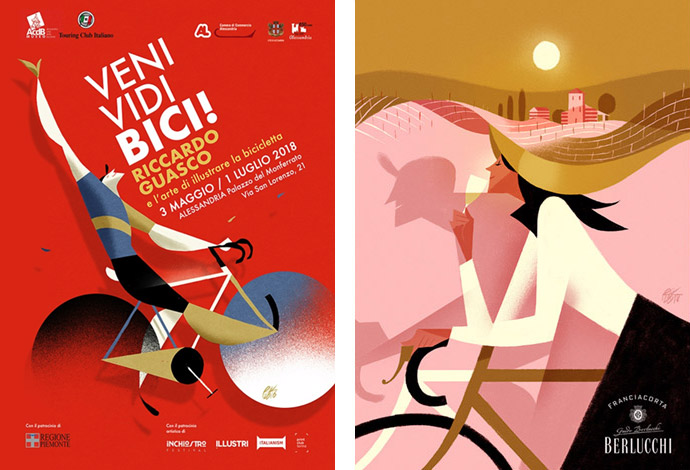 "I think inspiration does not exist. Creativity and ideas are the result of a teamwork of eye, brain and heart. At the end of this process, the hand realizes what the other three players have imagined. This process cannot be stopped because it is like breathing or running: you need training and perseverance." — Riccardo Guasco
To complete a new identity for Perfetto, Leeds design studio Fun dreamt up a dreamy look and feel for the Italian gin, one that would reflect the "passion and flair of Italians and their gusto for life, food and drink". Sarah Jarman Alexander, Fun co-founder, wanted the brand to reflect the "lively, eye-catching colours" of Perfetto Gins. She and her partner Paul Alexander created a full range of campaign assets to help communicate the drink by Continental Wine and Foods. "We had the packaging completed, but we needed a unique brand look and feel, a brand toolkit that we could use across all communicates that would stand out in the highly crowded gin market," said Sarah. Fun commissioned Riccardo Guasco, the acclaimed Italian illustrator. He created a series of stylish illustrations that showed "the perfect gin moments" we might imagine when holidaying in Italy — from lazing by a glistening pool to enjoying a sunset drink in a bustling square.
"My artwork can become a language applicable to all media and through every technique. Technique is just a tool, a mean to communicate; the most important thing is having a message. I don't want to tie myself down to a single technique or even worse to a single software, I want to try them all." — Riccardo Guasco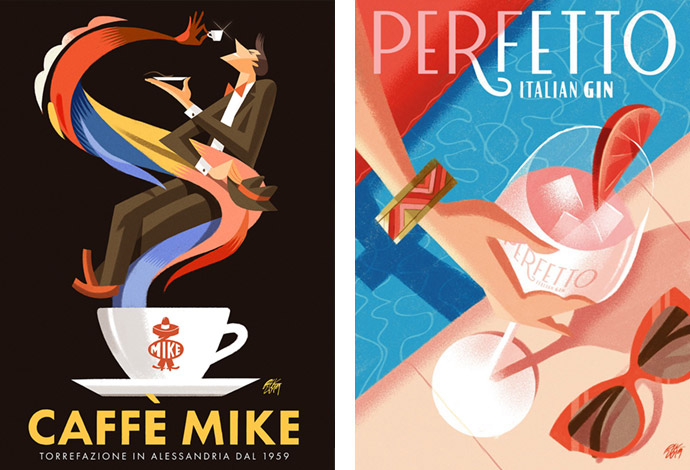 For Riccardo Guasco, the best thing about being an illustrator is the availability in your own hands of a universal communication medium: 'drawing'. He has the opportunity to create an image able to reach and touch millions of people in a short time. If you try to think about an image, you realize it is more straightforward than a book, or a song, or a movie. It has a strong tension inside that needs to be well and carefully handled.

Guasco often uses cycling as a metaphor from time to time, because he likes fatigue, dust and mud. He thinks you can learn more from cycling than just winning the final sprint with your hands up.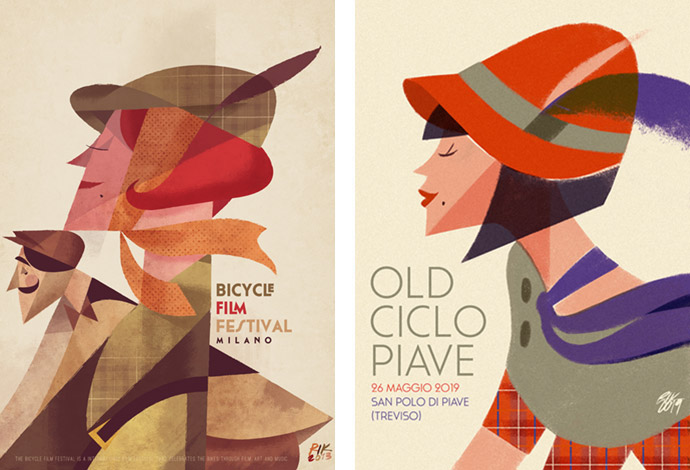 Stay amazed!

All images courtesy of the artist. All images featured © Riccardo Guasco
---
Related stories in Woodland Magazine: