OUT OF THE WOODS
Roman Klonek, born in Poland (1969) during the communist period, is an internationally known representative of contemporary print art. His childhood was strongly influenced with comic and cartoon culture. Therefore he has a spot for old fashioned cartoons, especially Eastern European styles. While he studied Graphic Arts in Düsseldorf during the 1990s, Klonek discovered his passion for woodcut printing. Bizarre creatures, metamorphoses of humans and animals, meet and show themselves in a pop surreal environment. Striking are typographic elements of Cyrillic and Asian characters. Roman Klonek creates unique posters with a wide range of whimsical creatures, mostly half animal/half human, preferably in awkward situations. His work is best described by a fresh, bizarre balancing act between propaganda, folklore and pop.
When you visit the website with woodcut prints by Roman Klonek, you will find yourself immersed in a surprising variety of figures, often half-animal half-human. The intentions of the characters mostly appear puzzling, meaningful only on the strange planets on which they may be at home. You can't stop being amazed. Stylistically, the often poster-sized, multi-colored graphics perform an astonishing balancing act between comics, folklore, pop culture and propaganda posters.

Largely influenced by Eastern European cartoon styles, Klonek creates a work populated by a wide range of freaky and outlandish fantasy creatures who look like they are derived from his own mythology. His work is a mixture of contemporary influences and cultural roots, especially East European cartoons, which he grew up with, as his father had a big collection of Polish and Russian Super 8 cartoons featuring Oswald the Lucky Rabbit. For a long time Klonek was not aware that he was influenced by these cartoons — until he had a lot of déjà vu while rewatching all the Bolek i Lolek (two Polish cartoon characters from the children's TV animated comedy series by the same title) and Nu pogodi! cartoons (Well, Just You Wait! is a Soviet, later Russian, animated series produced by Soyuzmultfilm). Since then, he has even increased this effect and influence, by adding more Russian or Polish types of look in his woodcuts. With odd animalistic figures, strange unidentifiable objects and totemistic patterns combining to form scenes or entire worlds which have unsettling echoes of the creations of our subconscious, his woodcut posters are like stepping into an colorful, peculiar, cartoon-inspired world.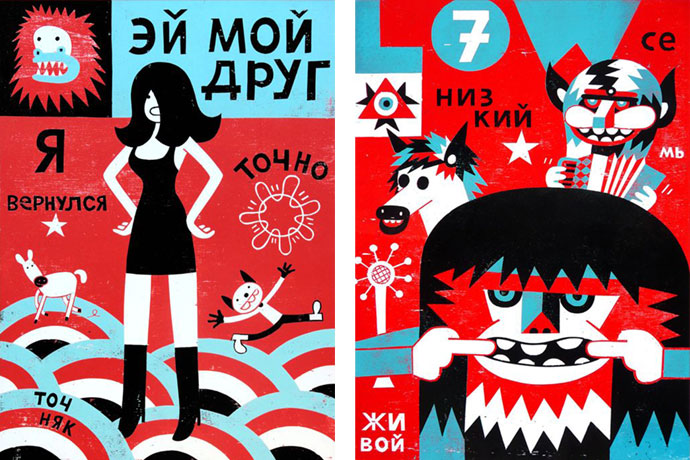 "It sounds paradoxical, but at the end of a printing process I have a couple of unique prints, and that's why I love it." — Roman Klonek
Using pencils, a carving knife, chissels, and screw clamps as tools, Roman Klonek creates a fresh take on an old style. He's creating in the technique called lost cut. During this process, he print all colors with only one plate, cut out all the spots that should remain white, and then prints the first color. Process is then repeated, in which he cut out all the spots that should remain in the first color, and so on. During the process the wood is color stained, stripped of its narrative and left only with the carving scars of the entire process. In the end the plate is lost, and a retake is not possible anymore. His distinctive technique gives him a freedom of mistakes — they are unavoidable on the surface, and every print has its own little, unique mistakes. Watch video...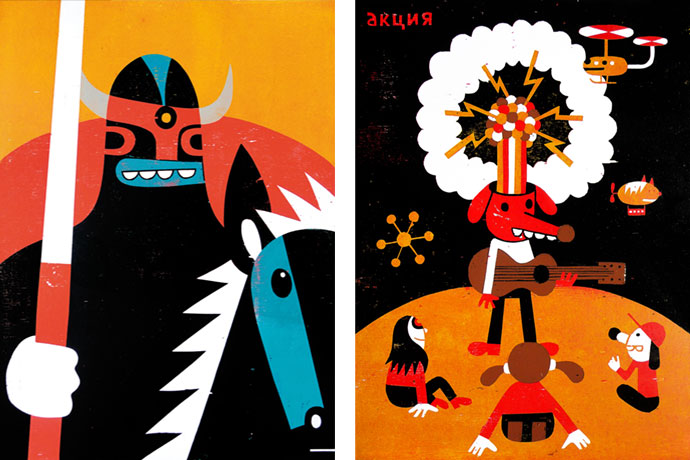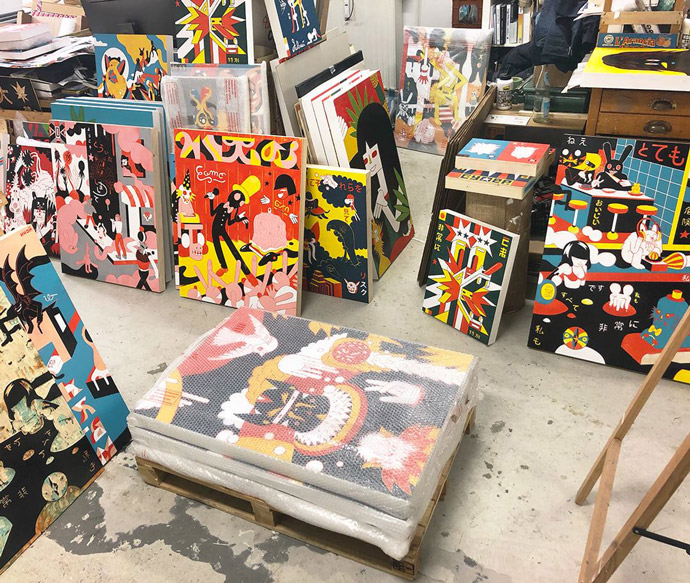 "The most important thing is my sketchbook… my training is to scribble in it every day. More precisely its a mixture of a scribble book and a diary. I fill at least a double page every day. It's a daily habit and in the broadest sense simply autobiographical in a my own encrypted form. Its also celebrates the pleasure of storytelling and... well, the first step for all of my woodcuts." — Roman Klonek
During this studies Klonek was co-founder of the artist group Die Tapezisten and the Comic Zine Herrensahne which has been issued 14 times to date. Almost in the end of his study he did his first woodcut printing. Quickly he fell in love with this medium and maintains his loyalty to this day. Geometrically constructing brightly colored worlds, Klonek makes his first cut with precision. The wood is steadily whittled into an animated topography one cut at a time. Characters are carved into the scene and carved back out again, erased in a way, only to be seen in the final printed piece. Roman Klonek's work is graphically bold, visually rhythmic and intricately refined. Each art piece is laboriously created and finely reproduced.

Themes always seem to be infinitely linked to the possibilities of the medium. The forms and shapes eventually reveal themselves in the work, and is dependent on the nature of the wood and how it responds during the process. The structure of the wood adds to the style and effect of the final piece, the woodgrain, the density, its response after being inked several times. Some might consider these restrictions, Klonek really enjoys this process and finds the unexpected detail really defines the image.

In 2001, Klonek founded the Gallerie Revolver (named after a Los Angeles-based art gallery with the largest collection of Andy Warhol prints & paintings), bought a printing press and started a never-ending process of producing woodcut printings. Roman Klonek works together with friends in a studio in Düsseldorf, Germany. Besides his artistic work he is a guest professor at Folkwang University of the arts in Essen and lives and works in Düsseldorf.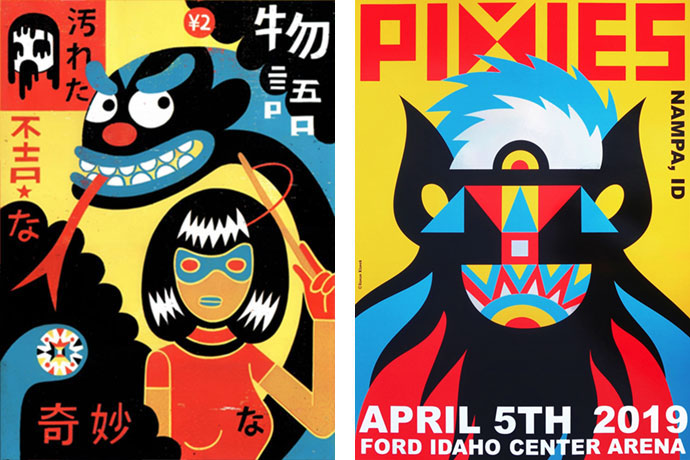 If you got a penchant for woodcut printing its nearly impossible not to stumble upon Mokuhanga — the Japanese woodcuts. Klonek especially loves the old ones. More than 300 years ago they reached a very high quality, maybe their highest, with this medium. Back in 2009, Klonek had the good fortune to visit an exhibition of Utagawa Kuniyoshi in London. He was one of the superstars of the Ukiyo-e genre, next to Hokusai, Kunisada and Hiroshige. Ukiyo-e means pictures of the floating world. It's mainly narrative and showcases a lively sense of vitality. You can see everyday situations but also dramatic scenes in the area of theater and war. They have this special kind of strangeness… and kind of exotic journey. The work is full of codes and mystery. During that time, the work was very popular and at the same time technically brilliant. Kuniyoshi carved super-fine lines in very hard wood and got editions up to 30,000. The techniques are just mind-blowing.
"When I was in Moscow and later in Tokyo, I was completely consumed and absolutely lost. When I walked through the streets of these cities I was completely absorbed in a completely foreign place — I was completely illiterate in the experience. To compound the experience, everything you look at has strange type, characters that do not translate. And because of your disability to read or recognize the forms, the entire situation becomes more mysterious. The effect for me was sort of… I'll call it whimsical amplification. But for me, a great effect. And I can say... well, somehow I'm susceptible to this… I really enjoyed it. And this is probably a big reason for me to choose Russia and Japan for my favorite projection screens. Japan is some degrees louder and shriller. Another interesting point is: both countries have a special tradition in popular narrative woodcuts." — Roman Klonek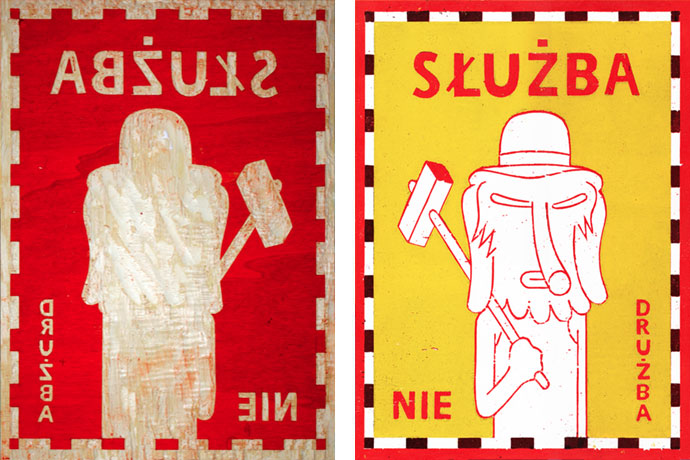 With a background as a graphic artist, although specialized in screen printing, I'm personally fascinated by Klonek's narrative style, as he uses a single piece of wood, carves the surface for each color required, prints one color at a time, and repeats this process up to five more times. If you're interested to see how his lost cut technique works, watch Roman Klonek (Woodcuts/Xilografia) on Vimeo or Roman Klonek Out of the Woods on YouTube.
All images courtesy of the artist. All images featured © Roman Klonek
---
See/read also some story related movies/interviews:
---
Related stories in Woodland Magazine: