BEYOND NO MAN'S LAND
Before 2012, Jan Erik Waider (1984) was a web designer who took photos for fun. Nowadays, this landscape photographer splits his time between Hamburg, Germany and exploring the raw, haunting stillness and ghostly tranquility of the Nordic countries. In each of these locations Waider seeks the most remote and hidden locations, wishing to present rarely seen perspectives of the native landscape to a larger audience. Waider skillfully captures the rugged charm and pristine beauty of Nordic nature. He's not a blue-sky kind of guy. On sunny days, he puts his camera away. Waider has built his brand, known as Northlandscapes, by seeking out locations that make most people shiver just to think of them. Greenland, Iceland, the Faroe Islands, the Norwegian archipelago of Svalbard — if it's cold, the climate is harsh and unpredictable, windswept, dramatic, and damp, his shutter is clicking.
Jan Erik Waider is one of those photographers' work whom I'm captivated by since I discovered his enigmatic visual journals while browsing Behance. His photos are a product of his fascination with the hypnotic beauty of the Arctic hinterlands. I'm thrilled to share this photographers portfolio with you.

Jan Erik Waider is a visual artist and fine art photographer based in Hamburg almost constantly traveling around the world (especially the Nordic countries) as a digital nomad. His focus is atmospheric and abstract landscape photography of the distant North. Waider's desire to explore remote and rarely seen places provides unique opportunities to shoot magnificent vistas and landscapes. His meticulous and well-planned approach to his projects immerses him in his surroundings. He presents rarely seen perspectives of the native landscape. For more than a decade he has captured the monumental beauty of northern glaciers, isolating their color and shape in a way that makes the icy cliffs appear almost extraterrestrial.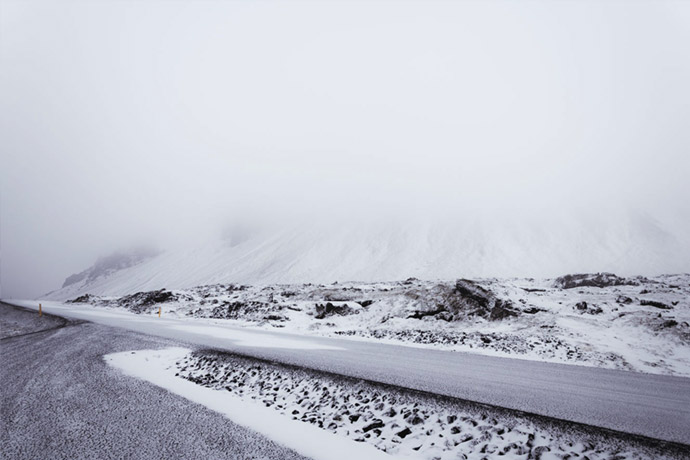 "Greenland is one of the most unique places I have seen in my life. Icebergs breaking off that massive glacier are sometimes so large, they seem like small floating countries – you could easily fit a small town on top of them." — Jan Erik Waider
For over ten years he has photographed the impressive glaciers and icebergs of Greenland, Norway and Iceland, giving us breathtaking shots. These blocks of ice appear like giants rising from the sea, towering over the landscape with at times disturbing force. Some natural landscapes convey a soothing sensation of calm that is emphasized by the surrounding silence. In one ongoing series titled Remnants, Waider finds abandoned pieces of icebergs that lay like "stranded whales" on Iceland's south coast. "Powerful waves wash around them and drag them further ashore, after they drifted aimlessly in the sheltered lagoon for months," he explains. "The colors tell stories about age and density, and they speak of the history of the volcanoes that let black ash rain down and darkened the skies." The objective of this project was to discover and capture the fragility and beauty of the glacial landscapes of Norway and Iceland in a series of black and white aerial portraits. Peninsulas ice stand in obscure horizons giving a ghostly hue to the deserts areas of this country which coastline is truly extraordinary.

A portrait is always an interpretation and at the same time a bygone moment that is only preserved in the photograph itself and in his memory — therefore photography is a very emotional and at the same time personal process for Waider. The drone brings an exciting effect of discovery to photography, which allows him to completely rediscover already familiar landscapes. He's been attracted by glaciers for many years and has never fully understood the fascination with this subject. It always has a slightly melancholic and dramatic, but at the same time calming effect on him. Unfortunately, it's very easy to overlook and forget the causes behind the accelerating changes in these fragile and unique landscapes.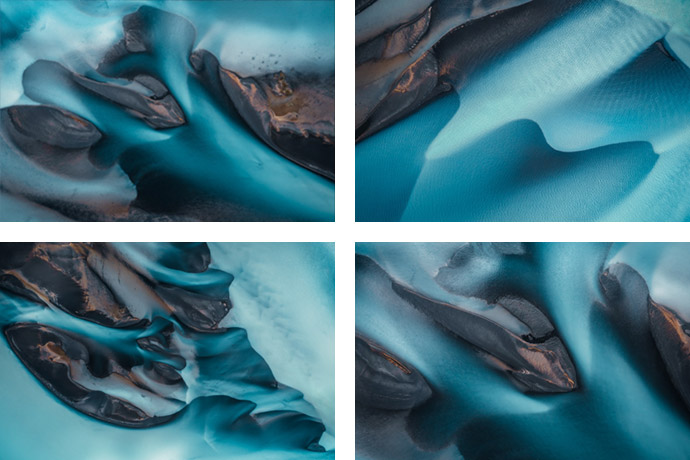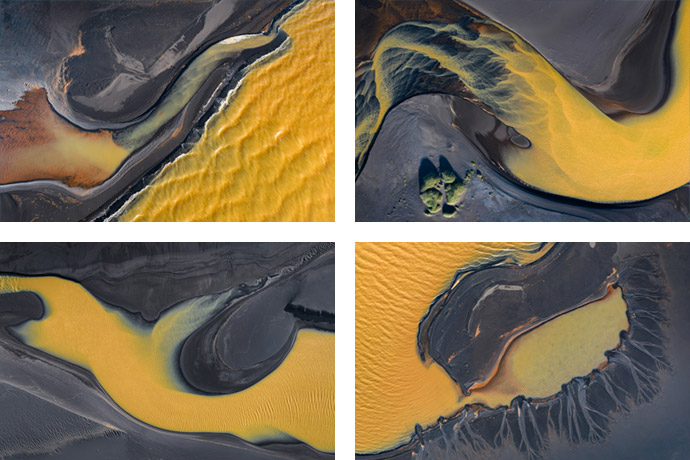 For his latest series of abstract landscapes, Waider took a different approach and decided to focus on color. The exquisite aerial photos, taken in Iceland, break down the environment in a unique way and highlight the various tonalities that grace a single scene. He gives the overarching concept a name A Colorful Flow and it moves across different series. For now, Waider has focused on turquoise/blue and amber/yellow, with other hues to follow. For the blue series, Waider was inspired by Iceland's magnificent glacial rivers and ice. By focusing on just a single color, Waider allows the viewer to see how subtle differences in shape and hue give each image a unique feel. After the calming compositions of the blue glacial rivers, it's fascinating to see how the volcanic rivers of the yellow series present themselves. Energetic and dynamic, the vibrant warm colors give off a completely different emotion.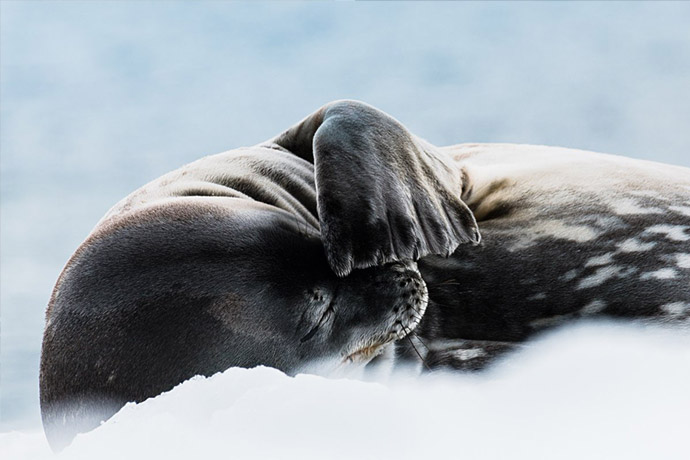 "Photographing a landscape requires a lot of calm." — Jan Erik Waider
Echoing the deserted arctic tundra and disguised concrete rebel bases of the opening scenes of Star Wars: A New Hope (at least in my mind), the latest series Concrete Monuments is very much a documentation of the otherworldly. Shot around a dam project at the edge of a rural lake in frozen Norway, the monolithic concrete structures that pepper the images are a haunting presence straight out of some imagined sci-fi universe. As the weather changes, the structures take on a new symmetry as snow is added and removed to distort the monochromatic scenes. An indistinguishable blend of function and aesthetic form, the haunting, concrete monuments are a study in thoughtful beauty, possessing ambiguous purpose.

Against the very Instagram approach to reporting, Jan Erik Waider prefers silence and solitude and strives to seek out almost unknown landscapes, deserted by all humanity. His mission? Unveil visual wonders, discover them during sometimes tough explorations. He thus spends several days in the same place, collecting unique stories and points of view.

A superb series of photographs to discover!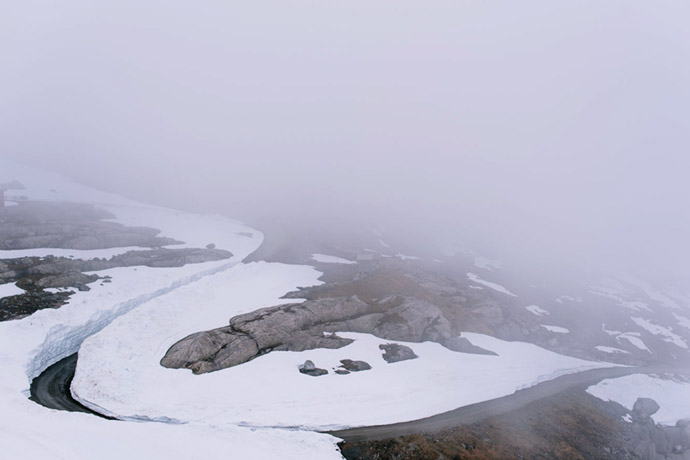 All images courtesy of the artist. Photos © Jan Erik Waider
---