ABSTRACT AERIAL LANDSCAPES
Graphic Designer Tom Hegen (1991, Germany) began to focus more and more on photography since 2010. Sitting at the window and seeing the earth from above on a long flight from Germany to New Zealand inspired his love for aerial photography. It takes a second to orient yourself to the bright colors, geometric shapes, and gritty textures of his Antropocene photography. Tom Hegen shows us the beauty of the earth and also how people have shaped it. This is the common thread that unites all of the works in his oeuvre. Hegen reflects on how mankind interferes with nature, showing us the traces we leave behind. He's trying to sensitize the viewer for those subjects by taking a look on the extraordinary forces impacting our environment. And yet he does this in the most seductive of ways: with beauty, with appealing symmetry, and radiant colors. He challenges us to reflect on what we see.
A photographers perspective on the human impact of natural landscapes
Tom Hegen is one of those photographers' work whom I'm captivated by since I discovered his breathtaking series while browsing Behance for new inspiration. I'm excited to share this photographer and I hope you enjoy it as much as I do.

Tom Hegen's photos look like abstract paintings, but they're kind of the opposite of abstract — they're actually objective documentation of our planet. What you're looking at is the surface of Earth from above. He's also fascinated by the aestheticization as a visual language that comes with the change of perspective; seeing something familiar from a new vantage point that you are not used to. Hereby Hegen attempts to inspire people and also offers the viewer a connection to the subject as they need to decode what they are looking at. At first glance, his photographs are appealing for the eye, but most of them have, at a second glance, something artificial and disturbing. The images ask if and how we could develop on that. If we show more respect for the space in which we live, we'll hopefully shape it more sustainably in the future. We all need to demonstrate responsibility toward nature, along with more appreciation and more intelligent and creative action. We only have this one earth. That is why we should respect, protect, and preserve it while it is still possible.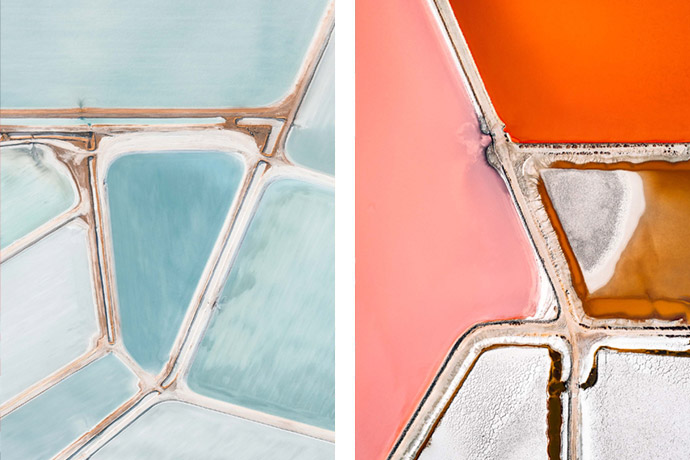 Tom Hegen's aerial photography examines the relationship between man and nature. You can say his work circles around the concept of the Anthropocene, which is the proposed term for a new geologic era of human dominance over Earth's geology and ecosystems. From open-pit mining to melting glaciers, the Munich-based artist travels around the globe documenting mankind's abusive relationship with nature. Through his lens, he shows the human impact on earth, a dire warning about the repercussions of obtaining resources. Focusing on landscapes that have been heavily transformed by human intervention, Hegen's photos makes you pause for a second and consider the consequences of our way of life.
"Anthropocene. It is a term used by scientists which theorize that humans, in recent centuries, have become one of the most important factors influencing the biological, geological and atmospheric processes on earth. Some of the most significant changes in the Anthropocene include climate change, the ozone hole in the Antarctic, rapidly rising sea levels, and landscape changes caused by river shifts or the degradation of raw materials. In my photography, I explore the origin and scale of that idea to understand the dimensions of man's intervention in natural spaces and to direct attention toward how humans can take responsibility." — Tom Hegen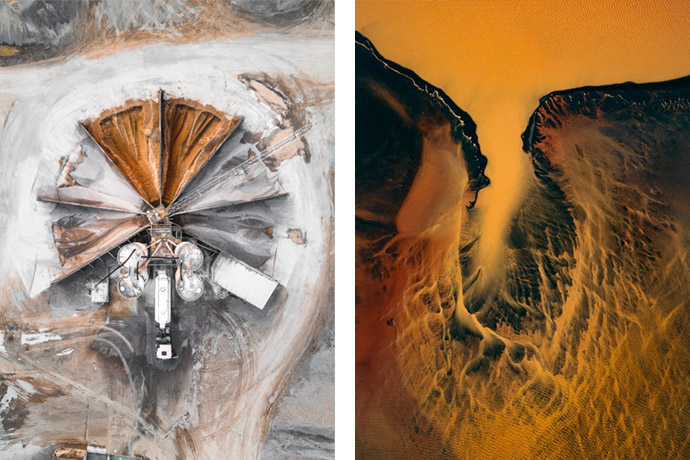 Hegen uses various techniques to create his work like helicopters, small airplanes, drones or photographing from hot air balloons. For him it's not really about the tool he's using, it's mainly the story and concept behind the photos. He spends more time researching getting photos, focussing on the single image, the series and the concept rather about than techniques. His projects are very much research driven: on the subject, the area and the technical requirements. Before getting up in the air, he has quite an exact idea in mind of what he would like to photograph. Most of Hegen's work is based on a story of the relationship between human and nature. He choses working with a set of images to show different aspects of one scenery. A series allows expressing the art of the photographer much better than a single image, as a series is more personalized.

Tom Hegen's first book HABITAT, published in 2018 by German Kerber Verlag, has won the Adobe Award! If you're interested in Human-altered landscapes check the Adobe Award website. Five chapters and 95 photographs show the traces of human presence on earth. Each chapter is supplemented by some representative facts and infographics that illustrate to which extent we claim our environment in order to meet our needs. The photos look pleasing at first sight but reveal an irritation of man-made landscapes at second glance.
"You start to see the gestalt of how humans have affected the environment; that beauty that we're experiencing is the veneer on something rather dark." — Adobe Award judge Mark Del Lima
---
See similar work at Simon Butterworth and Paul Hoelen, 2017 AIPP Tasmanian Photographer Of The Year.