THE MAN WITH NO NAME
No Hollywood star has had such an illustrious career as Clint Eastwood (1930). The ever-wincing film legend has reinvented himself many times over the course of a career that now stretches back over 60 years. Up to the present day the American film actor, director and producer is well known, respected, and admired for past achievements. Eastwood earned his fame as the quintessential western star with raw, stubborn, self-contained, almost silent characters. Eastwood found his breakthrough role as Rowdy Yates on the long-running western series Rawhide. Then, at a time when TV stars had trouble transitioning to film work, he found movie stardom via an unconventional route, traveling to Europe to appear as an antihero character known as 'the man with no name', recognizable by his poncho and brown hat, in Sergio Leone's Dollars Trilogy of spaghetti westerns and Harry Callahan in Dirty Harry's films. And while he has played many variations of such roles, he has left indelible marks in modern cinema history. Despite having won four Oscars for best director in the past, Clint Eastwood will always remain a formidable actor in my eyes.
Despite the fact that I am very interested in cinema, I have not yet dared to tell a story by a film director that inspires me. One of the reasons is that everything is often neatly written out on Wikipedia, as is now the case with Clint Eastwood. A listing of the many great films he has starred in, as well as the many films he has directed, would be enough to fill the page. However, I can't boast that I've seen all the movies with and by Clint Eastwood, but I found the ones I've seen very intriguing for the most part.

Somehow at home during my early years in the 1970s, long before there was VCR or streaming, my parents also watched a lot of German channels on television, such as ARD, ZDF and WRD. Perhaps because the German language is somewhat related to the Dutch language? Anyhow, I grew up watching many western series starring Winnetoe and Old Shatterhand, Bonanza to the westerns of Sergio Leone (Für eine Handvoll Dollar, Für ein Paar Dollar mehr and Zwei glorreiche Halunken) and the more violent cowboy films of Sam Peckinpah such as including The Wild Bunch. With the release of Cry Macho, Eastwood's 39th film (which I haven't seen yet), I took the opportunity to travel through his filmography.

So put on the phenomenal debut single Clint Eastwood by the English virtual band Gorillaz, created by musician Damon Albarn and artist Jamie Hewlett, and start reading. This song, released as the lead single from their self-titled debut album in 2001, is named after the actor of the same name because of its resemblance to the theme music of The Good, the Bad and the Ugly.
"There's a rebel lying deep in my soul. Anytime anybody tells me the trend is such and such, I go the opposite direction. I hate the idea of trends. I hate imitation; I have a reverence for individuality." — Clint Eastwood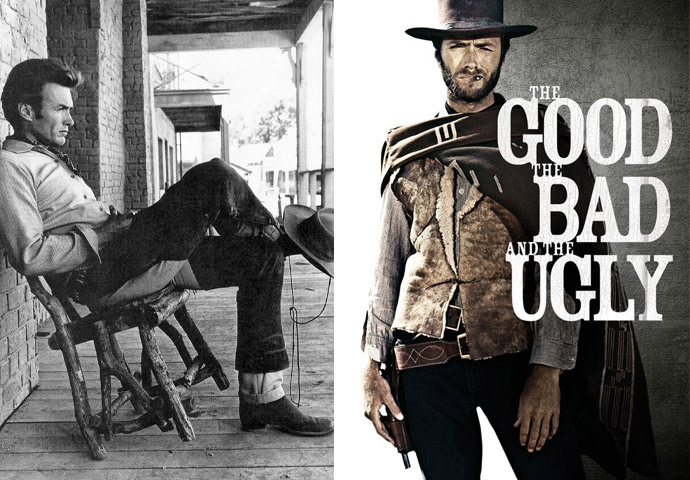 Left: Clint Eastwood photographed on the set of Rawhide, 1959. Theme song by Frank Laine. | Right: Poster of The Good, The Bad and The Ugly, 1966. Main song by Ennio Morricone.
FROM SPAGHETTI WESTERN ANTI-HERO TO A QUIRKY NO-NONSENSE COP

After working as a bit player for years — he first pops up in the uncharacteristic role of a lab technician in the 1955 monster movie Revenge of the Creature — Eastwood found his breakthrough role as Rowdy Yates on the long-running western series Rawhide (1959–65) with the famous theme song by Frank Laine. In Per un pugno di dollari (1964), Sergio Leone's first installment of the Italian film series, Eastwood introduces as 'the man with no name'. L'uomo senza nome is the eponymous main protagonist character that wears the same clothes in every film and has a very sarcastic sense of humor, he has become to be recognized as an archetype of anti-hero. His real name is never referenced in the course of the trilogy, although other characters give him different aliases, such as Joe, Monco or Blondie. Eastwood plays an outsider, a mercenary or bounty hunter, or even a rough outlaw. He's less talkative — played in a more laid-back style that soon would become Eastwood's trademark style — and laconic, but he also has a soft spot for people in deep trouble. He embodies the archetypical characteristics of the American movie cowboy — toughness, exceptional physical prowess, independence, and skill with a gun — but departed from the original archetype due to his moral ambiguity.

The poncho-clad gunslinger enters the Mexican village of San Miguel and finds himself between two gangs: the Baxters and the Rojos. Instead of choosing one of the two sides, he chooses them both — with which Eastwood immediately sets the standard for the spaghetti western subgenre. Is it actually still allowed to use the term 'spaghetti western' in these times of intolerance? This aside. In the second part of the trilogy, Per qualche dollaro in più (1965), 'the man with no name' teams up with another bounty hunter to pursue Gian Maria Volontès El Indio — the pair then find themselves in a series of deadly and unexpected events. The third and final installment, Il buono, il brutto, il cattivo (1966), isn't just a pinnacle of the spaghetti western — it's arguably one of the best westerns ever made and arguably the best Clint Eastwood movie ever. The story sees 'the man with no name' as 'The Good': a bounty hunter thwarted by his partner, but the pair must fall back on each other to find the ultimate treasure in the form of buried gold. In short, a sublime western classic, recorded in Spain, with a great script, a score by Ennio Morricone that you can't get out of your head and phenomenal camera work by Tonino Delli Colli. It resulted in one of the most beautiful finales in film history.

Eastwood wasn't Leone's first choice, actually he wasn't his choice at all: when the name was finally proposed to him, he had never even heard of him, even though the TV-series Rawhide was shown on Italian television. Leone watched an episode of Rawhide, Incident of the Black Sheep, and said afterwards that there was "a framework he could build on". He particularly liked Eastwood's way of walking with "a tired, resigned air". Sergio Leone's westerns became worldwide hits that made Eastwood a big screen icon, but once he shook off his TV star image, he found himself wanting more. With his money from those films, Eastwood founded The Malpaso Company (later Malpaso Productions) in 1967 with a view to exerting more control over the material he appeared in — and ultimately directing. Funny when you know that Malpaso means 'bad step' or 'misstep' in Spanish?!

In 1971, the first Dirty Harry film hit theaters. After actors like Frank Sinatra, Paul Newman and John Wayne refused to play the lead role of the quirky police officer, Clint Eastwood was eventually cast as Harry Callahan. For the few of us who don't know him, Harry "Go ahead, make my day" Callahan is one of the best and toughest inspectors in the San Francisco Police Department. He manages to solve almost every crime in an unconventional way, in which he does not shy away from brute force. Dirty Harry became a resounding success, which was mainly caused by the presence of Eastwood, who convincingly and strikingly portrayed the character of the no-nonsense judicial officer. Contrary to the movie audience, film critics were not very happy with the first Dirty Harry film. They thought Dirty Harry was too politically charged given the similarities between the real social situation in America in the 1970s and the images shown. Building on the success of the first film, four more standalone parts were produced over a span of 17 years, bringing the total to five films: Magnum Force (1973), The Enforcer (1976), Sudden Impact (1983) and The Dead Pool (1988).
"He portrayed psychopaths who acted with all the silence, certainty, and gravity of saints. Or would it be closer to say that he played saints who killed like psychopaths?' That's the genius of Eastwood – you can project what you like on to him." — Norman Mailer, American novelist, journalist and essayist.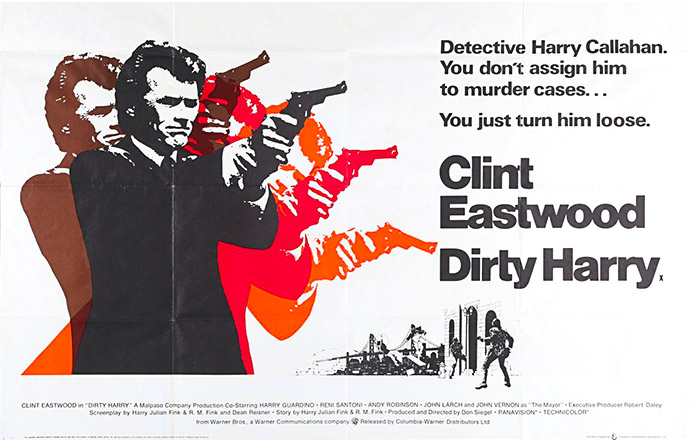 At the beginning of Sudden Impact, Harry Callahan goes into a diner for a morning cup of coffee where he discovers a robbery in progress. He kills all but one of the robbers in a shootout. However, the surviving robber grabs the fleeing waitress, holds his gun to her head, and threatens to shoot. Instead of backing off, Harry points his .44 Magnum revolver into the man's face and dares him to shoot, saying with clenched teeth and in his characteristic rough grumble, "Go ahead, make my day", meaning that if the robber attempts to harm her in any way, Harry would be happy to dispatch the robber. At the end of the film, Harry, again, says "Come on, make my day" just before shooting the rapist, who aims his stolen shotgun at Harry's lover, Jennifer Spencer.

An Italian version of the phrase, Coraggio... fatti ammazzare (more literally "go ahead, get yourself killed"), was also chosen as the title for the dubbed version of the film and has become a catchphrase in Italy as well.
Clint Eastwood redefines 'bad ass' in these movies, and his charisma and "don't give a damn" attitude puts other Hollywood tough guys to shame, even now. Dirty Harry was a one-of-a-kind movie series that launched a whole new genre. Eastwood introduced the silent loner hero. The films are too well made and acted to be dismissed as popcorn entertainment, and that's why it's still awesome today. Anyone who hasn't seen these films, needs to check 'em out. Modern action cinema entered a new era when Dirty Harry premiered, and it's safe to say we wouldn't have gotten other classics actioners like Lethal Weapon and Die Hard had these films not come out.
"If you consider film an art form, as some people do, then the Western would be a truly American art form, much as jazz is." — Clint Eastwood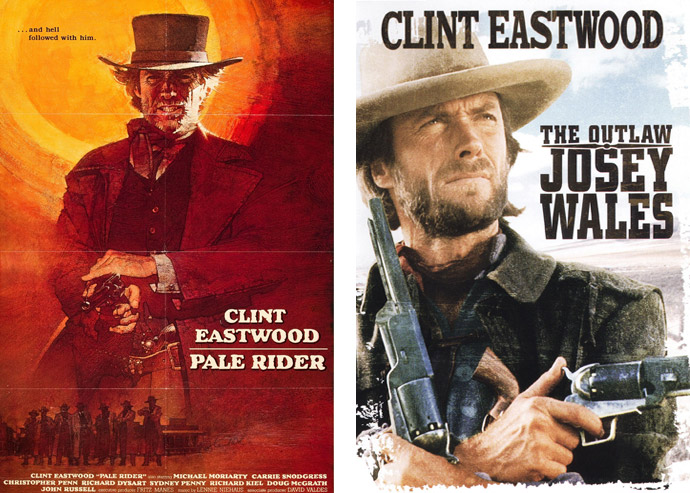 Eastwood's most popular roles dominate my perception of his filmography, but he's challenged himself since his first film as a director, Play Misty for Me (1971), a stalker thriller in which Eastwood's jazz DJ protagonist ends up looking nearly as bad as his unhinged assailant. Although he has often intertwined the two aspects of his career, Eastwood has since focused more on directing than acting, even though the public and press viewed it as a sideline in its early years. Eastwood was 'the man with no name' and Dirty Harry first; everything else came second. By the time Eastwood, thanks to The Outlaw Josey Wales (1976) and The Gauntlet (1977), began to be accepted as an accomplished director of genre films, his ambitions had already deepened, as had his dedication to making films that explored his own image on the big screen and played with it. That phase kind of peaked with the 1992 film Unforgiven, a western of undeniable artistic achievement that would win the Oscar for Best Picture, and in the years that followed, Eastwood redoubled his efforts to pursue any project that appealed to him. Besides westerns and crime thrillers, Eastwood also made a Charlie Parker biopic, Bird (1988), and he delivered one of his gentlest, and best, performances playing opposite Meryl Streep, The Bridges of Madison County (1995).
"Nothing wrong with shooting ... as long as the right people get shot." — Clint Eastwood
THE MAN WITH NO TRACE OF DECAY WHO SAID NO TO JAMES BOND AND SUPERMAN

A little did you know. Eastwood didn't just reject the impersonation of James Bond when Sean Connery left after five Bond films. The actor claimed "it didn't feel right to do that" and thought that the role should go to an Englishman. He also turned down the flying superhero, Superman, before it was offered to Christopher Reeves.

Clint Eastwood likes to work quickly with little rehearsal and few takes, often operating from scenarios that were still in the same form as when the concept first landed on his desk, now an anomaly in an industry that loves to rewrite, re-record and rewrite. Sometimes the approach delivers classics, sometimes not. But it is impossible to trace a pattern of decay. He won Academy Awards for Best Producer and Director of Best Picture and received Best Actor nominations for his role in the films Unforgiven (1992) and Million Dollar Baby (2004). Other very succesfull movies were Pale Rider (1985), In the Line of Fire (1993) and Gran Torino (2008). There are a few movies, that aren't so much about a car, that come to be eponymously named as one. Clint Eastwood's Gran Torino is one such movie that features a dark green Ford Gran Torino but is more a family and interpersonal relationship drama. These are definitely among my favorite Eastwood movies together with The Mule (2018).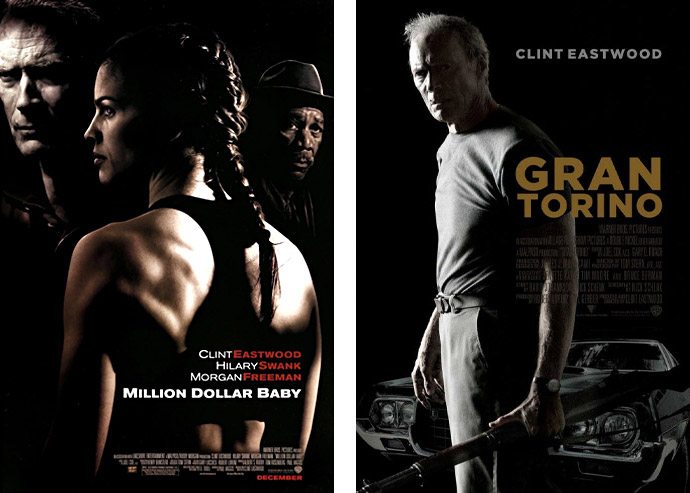 Left: Hilary Swank won her second Oscar for her role as Maggie Fitzgerald, an aspiring boxer who turns to a trainer. The two form an unlikely duo in Million Dollar Baby, with the disgruntled older coach acting aloof and mostly trying to avoid the emotional father-daughter bond. Eastwood deservedly won an Oscar for Best Picture and Best Director for this role. | Right: Eastwood plays your racist grandfather in Gran Torino. He spends a lot of time grumbling about his time in the Korean War while casting mean looks at his Hmong neighbors. At one point, Eastwoods Walt Kowalski begins to feel compassion for his neighbor Thao and then takes the best boy under his wing.
Clint Eastwood has been directing himself and others longer than many of his colleagues have been alive. He continues to film despite his respectable age. He's been prolific and unpredictable ever since, usually shooting one movie a year, sometimes two. His films just keep getting odder and more daring. Clint Eastwood's The Mule, has been described as "the greatest, weirdest, most bananas movie ever made — about a 90-year-old drug mule."

I enjoyed this movie very much! Directed by and starring Eastwood, The Mule recounts a fact-inspired story in which a down-on-his-luck Illinois horticulturalist becomes the favored means of transportation for a drug cartel, a late-in-life career change that allows him to enjoy the open road and the occasional threesome. The Mule is indead an odd film. But it's just one example in what's been a determinedly unpredictable, sometimes baffling, sometimes thrilling decade for the now 91-year-old Eastwood, that's found him attempting new genres, trying out new techniques, and charging forward as he piles one movie atop another.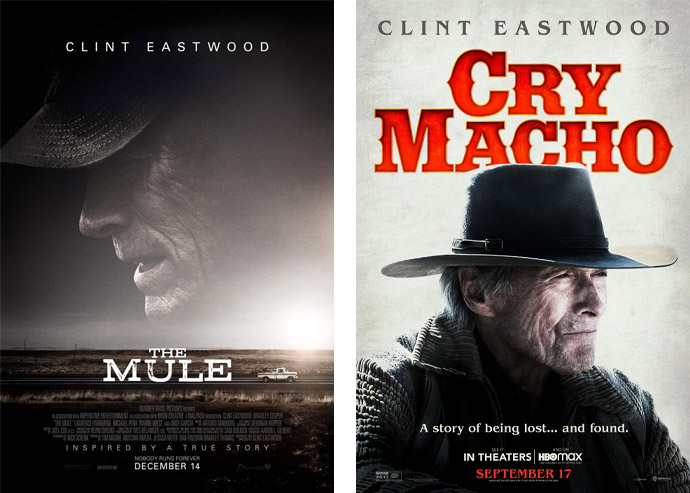 "Tomorrow is promised to no one." — Clint Eastwood
Eastwood has shown no sign of slowing down or offered any talk of retirement. But each film could be his last, and while other filmmakers might have treated this as a time to coast, Eastwood seems more restless than ever. Even when the films themselves haven't quite delivered — though a few have delivered spectacularly — they've offered reminders that the movie world will be a little duller when Eastwood calls 'cut' for the final time.
All images courtesy of the artist.
---
More story related movies/interviews:
---
Sources: