PUNCHY AND IMPUDENT ART
Eglė Žvirblytė is a Lithuanian multidisciplinary artist and illustrator based in Vilnius. She creates bright, feisty and irreverent work that melts your heart, kicks your butt and tickles your funny bone. "My body is my temple". That's one of the mantras of Žvirblytė, who built her artistic career on important themes, such as identity and female power. Her vibrant, humorous illustrations are a juicy, in-your-face explosion that explores human relationships with themselves and the surrounding universe. It stems from her personal experiences yet at the same time is an open invitation for anyone to participate and bring their own story into it.
Last february, just before the corona lockdown, we went to visit our favorite contemporary art museum, MIMA (Millennium Iconoclast Museum of Art), taken up residence in the old Bellevue breweries at the bank of the Brussels canal. It's the ideal urban home for Europe's first museum dedicated to Culture 2.0, poised to attract creatives that aren't afraid to color outside of contemporary art lines. The culture that sprang to life with the Internet Age. Only open since the middle of April 2016, the MIMA is intent to do things differently. They want to fill the gaping hole in the European representation of subculture art — think graffiti, surfing or skateboard, geek art etc. — so they set out to revolutionize the cultural landscape.

After the opening exhibition, City Lights, and the temporary exhibition Wonderland in 2018, we came to see the current exhibition named Zoo, a savage exhibition where we discovered the pop animals of 15 international artists! I only knew work of Parra to be honest and I was introduced to Eglė Žvirblytė among others.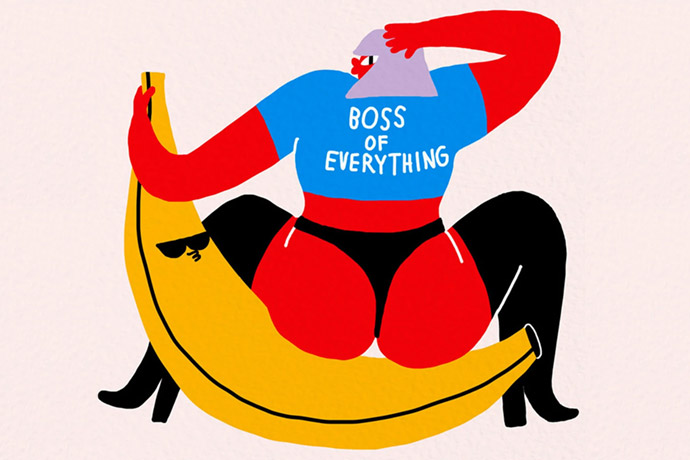 Having gained an educational background in set design and film in the UK and Australia, and spent time developing projects in Japan, Bali and Spain, the now Vilnius-based artist focuses on themes such as absurdity, sexuality and street culture in her illustrative practice. Besides spending more than 10 years in London, she has lived in Melbourne, Tokyo, Bali and Barcelona, working for clients worldwide as an illustrator in advertising, magazines and product design, while developing her art through painting, street art and digital drawing.

Travelling around alot definitely opened up her mind to a lot of new ideas and broadened my visual vocabulary. She loves to immerse herself into unfamiliar environments and collect new experiences. Being exposed to a lot of different cultures and lifestyles also helped her to mature as a person and create richer art. Žvirblytė's zany characters and scenes take inspiration from everyday life, and come together to form a vivid fictional realm.
"It's bright, bold, juicy and irreverent. It's sincere, funny and, sometimes, existentialist. My style is somewhat of an extension of my personality, so it definitely has gone through an evolution over the years. My art is about the subjects that personally interest me in that moment." — Eglė Žvirblytė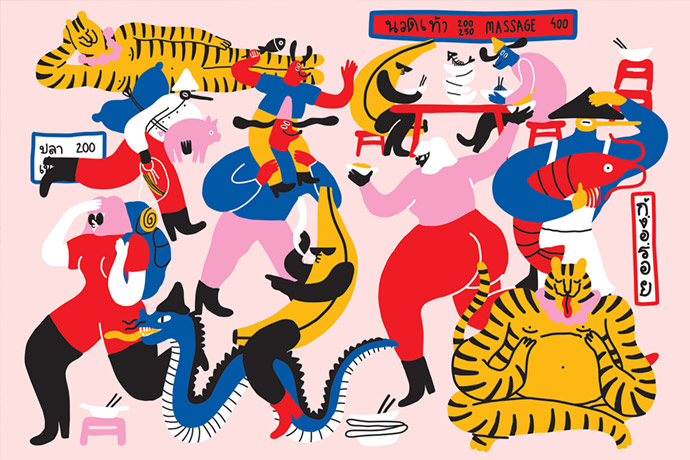 Building a fully functional carousel bar for the Moniker Art Fair in New York was a blast for her. She loves to work with big teams on big projects and she also loves when they are in sync and everything goes smoothly. Painting a mural for the Life Is Beautiful Music & Art Festival in Las Vegas turned out perfectly and it felt like they were one big, hard-working family.

To name a few projects, Žvirblytė's illustration portfolio includes a line of bright and zany homeware for a Spanish furniture company Sancal, and painted walls in multiple cities around the globe. You can see her illustrations on Adidas sportswear, in Nike running app, on packaging of artisan cocktails, vegan chocolates, etcetera.

It was Žvirblytė's dream to make her iconic flat artwork of Ecstasy Babe into a 3D inflatable sculpture. Glow Inflatables from the UK has made that dream come true and today the work is now touring the United States. She approached Glow with the idea. They started the design process working from just line drawings and colour references to realise the art into a 3D design and then finally a giant 2.5m high 3D inflatable art piece. Later on she returned to Glow to produce another art piece, The New Cool, which was a 3D representation of a character she created for the Embassy of Lithuania, collaborating with Go Vilnius — a tourism business that promotes the capital of Lithuania.

In 2018 Eglė Žvirblytė has launched a large-scale, site-specific installation of six works on Inis Oírr in the Aran Islands for Drop Everything, a contemporary cultural biennale. She took inspiration from the island's people, history, and previous iterations of Drop Everything, to create a cast of characters to place throughout the landscape. With the great shipwrecking of the cargo vessel, The Plassey, in mind, her characters can be seen with whiskey, toilet bowls and shoes in hand, making off with their loot. Then there's the local gentleman, tin whistle in hand, entertaining the islanders and visitors with his musical skill. Ranging in size from eight to 16-feet tall, and hand-painted in bright colours, Žvirblytė's sculptures can be seen from a distance, and make an impression against the dramatic landscape of this unique and rugged island.
"I create fictional worlds, inventing characters to inhabit them. They are all from one big comic saga with intertwining stories, I just keep jumping to different chapters. This world is wacky, zany, eccentric. There is a strong emphasis on composition, shapes and colours." — Eglė Žvirblytė
The vibrant, punchy work of Eglė Žvirblytė carries both humor and energy, whether following a narrative or more direct, lighthearted messages. Through your artworks she addresses themes such as identity and female power. The work finds kinship in artists like Parra and fellow European artists blending Lowbrow and European artists following the flattened, direct illustrations of René Magritte.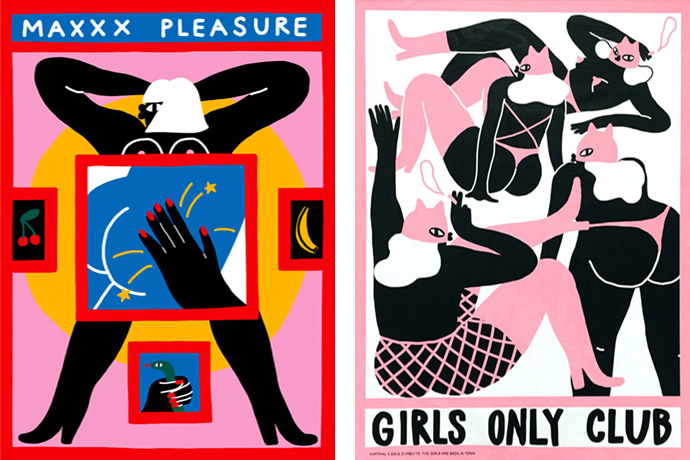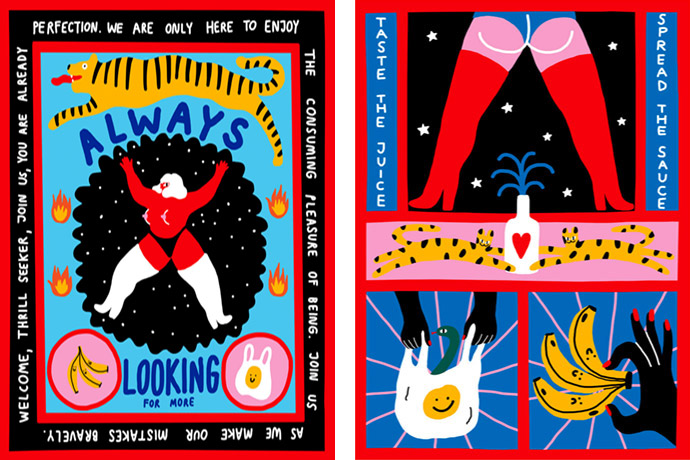 "I feel most at home in Vilnius, where I come from. It's the place where I feel most grounded, whereas I'm most inspired when I'm experiencing intense sensory adventures." — Eglė Žvirblytė
Although Zvirblyte mostly produces work digitally, she aspires to a more hands-on approach. Her dream project is to create a parade of huge inflatables that would end up being a big pool party. Let's see if it happens! I hope I will be invited.

All images courtesy of the artist. Photos © Eglė Žvirblytė
---
As I mentioned in my introduction, see similar work from the Dutch artist who designed MIMA's logo, Piet Parra at www.workbyparra.com